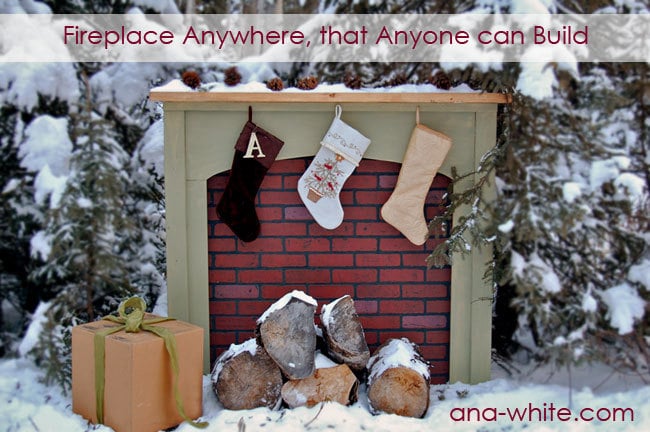 Hang your stockings on this simple faux fireplace plan. This design can be easily stored away when the Holidays are over, or kept in the center of your living room too!
If you aren't lucky enough to already have a place to hang your stockings, this is the post for you.  In just a few hours you can have a place to hang those stockings for probably less than the cost of a shelf.  Something that is freestanding, so you can move it to the attic with the rest of the Christmas decorations, or keep it around to provide a focal point for your room.  Meet the Faux Fireplace, that you can put anywhere.  This anywhere happens to be in my yard at twenty below.
Also, think of it as the "flat screen" fireplace, if you will.  At less than 6" deep, it's not going to take over you living room.
And for those of you who don't wish to spend on a faux brick paneling (about $20 a sheet) how about this idea?  What a great place for Christmas cards!  Image from Country Living.
Or use a chalkboard to draw a fire  :)  Love this idea from Apartment Therapy.
Dimensions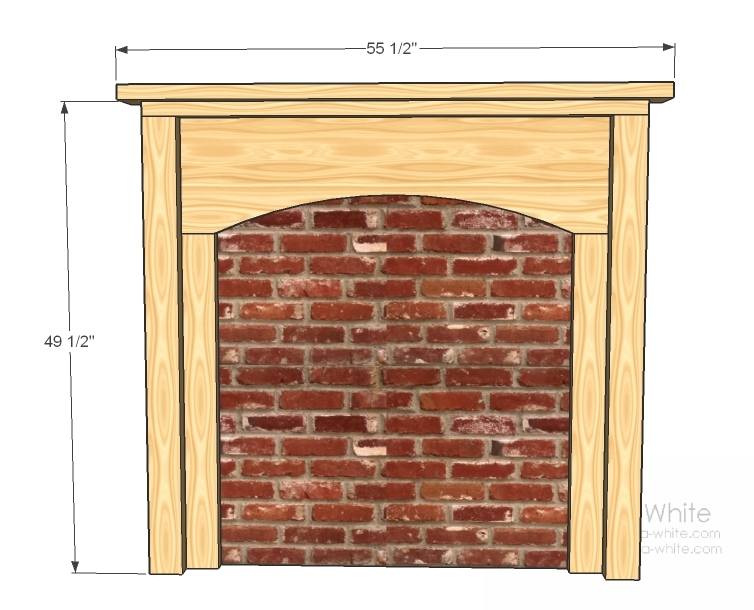 Dimensions are shown above.
Preparation
Shopping List
1/2 – sheet of faux brick paneling or 1/4″ plywood or mdf paneling
1 – 4×4 post, 8 feet long OR 2 – 2x4s, 8 feet long
2 – 2×4, 8 feet or stud length (in addition to the 4×4 posts above)
1 – 2×6, 8 feet or stud length
1 – 2×12, 4 feet long
3″ screws
1 1/4″ screws
wood filler, paint and sandpaper
Cut List
1 – 2×12 @ 44 1/2″ (cut at an arch shape)
2 – 2×4 @ 36 1/2″
2 – 4×4 @ 48″ (legs)
1 – 2×4 @ 51 1/2″ (top)
1 – 2×6 @ 55 1/2″ (top TOP)
1 – 1/4″ paneling @ 48″ x 48″

General Instructions
This is definitely a project that you can tackle in an afternoon, in plenty of time to hang those stockings with care. You can also adjust the size to fit your living space easily – I choose this size because it works well with a perfect 1/2 sheet of plywood or paneling and a single 4×4 post, 8 feet long. Of course, if you have trouble finding 4x4s, try sandwiching 2x4s together – that's what I did.
Instructions
Step 1
Step 2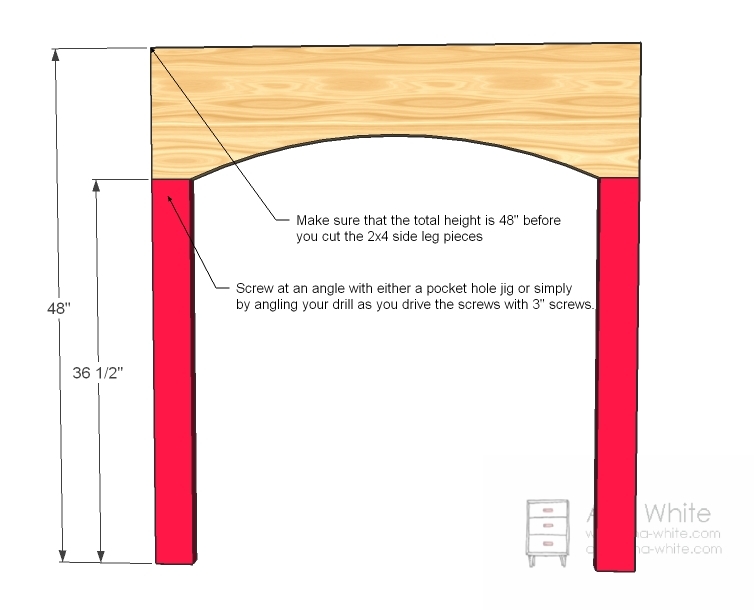 Inner Trim

Assuming that your 2x12s are 11 1/2″ wide (widths can vary, I choose to list the widest possible widths) cut your 2x4s and screw to the arched top. Don't worry about getting a super strong joint, the joint will be reinforced from the back and sides. If you don't have a Kreg Jig™, try just screwing at an angle from the 2×4 into the 2×12.
Step 3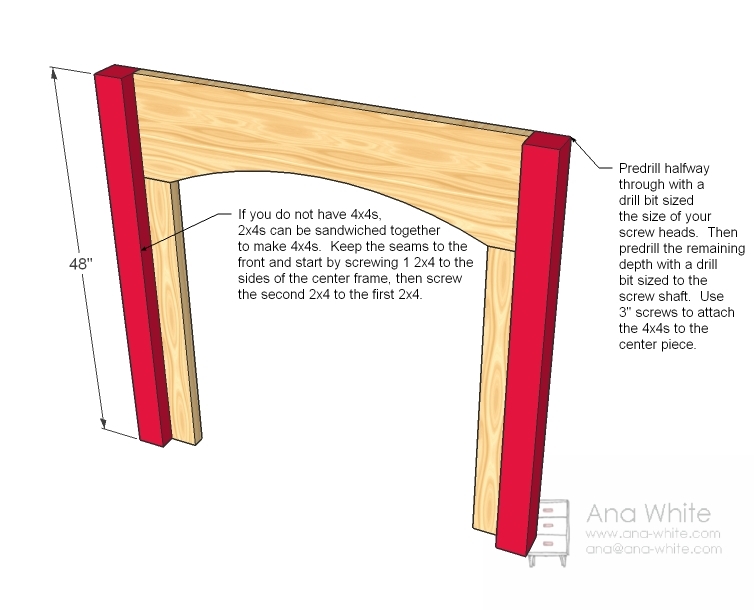 Legs

Now add the 4×4 posts to the sides as shown above. Back is flush. Use a drill bit the size of your screw heads to drill approximately 1/2 way through the 4×4 posts. Then use a drill bit the size of the screw shaft to drill the remaining way through the 4×4 posts. Screw the posts to the 2x4s with 3″ screws.
Step 4
Step 7
Finishing

I finished mine by filling holes with wood filler, sanding, and then priming everything but the top. I painted two coats of paint in an muted oooops green paint, and stained the top with Minwax Express Color in Pecan. Make sure you screw through the 2×12 header into a stud in the wall behind the faux fireplace to keep it from tipping forward. Good luck and Happy Holidays!
Comments - Click to Display Comments