In a children's room, it just makes sense to store books facing flat. Then children can put their own books away. Also, flat bookshelves take up less floor space, a bonus for often tiny secondary bedrooms. Special thanks to Matt, Heather and many other readers for sharing their photos.
Dimensions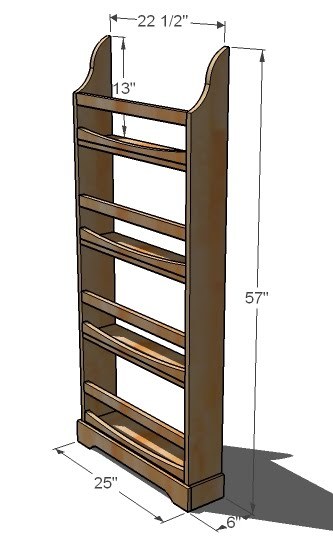 Overall Dimensions are shown above. Composition is solid wood boards. Footer is base moulding, 3 1/4″ wide.
Preparation
Shopping List
1 – 12′ 1×6 Board (cut sides out of this board) 
1 – 8′ 1×6 Board (cut shelves out of this board) 
3 – 1×2 Boards 
40″ of 3 1/4″ Base Moulding, between 1/2″ and 1″ thick 
2″ Screws 
Wood Glue 
Wood Filler
Common Materials
1-1/4" Pocket Hole Screws
120 grit sandpaper
primer
wood conditioner
paint
paint brush
Cut List
2 – 1×6 @ 57″ (Sides, Top Cut out in step 1) 
4 – 1×6 @ 22 1/2″ (Shelves) 
11 – 1×2 @ 22 1/2″ (Back Supports and Front Rails) 
3 1/4″ Base Moulding, mitered for footer
Instructions
Step 1
Step 2
Step 3
Step 4
Step 6
Finishing. Fill any holes with wood filler and sand and finish as desired. Screw through the back supports into a stud in the wall to keep the bookrack in place. You could alternatively use a picture hanging kit to fasten the bookrack to the wall.
We apologize if there was an error in this plan. Please help us out and report any errors here.