Use a pallet to create a floating nightstand. Also can be used as shelving or as a storage crate.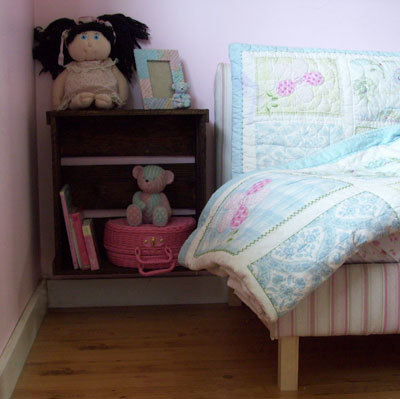 I like the word free.  Free as in no cash to shell out.  Not as in sweat free.
But gym memberships do cost money.
So maybe we are going to come out ahead.
Well, let me revise that.  Pretty much free.  You may have to shell out a few bucks for screws or paint or stain if you don't have some already.  But this floating nightstand was pretty much free for me.
And you are going to have to come up with a spare pallet and cut it up.  You can actually get two floating nightstands out of one pallet.  You could also purchase boards, but getting boards with this kindof rustic appeal only comes salvaged.
I've been wanting to give you all a floating nightstand, and it's wonderful to give give it to you - not just the information, but the supplies should be free if you know where to look.
It's also wonderful to give you not just a floating nightstand, but a wall shelf, an end table, a storage box . . . a crate.  I really loved these crates from Pottery Barn, and feel we've hit the nail on the head (no pun intended) with our crate.
First step - you gotta score a pallet.  Look for them at landfills, on the sides of the road with the trash pickups, at your favorite stores, at shipping companies, pallets can turn up anywhere.  Be careful - some pallets might be treated, so the food safe pallets are best.  If you are unsure of the treatment of your pallet, you can seal it with a thick varnish.
After you claim your pallet, you gotta reclaim the boards in the pallet.  Slightly off subject, but someone just told me most pallets are made of solid OAK!  Back to building . . . I was able to reclaim a pallet with a jigsaw in about fifteen minutes.  Just go slow, be careful, examine the pallet first for nails or other things that could get your jigsaw blade caught.  Wear safety glasses (I'm wearing them in this video, and my husband looked at me and said, whoa, at least you have a great personality! to me, so you gotta wear a pair too).  And hearing protection.  Cut the pallet deck boards as close to the supports as possible, not attempting to salvage the 2x4 boards.  It's the 1x4s (we'll talk about this in a second) and 1x6s that you want for this project.
Here's a video that I was reluctant to post because of the quality, but I thought it would help YOU understand what I'm talking about.  So I'm putting my vanity aside and making my debut in massive plastic safety glasses.  You can buy them anywhere for around two bucks, and they even fit over your regular glasses   :)  All in the name of giving you a free floating nightstand.
There are lots of other techniques to reclaim the boards on a pallet, but this is the fastest and easiest method for me.  One drawback is the boards you reclaim will all be about 18" long at the most (fine for this project, but might not work for other projects)

From a standard pallet, you should get 1/2" x 3 3/4" boards and 1/2" x 5 1/2" boards.  We'll call these the 4" widths and the 6" widths.  You should get many more 4" widths than 6" widths.   For this project, I used the 6" widths for the bottoms, and the 4" widths for the sides.  In addition, I bought for $12 a bundle of 4 foot wood laths from Lowes (50 of them) - otherwise known as stakes.  You only need one, so that puts you back a quarter.  PS Save the rest, I'll show you how to make a different kind of equally adorable crate out of them too.
Preparation
Cutting Instructions
As I did in the video, square up the ends of all the reclaimed boards. Then cut 8 of the 4″ widths at 17 1/4″ long, and 3 of the 6″ widths at 171/4″ long. Also cut 4 pieces of the wood lath at 8 1/2″ long.
Instructions
Step 1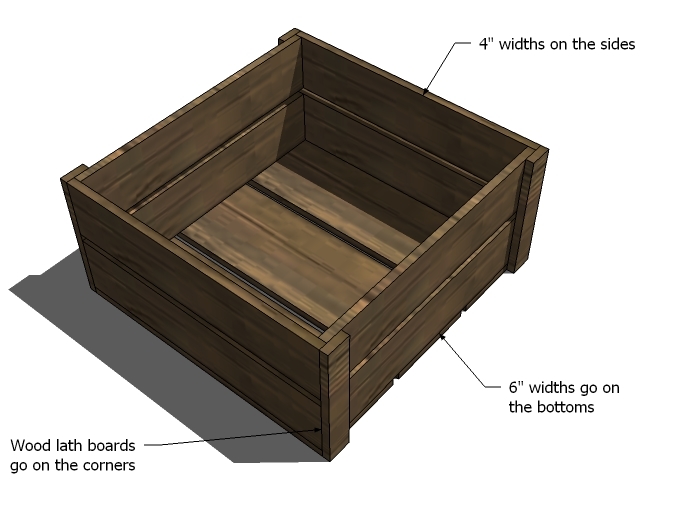 You can see the different boards and how they all fit together in my cad drawing above.
Step 2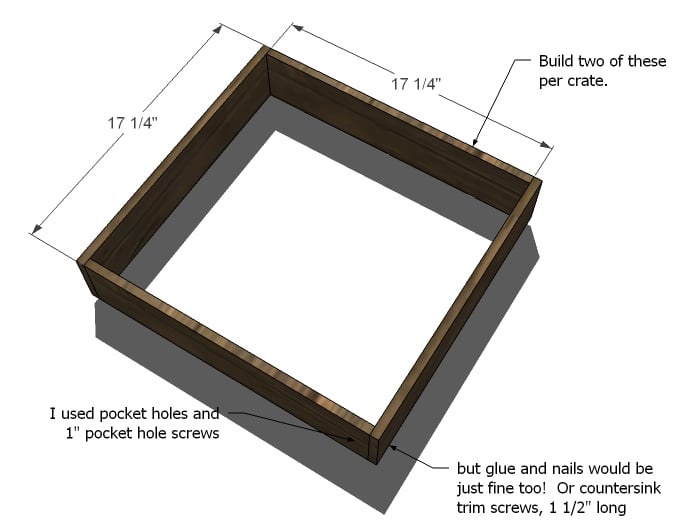 Use up all the 4″ widths by building basic boxes as I did above. I used my Kreg Jig™ to build boxes, adjusting the jig for 1/2″ thick stock, but there is no reason why you couldn't build the crate like people have for hundreds of years with nails. Just don't forget the glue.
Step 3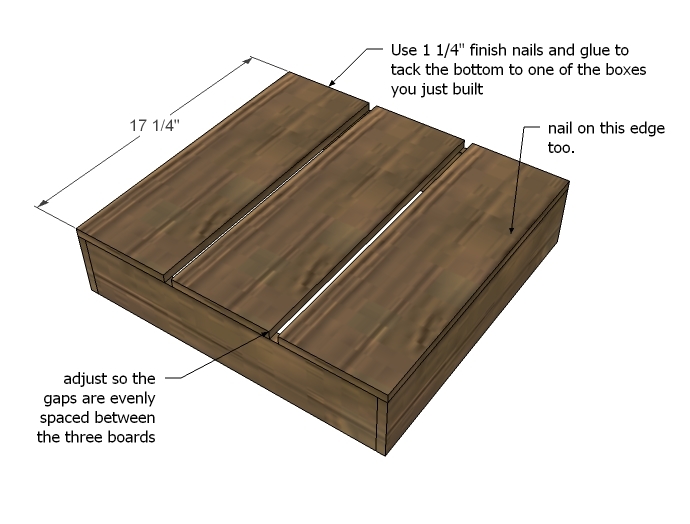 To one of the boxes you just built, use 1 1/4″ finish nails and glue to tack on the bottom. Make sure your box is square before nailing down.
Step 4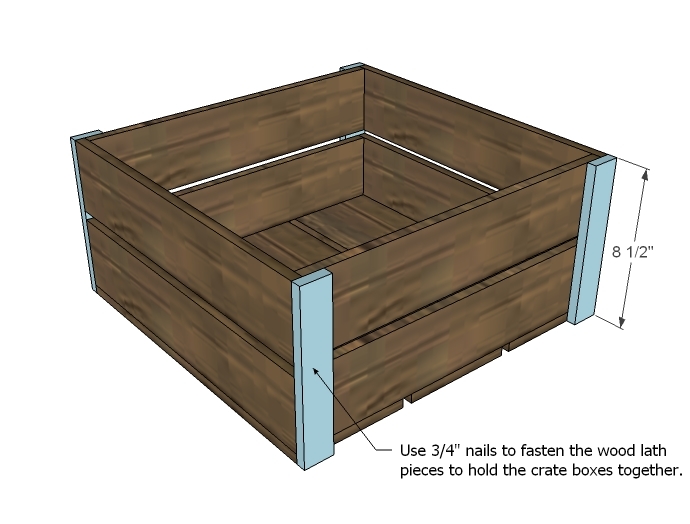 And then use the wood laths to join the two boxes together as shown above. I used glue and my nailer. I then brushed on Early American stain/finish stuff from minwax. And it's beautiful. I just screwed it right to a stud in the wall and had an instant floating nightstand. Of course, you could use it as an end table, stack them for a coffee table, arrange a few of them as a wall storage unit . . .
Step 5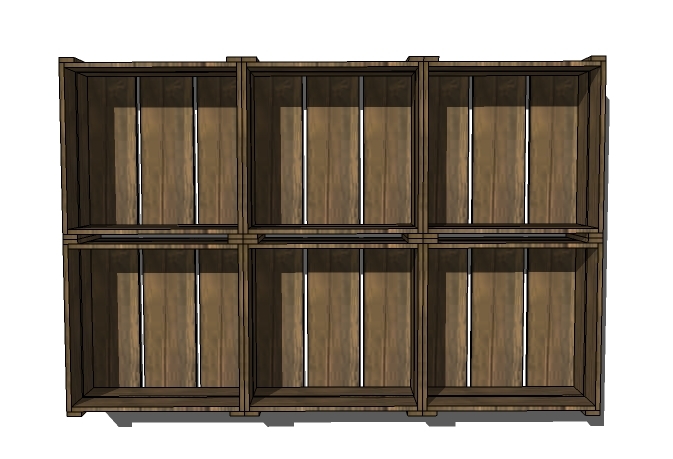 We apologize if there was an error in this plan. Please help us out and report any errors here.