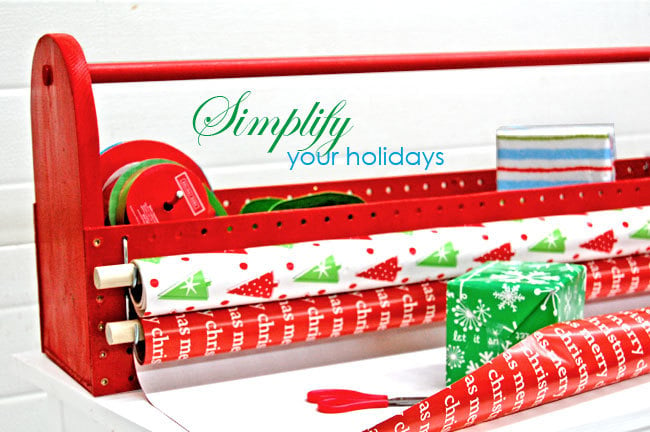 Bring wrapping paper dispensing to the tabletop, while keeping essentials like ribbon and tape handy and organized. holds up to four rolls of wrapping paper and an abundance of ribbons and other essentials. Easy to carry handle. Easily stows on a closet shelf.
Before I became a mom, I loved to wrap gifts.  I would sometimes wrap gifts in several different layers of complimenting paper, neatly tie real bows, and hand make gift tags.  Then, Grace came.  And wrapping gifts became a chore. Because there was just no extra time.  And there's alot more to gift wrapping than just wrapping gifts.  For one, all the bows and whistles can be quite spendy, so you want to recycle bags and trimmings whenever possible.  And you've got to neatly store wrapping paper rolls in such a manner that you can easily dispense it.  And ribbons . . . I won't even go there.  Well, I will . . . in a minute.
So I thought long and hard, drew many different designs, some wall mounted, some with wheels, and just could not figure out the perfect way to store all the gift wrapping essentials.  On the wall didn't make the most sense because you can't just tuck on the top shelf of the closet or with the rest of Christmas on New Year's.  And it's not always easy to get the right amount of wrapping paper off a wall mounted system.  And sometimes you just gotta get down on the floor to wrap a large gift - would be nice to have your tape and scissors handy.  Plus, there was no good spot for bags and tissue paper and gift tags in a wall system.  So I thought some more, tried some carts, didn't love the cost of a cart and the vertical storage of a cart . . . and finally, it just came to me.  Gift wrapping deserves a tool box. And twenty minutes later, we have a gift wrapping tool box!  The pictures do not do it justice, everyone one (particularly the moms) stop and marvel at this one, thinking of all the possibilities.  You can hang with standard peg board hangers ribbons and wrapping paper and tape and gift tags and anything else you can think of on the inside and the outside of the box.
You can even dispense your ribbon through the peg board holes.  We are so happy with this system that I'm going out to the garage to make a few more as hostess gifts and a few smaller ones as arts and crafts centers for the kids, replacing the gift wrap with craft paper rolls (otherwise known as freezer paper).
Dimensions
Fits standard 32" Rolls
Preparation
Shopping List
Peg Board 3/4″ wood dowels, 36″ long 1 – 1×8, six feet long 2″ screws wood glue and finishing supplies Pegboard Hooks
Cut List
2 – 1×8 @ 14″
1 – 1×8 @ 33″ (for 32″ wide wrapping paper rolls) you can also add 1x8s @ 7″ as dividers
1 – 3/4″ dowel @ 34 1/2″ (handle)
Additional 3/4″ dowels for wrapping paper spools
Instructions
Finish Used
No fancy finish on this one – just two coats of paint with primer in it in Valspar High Gloss Red Premium (off the shelf premixed color).