Build your own kids Adirondack chairs!  Builders spend about $15 a chair.  Step by step plans with diagrams, and dozens of reader submitted photos.
Also check out our adult sized Adirondack Chair plans too.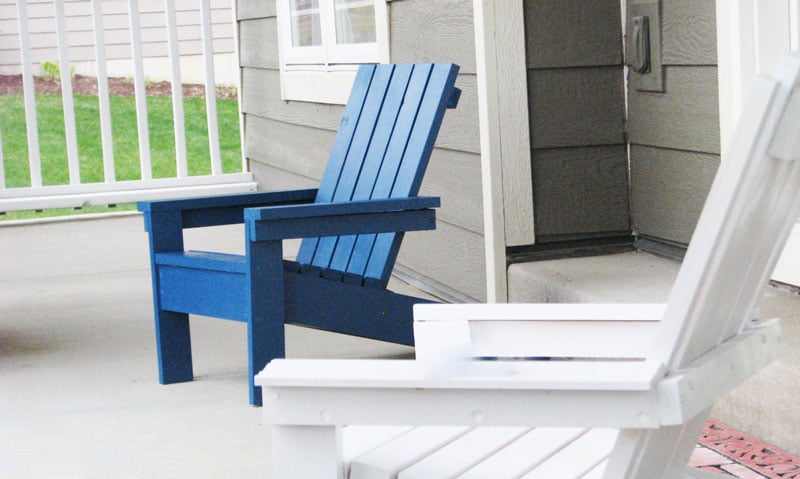 Dimensions
For the Kid Sized Chair, overall dimensions are shown above.
Preparation
Shopping List
1 – 1×4, 8′ Length
2 – 1×2, 8′ Length
2 – 1×3, 8′ Length
Wood Glue
Wood Filler
1 1/4″ Screws
2″ Screws
Common Materials
120 grit sandpaper
primer
wood conditioner
paint
paint brush
Cut List
2 – 1×4 @ 25 1/2″ (Stringers)
1 – 1×4 @ 15″ (Front Apron)
5 – 1×2 @ 15″ (Seat Slat, Main)
1 – 1×3 @ 15″ (Seat Slat, Front)
2 – 1×3 @ 13″ (Front Legs)
2 – 1×2 @ 14 1/2″ (Arm Supports)
2 – 1×3 @ 14 1/2″ (Arm Rests)
5 – 1×3 @ 20 3/4″ (Back Slats)
1 – 1×2 @ 13 1/2″ (Back Trim)
1 – 1×4 @ 13 1/2″ (Back Apron)
1 – 1×2 @ 16 1/2″ (Back Support)
Instructions
Step 1
BENCH MODIFICATIONS
By simply doubling the number of back slats and increasing the seat width, you can get a bench. On the adult version, you can also create a bench, but you should add a couple of supports that run parallel to the stringers. The kids version won't need these supports.
Step 2
Mark the front of your stringers as shown in the diagram.
Step 3
Mark the back of your stringers as shown here. Cut the stringers. Once you get a stringer that you are happy with, use it as a pattern for the rest of your stringers.
Step 4
FRONT APRON
After you cut your stringers, attach the front apron as shown above with 2″ screws and glue. Keep the top edges flush
Step 5
Step 6
LEGS
Attach the front legs as shown above with 1 1/4″ screws and glue. The front seat board top will be at a height of 10″.
Step 7
ARMS
First attach your arm supports (the 1x2s in yellow above) to the leg tops using a level and 1 1/4″ screws. Then attach the arm rests as shown above.
Step 8
BACK
Build the back as shown above, using 1 1/4″ screws and glue. Leave a 1/4″ gap between the back slats. The middle support board (shown in blue above) will overhang the sides by 1 1/2″ on each side.
Step 9
ASSEMBLY
Position your back into the chair, as shown above. An extra hand would be super helpful at this point. When you are happy with the back's position, screw with 2″ screws as shown above.
Preparation Instructions
You may wish to add wood filler to screw holes and apply a touch up coat of paint to you chair. Also, spraying with an exterior varnish or polyurethane will help protect the chair from the elements and would just cost a few dollars and take a few min
We apologize if there was an error in this plan. Please help us out and report any errors here.