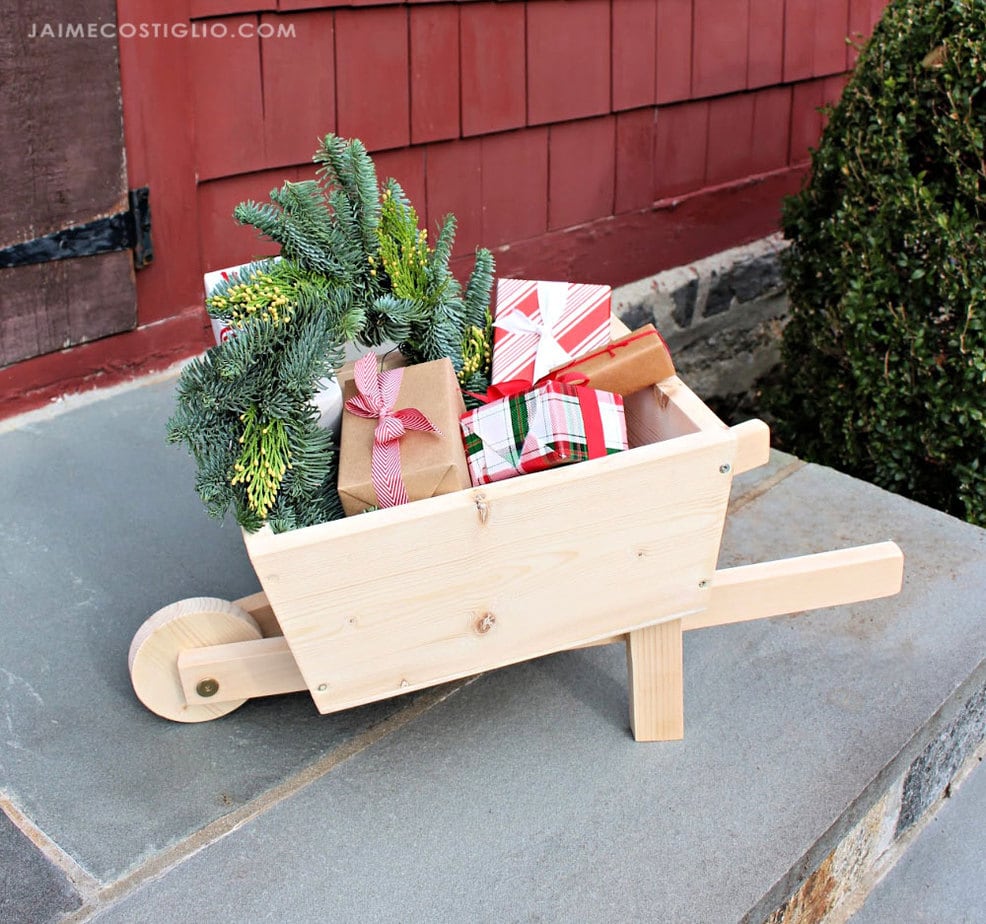 Dimensions
Kids Wheelbarrow Dimensions
Preparation
Shopping List
3 feet of 1x6 board (for bucket)
9-1/2" x 10-1/2" - 1/4" plywood 
1 - 1x2 @ 8 feet long
4" wood wheel
1 - 1/4" x 60mm connecting bolt & nut
1-1/4" self tapping screws
3/4" brad nails
wood glue
Cut List
2 - 1x6 @ 12-1/4" - long point to long point, both ends 10 degree miter not parallel (long sides)
2 - 1x6 @ 8"
1 - 1/4" plywood 9 1/2" x 10-1/2" (base)
2 - 1x2 @ 21 1/2" (handles)
2 - 1x2 @ 5" - longest point measurement, one end 10 degree miter (legs)
1 - 1x2 @ 5" - long point to long point, both ends 10 degree miter not parallel (long support)
1 - 1x2 @ 3" - long point to long point, both ends 10 degree miter not parallel (short support)
1 - 4" wheel (can cut from 1x material)
Cutting Instructions
Cut boards using a compound miter saw.
The 1/4" plywood depending on starting size will need to be cut with a circular saw.
Instructions
Step 1
Build the frame for the kids wheelbarrow.  I recommend 1-1/4" self tapping wood screws and glue, countersink slightly below surface of wood.
Step 2
Drill holes and add wheel with bolts.
Add legs with 1-1/4" self tapping screws and glue.
Step 3
Build the bucket with 1-1/4" brad nails (or you can use screws).
Attach 1/4" plywood to the bottom with 3/4" brad nails and glue.
Step 4
Attach bucket to frame with 1-1/4" screws into the wheelbarrow handle 1x2s.
We apologize if there was an error in this plan. Please help us out and report any errors here.