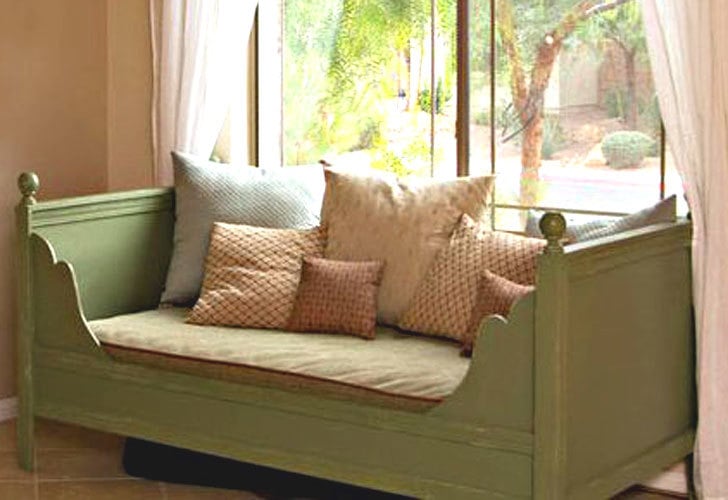 This beautiful daybed will surprise you with it's easy to build plan. Features scalloped edges, moulding on the inside and out and finials. Easy to modify to a full size.

Image from Uli.  Can you believe that Uli lives in the metric system, and converted this beautiful bed to different sized lumber!  Amazing!

Another amazing photo from one of our readers!

My sister's name is Lydia Priscilla, so I thought Lydia would be a perfect name for this bed.

WHAT YOU CAN'T BUY As you probably know, Pottery Barn used to sell a beautiful Priscilla Dayed, but the bed is discontinued.  And I have for years wanted to redesign the bed, to make in "buildable."  And today, I think I have.

DREAMING OF THIS BED After putting together the post for the Swedish planked bed, then putting Grace to bed, I dreamed about scrolling with a jigsaw and using a Kreg Jig to build this bed.  Because the major issue before having a Kreg Jig in my tool belt was connecting the beautiful scalloped corners to the side rails.  Now we can easily do that!

IT'S EASIER THAN IT LOOKS Please don't let this bed intimidate you.  If a jigsaw doesn't intimidate you, you, yes YOU, can build this bed.  It's amazingly easy. For the trim, we are going to use store bought moulding, and then for the finials . . .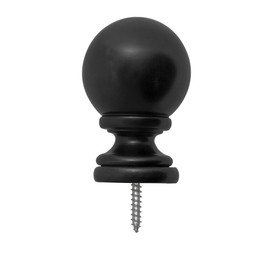 FINIALS?  YEAH, WE'VE GOT A HACK FOR THAT For the finials, simply pick up a four curtain rod finials next time you are out shopping (unfinished preferred, but if you are painting, a spray coat of primer can get these babies ready for your bed).  It will be easy to drill a simple hole on the tops of your daybed tops and screw these in.

BREAKDOWN

Go ahead, click for a larger view.  It's much easier than it looks, eh?  Now I'm just going to put this out there, since I know most of you are Moms just like me.  If you can figure out how to raise a baby, if you took a baby home from the hospital and the baby not only survived, but they thrived, then you can do this.  This is NOTHING compared to the major project of raising kids.  You've got the ability. Let's get building! 
Dimensions
Fits a standard twin mattress. Convert to a full by simply adding 15" to all width-wise measurements.
Preparation
Shopping List
4 – Pieces of 2 1/4″ moulding, 7′ Length like this one
2 – Pieces of 2 1/4″ moulding, 8′ Length (same as above, a little longer)
2 – 1×10, 8′ Length
1 – Sheet of 3/4″ MDF
4 – 1×2 Boards
11 – 1×3 Boards
Wood Filler
Wood Glue
1 1/4″ Nails
2″ Nails
1 1/4″ Screws
Common Materials
1-1/4" Pocket Hole Screws
120 grit sandpaper
primer
wood conditioner
paint
paint brush
Cut List
2 – 3/4″ MDF @ 40 1/2″ x 27″ (Panels)
4 – 1×2 @ 34 1/2″ (End Legs, ends tapered in step 1)
2 – 1×3 @ 37 1/2 (Bottom Panel Trim)
4 – 1×3 @ 34 1/2″ (Side Legs, ends tapered)
2 – 1×3 @ 42″ (Top of Ends)
2 – 2 1/4″ Base Moulding @ 37 1/2″ (Trim for outside of panel)
2 – 2 1/4″ Base Moulding @ 40 1/2″ (Trim for inside of panel)
4 – 3/4″ MDF @ 15″ x 15″ (Scalloped Sides)
2 – 1×10 @ 75″ (Siderails)
2 – 1×2 @ 75″ (Cleats)
14 – 1×3 @ 39″ (Slats)
4 – 2 1/4″ Moulding @ 73″ (Siderail Trim)
General Instructions
You can click any of the images for a larger view. Work on a clean level surface. Be careful as you are working with a nailer. Check for square and level after each step. When nailing into MDF, avoid fastening too close to the edges on the end grain side (practice on a piece of scrap MDF first). Use glue and be safe.

BUILDING THE BED FOR NATURAL WOOD FINISH
This bed is designed to be painted. You can create a stainable bed by using A1 plywood for the panels and joining two 3 – 1×6 @ 30″ together, then cutting the panel in half to get two panels, approximately 15″ x 16 1/2″ (use a Kreg Jig™ to join the panels). Then cut your scalloped shape from these panels. Do not attempt to iron on edge banding to the scalloped edges and use plywood, you will not be able to get your iron in the scalloped parts. You will also need to purchase wood moulding instead of primed MDF moulding.
Instructions
Preparation Instructions
Drill holes in the tops of the ends and screw your finials in with glue. You can easily disassemble the bed and reassembly by unscrewing at the side leg/siderail and scalloped edge joint (from step 8). Fill all nail holes with wood filler. Sand starting with a coarse sandpaper and working your way to fine. Prime. Paint as desired and distress.