I built my own minimal modern dresser!  It turned out so beautiful my kids said "whoa, that looks like it cost $2000!" I spent about $250 on it, and worked on it a few hours a day over a few days.  This wasn't a quick and easy project, but it is SO worth it for how beautiful, durable, and fun it was to build.
I'm sharing the free project plans with video tutorial here, if you'd like to see how I built it or build your own!  This is a NO POCKET HOLES project - yep, that's right, no pocket holes!  I put it together with a brad nailer and some screws for the drawer slides.  Free plans from Ana-White.com
Pin For Later!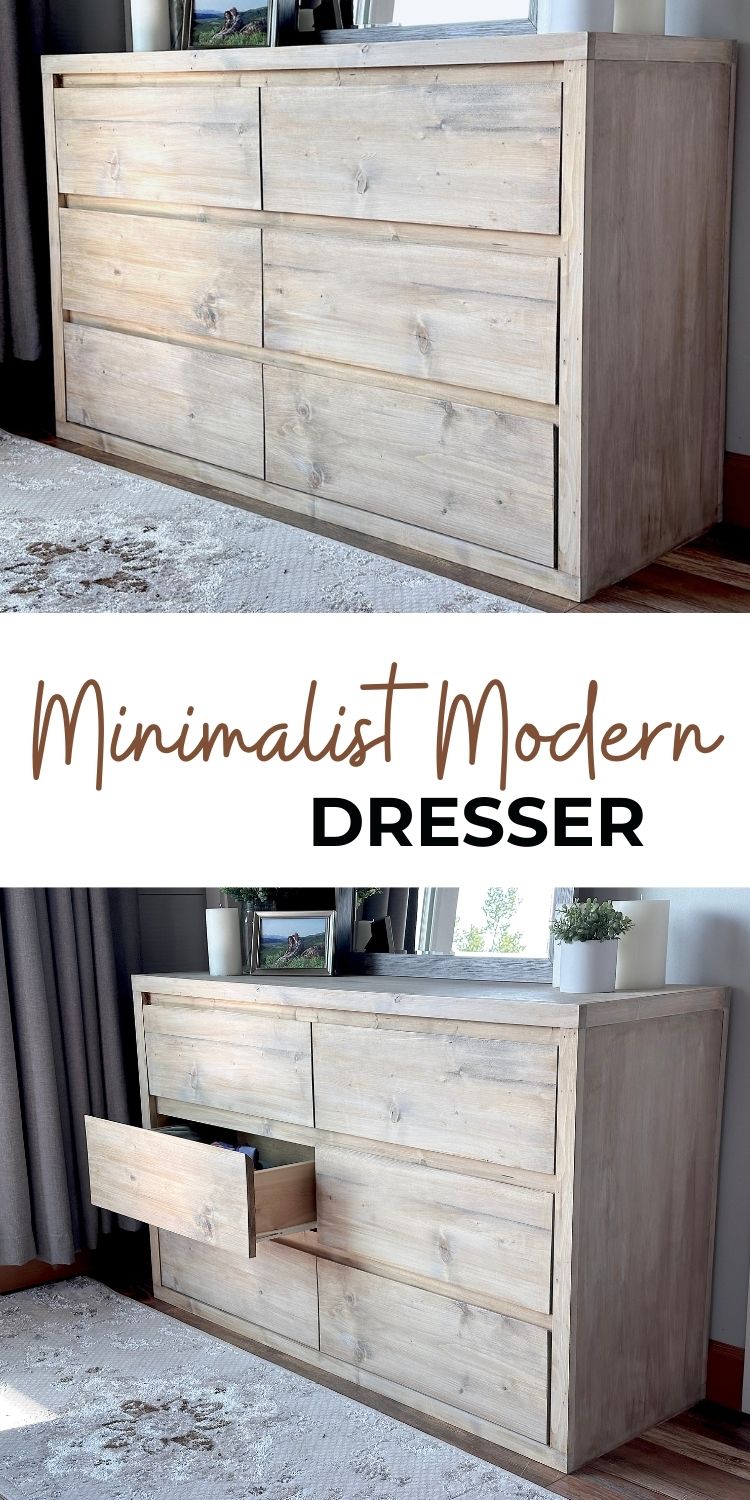 Dimensions
This dresser is on the smaller side, more of a console table size. The drawers are not super deep, perfect for underwear, tanks and tees, leggings - but not suitable for larger items like jeans or sweaters. It would work well as a console table too.
Preparation
Shopping List
4 - 1x3 @ 8 feet long
4 - 1x2 @ 8 feet long
5 - 1x6 @ 8 feet long
2 - 1x10 @ 8 feet long 
1 - 3/4" plywood cut into two strips 16" wide x 8 feet long
1/4" plywood (for drawer bottoms)
1 - 2x2 @ 4 feet long
6 - 16" bottom corner mount drawer slides (usually white in color)
1-1/4" and 5/8" brad nails
wood glue
wood filler
stain and finishing supplies
Cut List
Carcass Cut List
4 - 1x3 @ 31-1/4"
3 - 1x3 @ 49"
1 - 1x2 @ 31-1/4"
2 - 1x2 @ 7-1/4"
1 - 1x2 @ 9-1/4"
4 - 1x2 @ 52"
2 - 1x3 @ 29"
2 - 1x2 @ 29"
2 - 1x2 @ 16"
2 - 3/4" plywood @ 16" x 30-1/2"
1 - 3/4" plywood @ 16" x 50-1/2"
1 - 2x2 @ 31-1/4"
Drawers should be cut to fit, see step 8
General Instructions
Use a level surface to assemble.
Precise cutting is very important to the success of this project.
This is a more advanced project, it is not recommended as a first or beginner project.
Instructions
Preparation Instructions
I filled all nail holes with wood filler and let dry.
Then I sanded with 120 grit sandpaper in the direction of the wood grain. I actually just used a sanding block and sanded by hand.
Remove all sanding residue by vacuuming and then wiping with a damp, lint free cloth.
Finish Used
I stained the entire project use a "Golden Oak" color by Varathane. I used a foam disposable brush to stain with and wiped excess off. I let the stain dry overnight.

The whitewash is super important for a dimensional, high end look - and it's easy to do. Mix white paint with water, about 50/50. Wear gloves and wipe on with a paper towel in the direction of the wood grain.

To further protect the project, you can apply a polyurethane over top.