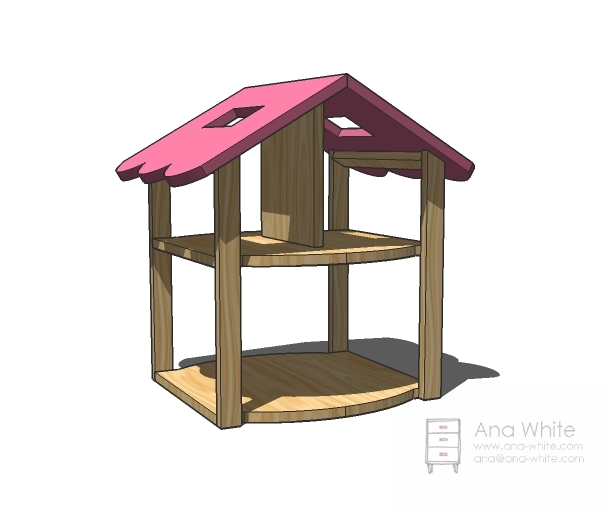 About Project
Delight your children with this modern dollhouse! Customize to suit your child's needs.
The dollhouse has grown up.
I'm not saying I don't still love traditional dollhouses with their detailed wallpaper and shutters.  But a simple, fully accessible dollhouse like this one might be the toy for your smaller child or children - and I say children, because I can just imagine this dollhouse on a playtable surrounded by little ones.
This dollhouse is not suitable for Barbies and fashion dolls.  More for wood dolls and figures, around 6" in height.
Preparation
Shopping List
1 – 72″ Long 18″ wide Pine Project Panel (Try both Blue and Orange, they carry different sizes)
1 – 1×2
1 – 1×10 scrap 12″ long
Common Materials
2 inch screws
120 grit sandpaper
primer
wood conditioner
paint
paint brush
Cut List
2 – Project Panel Pieces @ 18″ x 18″ (Floors)
4 – 1×2 @ 19″ (Legs, top end cut at 30 degrees off square)
2 – 1×2 @ 14″ (Eaves)
1 – 1×10 @ 11 1/4″ (Second Story Wall)
2 – Project Panel Pieces @ 18″ x 14″ (Roof)
Instructions
Step 1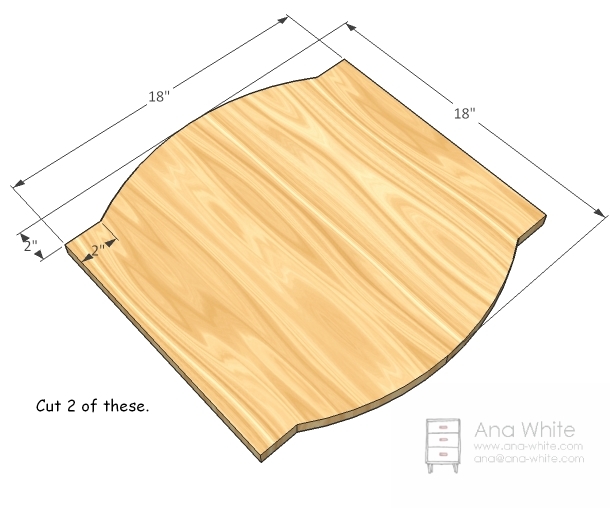 Floors
Cut the floors with a jigsaw as shown above. Sand the edges well at this stage – will be much easier than when assembled!
Step 2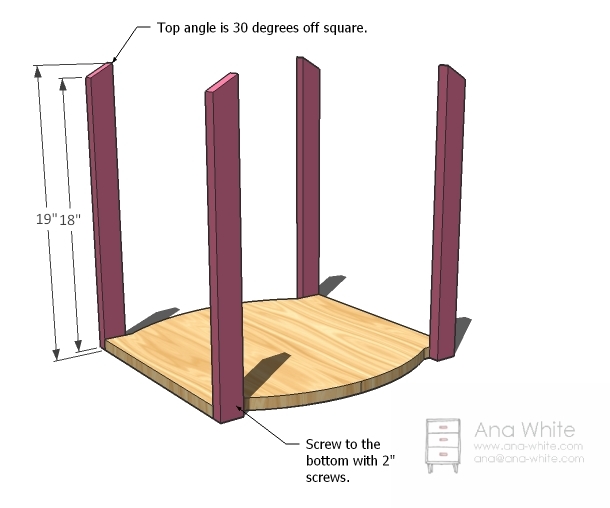 Legs
Attach the legs to one of the floors as shown above. Use glue for a permanent bond, and two screws per leg. Predrill and countersink your screw holes.
Step 3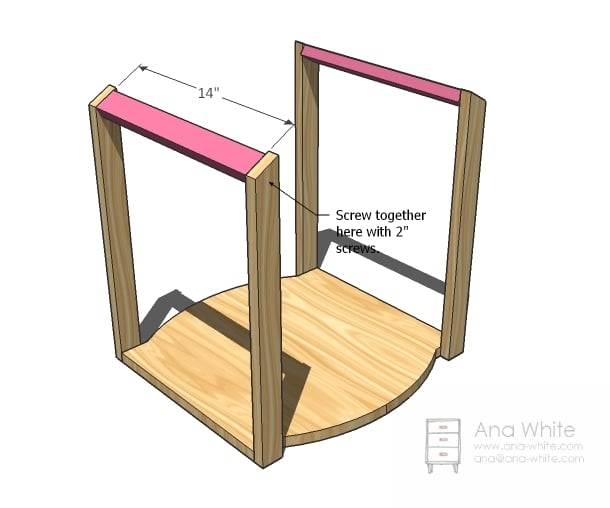 Eaves
Attach the tops of the legs to the eaves as shown above with 2″ screws and glue.
Step 4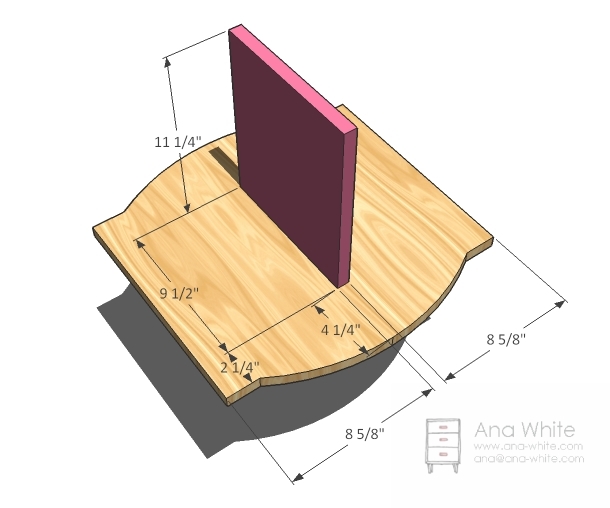 Second Story
Screw the 1×10 center wall to the remaining floor as shown above. Use 2″ screw and glue. Screw from the underside.
Step 5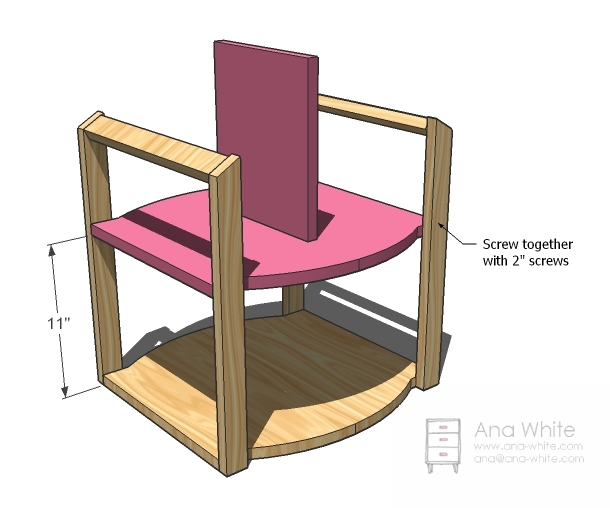 Step 6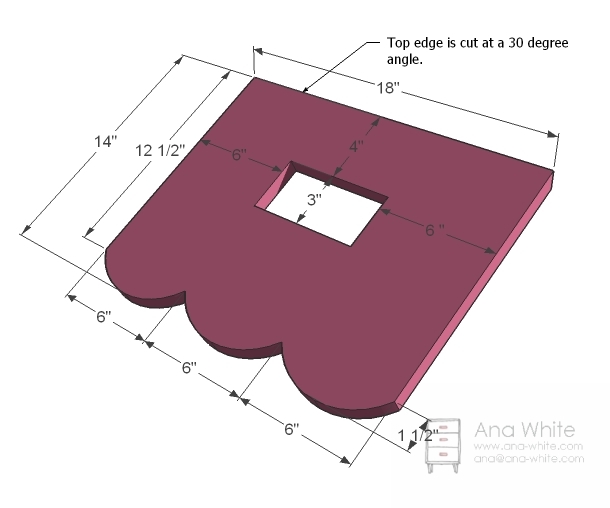 Roof
Cut the roof boards out as shown above. To get the angle on the top, adjust either your circular saw, jigsaw or tablesaw to a 30 degree angle and cut edge. Use a jigsaw to cut out the scallops and the skylights.
Step 7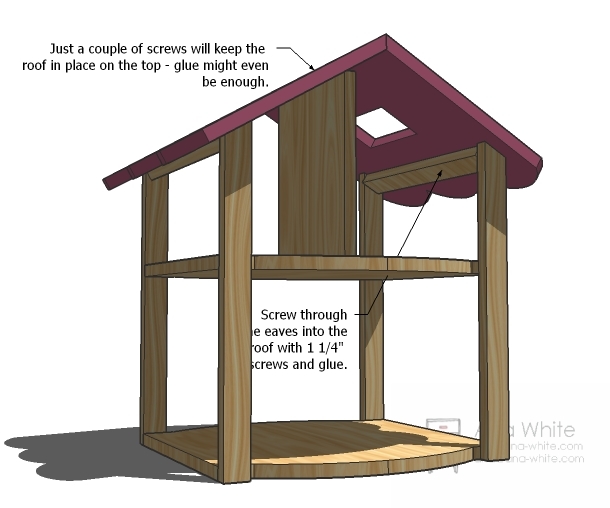 Roof
Attach the roof with 1 1/4″ screws and glue.