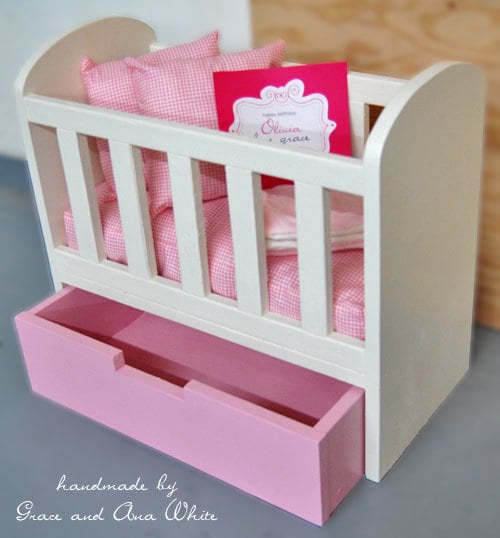 A doll crib designed for 18" dolls. Features a bottom drawer.
I've been making quite a few gifts (with of course the help of my daughter Grace) of late - you'll be seeing a lot of giftable projects, and yes, more projects fit for boys too in the next few weeks - and sometimes, Grace does ask, can I have this?
This particular gift is for Olivia, Grace's friend that she has known from birth.  And while we were building this doll crib for Olivia, Grace mischievously whispered, "Mom, let's give Olivia the doll bed and I can have the crib."
So Grace and I had a conversation about how it's better to give then to receive, and how gifts aren't about giving away what you don't want, but about giving something that you hope your friends will love.  And it's especially nice to give your time and creativity, in the form of something you made with your hands.
I'm not sure how much actually registered in the mind of a three year old.
It's Alaska.  Princess dresses go better with Uggs, over top of your clothes.  Does she seem thrilled to give away this present?  Especially after we built it together, painted it together, and sewed all the bedding and mattresses, it seemed Grace was rather reluctant to part with this doll crib.  I was a bit worried when we went to the party.
When Grace and I arrived at the birthday party, we left our gift in the entryway because (shame on me) some of the paint wasn't quite dry.  While Olivia was unwrapping her gifts, I was so impressed with all of the children there, genuinely happy for the birthday girl, never showing any signs of resentment or jealously.  But about half way through the gifts, Grace jumped up and ran over to me and whispered in my ear, "Mom, where is our gift for Olivia? Can I give it to her now?"  And she hauled it over to the pile of presents, proudly saying, "Olivia, this is my present for you, and I made it for you."
I guess I'm still three years old at heart too, because I felt great joy in seeing Olivia's delight over the gift, but especially great joy in seeing my daughter joyously give a handmade gift.
On the car ride home, Grace was quiet.  As we pulled into the yard, she said, "Mom, let's make presents for everyone this Christmas!"
Is it true that it is better to give then to receive?  I've often wondered, waiting long hours in lines at stores over the holidays, being run over by shopping carts, or seeing kids get piles of presents, over stimulated by beeping and flashing toys, or upset over not getting what they wanted.  My Gracie included.
But this experience was so joyful and fulfilling.  It IS better to give, especially when you can give from the heart.  I challenge you this Christmas to give at least one gift that you put your heart and time into, to handmake just one gift.  And over the next few weeks, I will be blogging all the gifts that I handmake, for both little girls and little boys, to teens, and adults as well.
Today's plan is for Olivia's doll crib.  This crib is so many times cuter in person than in the pictures.  I only had about five minutes to snap photos in the garage.  I'm most regretting not getting a photo of Grace sitting inside the crib, pretending to be a baby.  This crib is strong and big.
And if you would like to handmake the gift tag, you can go here to print this graphic out and add your text.  I pasted mine on scrapbooking paper.
Dimensions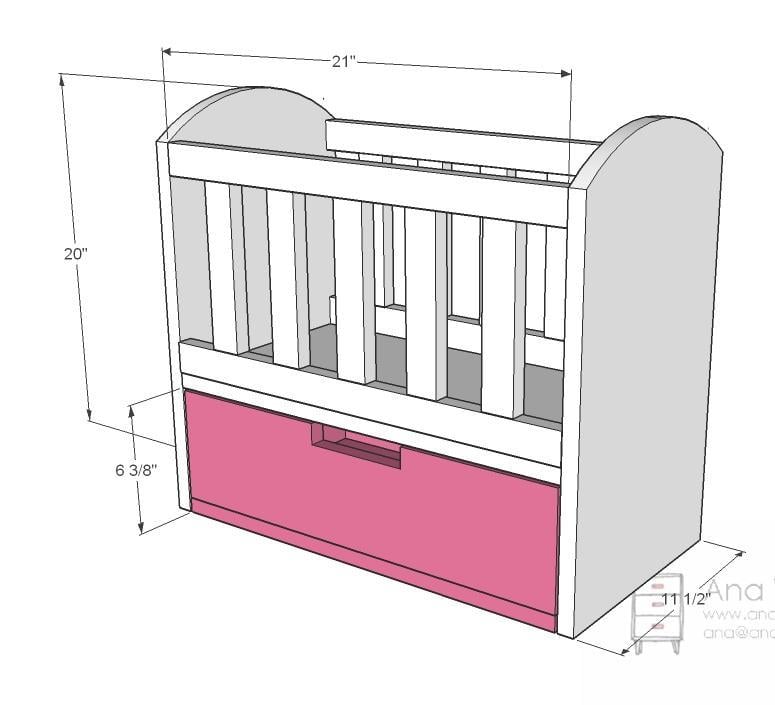 It's not a little piece. The drawer is really big too.
Preparation
Shopping List
1 – 1×12, 8 feet long
1 – 1×6, 6 feet long
2 – 1×2, 8 feet long
wood filler, glue, and finishing supplies
1 1/4″ pocket hole screws or 2″ trim screws
2″ wood screws (can use the 2″ trim screws)
sand paper
Cut List
2 – 1×12 @ 20″ (Round tops as shown in step 2)
1 – 1×12 @ 21″ (Crib Bottom)
1 – 1×12 @ 20 3/4″ (Drawer Bottom)
2 – 1×6 @ 20 3/4″ (Drawer Front and Back)
2 – 1×6 @ 10″ (Sides of Drawer)
4 – 1×2 @ 21″ (Tops and Bottoms of Crib Rails)
10 – 1×2 @ 7 3/4″ (Crib Rails)

Instructions
Preparation Instructions
I filled all holes with wood filler and let dry. Then I went over with a second coat. Then I sanded with 120 grit sandpaper. Then I removed the sanding residue with a vacuum, followed with a quick wipe down with a damp washcloth. Everything got a single coat of primer. Then Grace and I painted the crib Antique White by Valspar in satin, and the drawer Utterly Pink (I added a shot or two of black to mute the color) in Valspar satin.