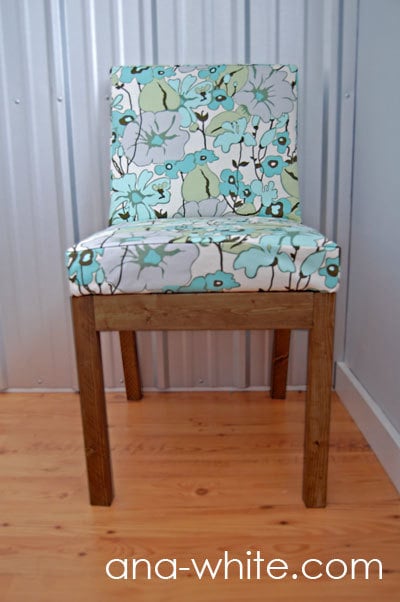 These Parson Chair plans do not require any special cutting and all sewing is straight lines. Very sturdy and lightweight, but the chair is overall a compact chair.
Thank you so much to everyone for their thoughts and prayers.  My mom had a rare instance where her white blood cells attacked her platelets instead of a cold virus.  The condition is fully treatable, and she is doing well.  Thank you so much for thinking of our family these last few days.
Just before this incident happened, actually on my day off, I built a chair.  And now I finally get to blog it.
Finally, not just a Parson Chair, but one that I believe anyone can build.
I choose Amy Butler August Fields for the fabric.
And stained the bases Dark Walnut.  Of course you could extend the slipcover to the floor if you would like.
And my mother-in-law sewed the slipcover from my pattern.  She's better at the sewing machine, and we wanted to test just how replicate-able my pattern was.  What do you think?  Her seams are perfect, but the pattern fits this chair like an expensive sheath.
And the best part about the pattern?  Simply tuck under, staple, and attach the wood base.  All bottoms seams are completely hidden.
I did promise you this chair is easy to build.   Here is just how easy.
Dimensions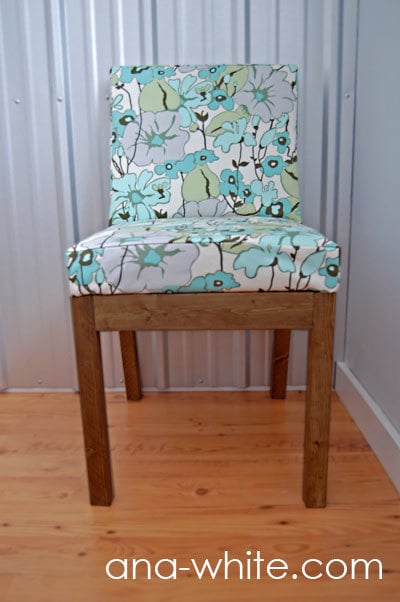 Note this is a small chair, suitable for dining and kitchens, but can be increased in size easily.
Preparation
Shopping List
2 – 2x2s, 8′ long
1 – 2×3, stud length of 8′ long
1 – 1×3
1 – 1×2
Scrap pieces of 1/4″ plywood or No Sag Springs (also called Zig-Zag or Sineous Springs) or Jute Webbing
1 – 15 1/2″ x 17 1/2″ x 2″ standard chair foam cushion (like this one)
1 yard 1/2″ thick foam batting
1 yard burlap
1 yard decorator weight fabric
5/8″ staples
1 1/4″ and 2 1/2″ pocket hole screws OR 2″ and 3″ screws
Common Materials
120 grit sandpaper
primer
wood conditioner
paint
paint brush
Cut List
2 – 2×2 @ 18 1/8″ (one end cut at 15 degrees, measurement to long point)
2 – 2×2 @ 15 3/8″ (one end cut at 15 degrees, measurement to long point)
1 – 1×2 @ 16 3/16″ (one end cut at 15 degrees, measurement to long point)
1 – 1×2 @ 14 1/2″ (Front Apron)
1 – 2×2 @ 14 1/2″ (Back Support)
1 – 2×2 @ 13″ (Back Base Support)
2 – 2×2 @ 16″ (Front Legs)
2 – 1×3 @ 14 1/2″ (Front and Back Aprons)
2 – 2×3 @ 13 1/2″ (one end cut at 15 degrees off square, measurement to short point)
2 – 2×2 @ 16 9/16″ (Both ends cut at 15 degrees, parallel to each other)
Instructions