Free tiny house plans by ANA-WHITE.com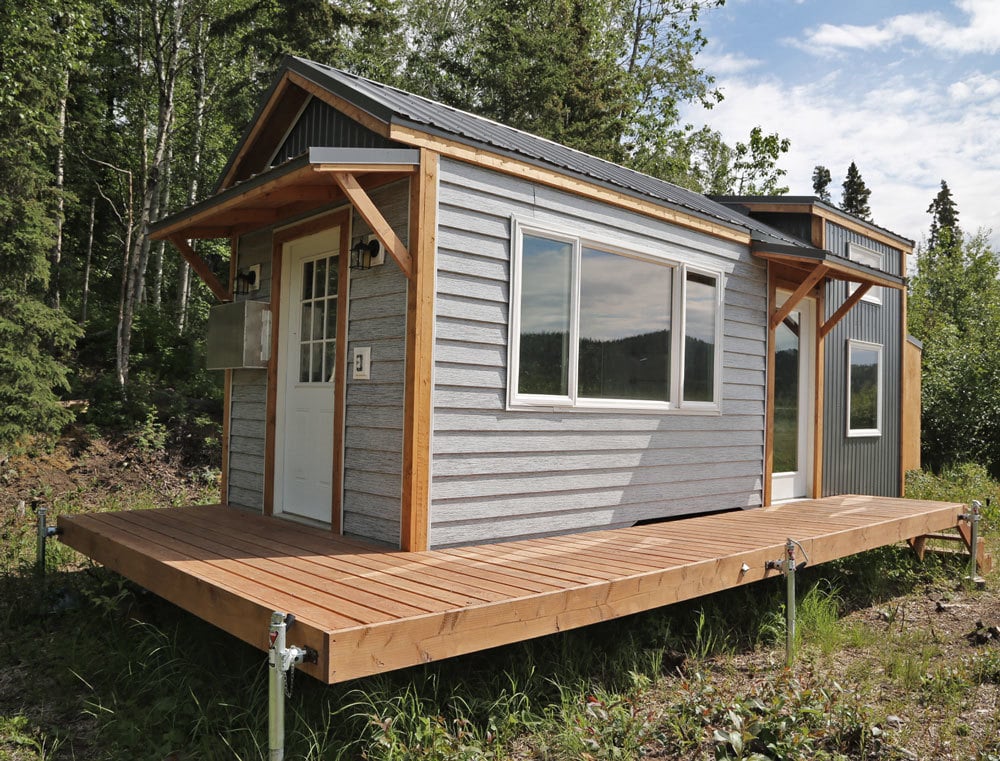 We built a tiny house, and love it!  And want to share our experience and plans with you so you can build one too!
Size
Our tiny house is built on a trailer 24' long and 8'6" wide (the exact trailer is a PJ Super Wide Channel B6).  Because of roof overhangs, the tiny house is slightly over width, requiring us to have a permit to transport in our state.  Regulations vary by state, so check locally before building.  
Purpose
The purpose of our tiny house is to use while working on a remote cabin.  We built it in town, and then towed it across a frozen lake during the winter, as there are no roads to the remote cabin site.  It is not a primary home for us, so does not have many amenities as a primary home would.
We choose to keep our tiny house dry to reduce maintenance, as we have extreme cold in Alaska, and this is very common in our area.  We will be releasing additional plans that include full amenities should someone want to build this tiny house for full time living.
Tiny House Tour
Please take a second to watch this video, with a full tour of our tiny house.  I wanted to keep the interior open and uncluttered, with practical furnishings that are easy to convert for multiple uses.  We often have 6 or more adults (and as many or more children) inside without issue.
Tiny House Plans
We are very happy to be able to share our tiny house plans with you completely free.  We do ask that if you build, please share your experience, negative or positive, to help others in their building decisions.  And a photo or two is always appreciated!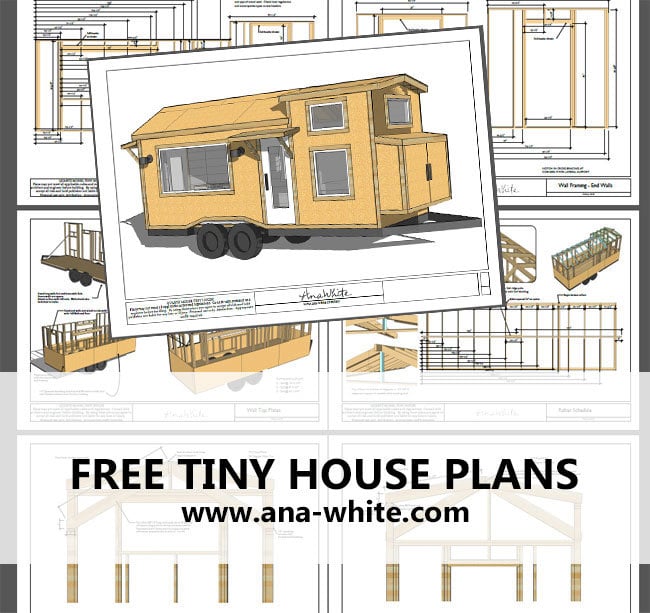 Modified Floor Plans
Since so many of you have requested, I have created an additional floor plan with a bathroom included.  
I tried to keep the balanced look on the front side by dividing up the main window into three smaller windows.  This is also good for transport, as wider windows weaken walls laterally.
On the inside, the smaller windows are well placed for a sink, stove, and over a possible desk or table.  
This plans are now available for free download.  Enjoy.
I also have shared the sketchup model for the orginal Quartz Model tiny house, which includes all framing, that you can download and modify away.
You can click on the model above and orbit around.  Once you download the model, you will be able to view my model in layers, for example, front wall layer, or all wall layers.  Enjoy and do something awesome with it!
Tiny House How-To Video Series
We put together a series of videos on YouTube showing all of our steps in building this tiny house.  This is the playlist of all the videos, please watch before you build.
We are doing our best to answer questions, please help us out if there is something you can answer in comments, both on the videos and in the project plans.  
Interior Projects
We hope you love the interior of the tiny house as much as we do!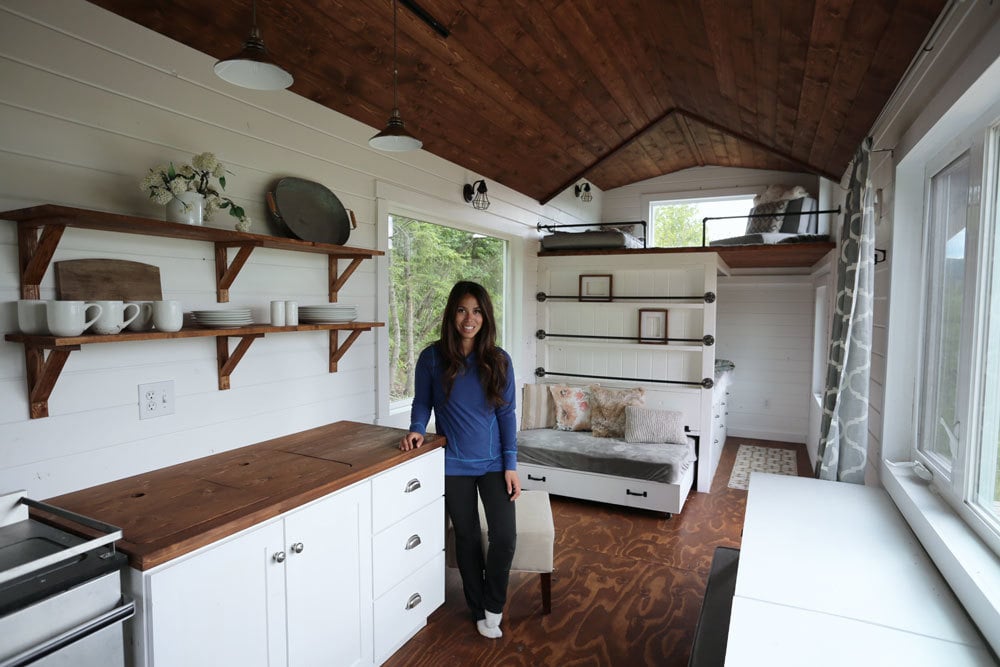 It is suprisingly big!
We've share all of the plans so you can build these projects too!
Source List
We don't have alot of shopping up here in Alaska, so pretty much everything you see is from Amazon, Home Depot, Lowe's, Target, Walmart, and Fred Meyer (a supercenter store in the Northwest/Alaska regions).
Thanks so much for being part of our tiny house video series!  Enjoy and pass the love on!
XO Ana
These plans have not been reviewed by a licensed engineer and/or architect. Ana-White.com or any affiliates do not represent or imply itself to be a licensed engineer and/or a licensed architect. Use at your own risk.  By using these plans, you agree to not hold publisher or any affiliates liable for any loss, injury or damage.  For personal use only.  Attribution - credit is required.
Pin For Later!