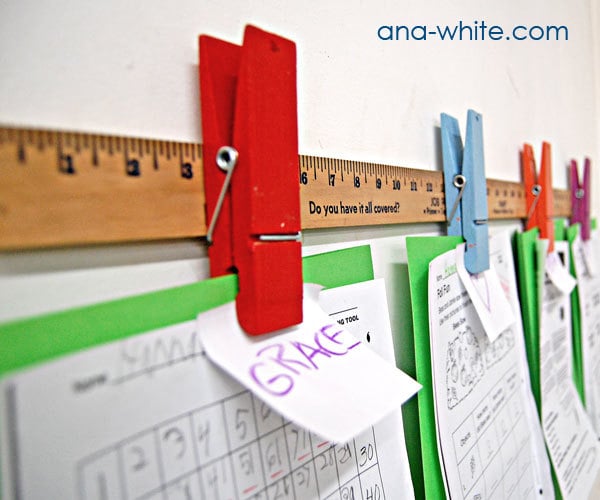 Display your children's artwork or even a chore list with this cute wall display system. Made from Jumbo clothespins and a wood yardstick.
So I have a story for you.
My sister Claudia is in town and Grace was showing her her room.  And of course, Grace only has a toddler bed.
And Aunt Claudia asked where she was going to sleep, because Grace's bed is too small.
And Grace replied, with confidence, "Don't worry, I'll make another bed."
And Aunt Claudia said, "Won't that take a long time?"
And Grace said, "No, I promise, I can make another bed real fast."
Well, we didn't make a bed.  But we did make this together.
And it was real fast.
And real cheap.  You will need a yard stick.  Ours came from the Lowe's paint counter and was eighty-nine cents.
And four of these giant clothes pins. I got them on sale for three dollars for all four.
And some leftover paint.  Acrylic paint in the tube works too.
This one is high gloss red from Valspar.
And this blue is a homemade oooops concoction.  Add a little gray to the color to tone it down and balance the brights.
More ooops paint.  Can't beat $1 per quart.  Especially in premium paint.
And I wanted to show you this photo because this plum is green ooooops paint.  Notice how the paint is thinner than the other colors (all single coats)?  I'd pay for green paint, but this one doesn't have the same coverage as the other paints.
Now line out your clothes pins on the yardstick.  Mark the locations.  Flip the whole thing over.
And screw the yard stick to the clothespins with short screws (measure your clothespins and yardstick, I used 1/2" screws)
And then just screw the whole thing to the wall.  I screwed mine to a stud in the wall, but you could also use drywall anchors.