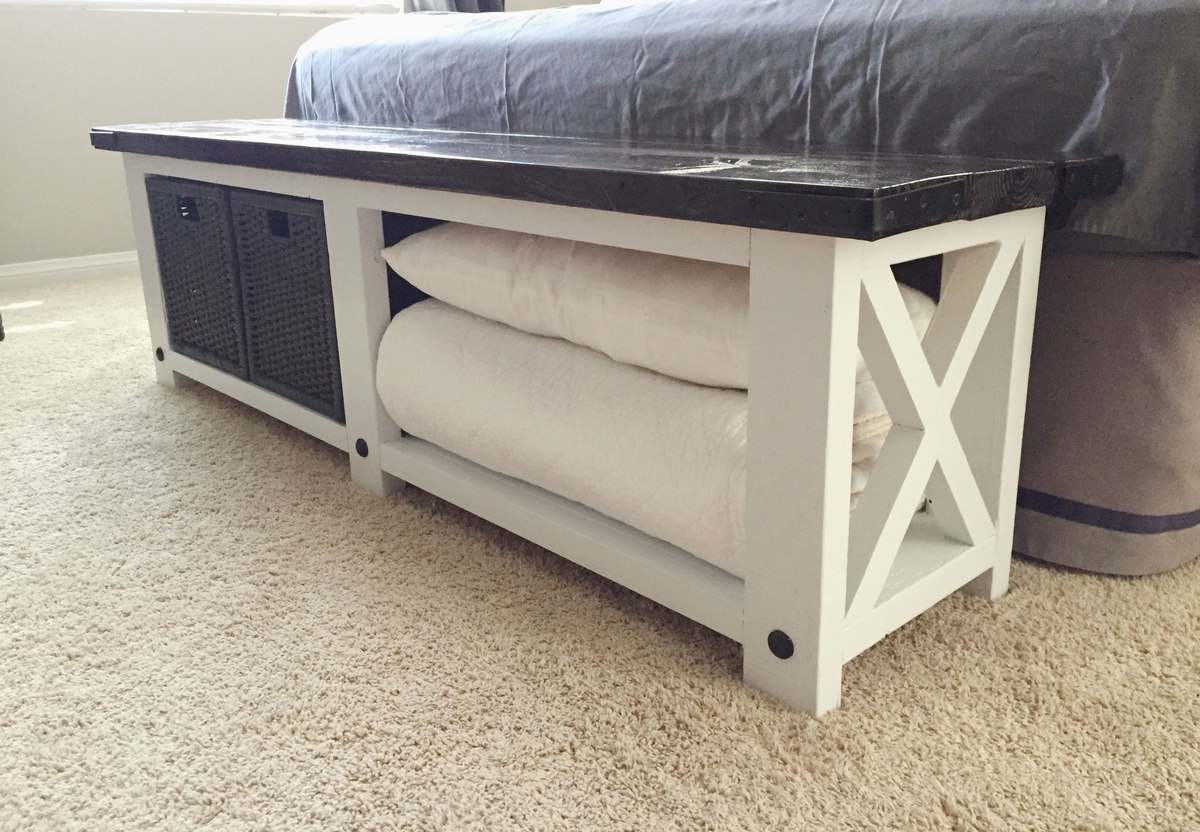 Dimensions
Rustic X Entryway Bench Dimensions
Preparation
Shopping List
2 - 2x4 @ 8 feet long
3 - 2x6 @ 8 feet or stud length (whatever is cheaper)
1 - 1x12 @ 6 feet long
4 - 2x2 @ 8 feet long
If you have a brad nailer, 2" brad nails would make construction easier but is not required
Cut List
6 - 2x4 @ 16-1/2" - legs
8 - 2x2 @ 30" - aprons
1 - 1x12 @ 63-1/2" - bottom shelf
5 - 2x4 @ 11-1/4" - side supports - adjust this length to match the width of your 1x12 boards
3 - 2x6 @ 74-1/2"  - top
2x2 Xs should be cut to fit the openings
Cutting Instructions
The best way to cut boards is with a compound miter saw.  But you can also use a circular saw or jigsaw - just make sure your cuts are straight and square.  Using a straight edge as a guide can really help.
You'll also need to use a circular saw to make the angled cuts in the legs if your miter saw cannot cut these angles.

General Instructions
To avoid setting your Kreg Jig multiple times, I recommend drilling 3/4" pocket holes around the sides of your 1x12 shelf first, pocket holes about every 8".
Then set your Kreg Jig for 1-1/2" thick material and proceed with the plan.
Instructions
Step 4
Step 5
Step 6
Join the top boards together with a 1-1/2" pocket hole and 2" pocket hole screw every 12".
Attach completed top to the base with even overhangs on all sides.