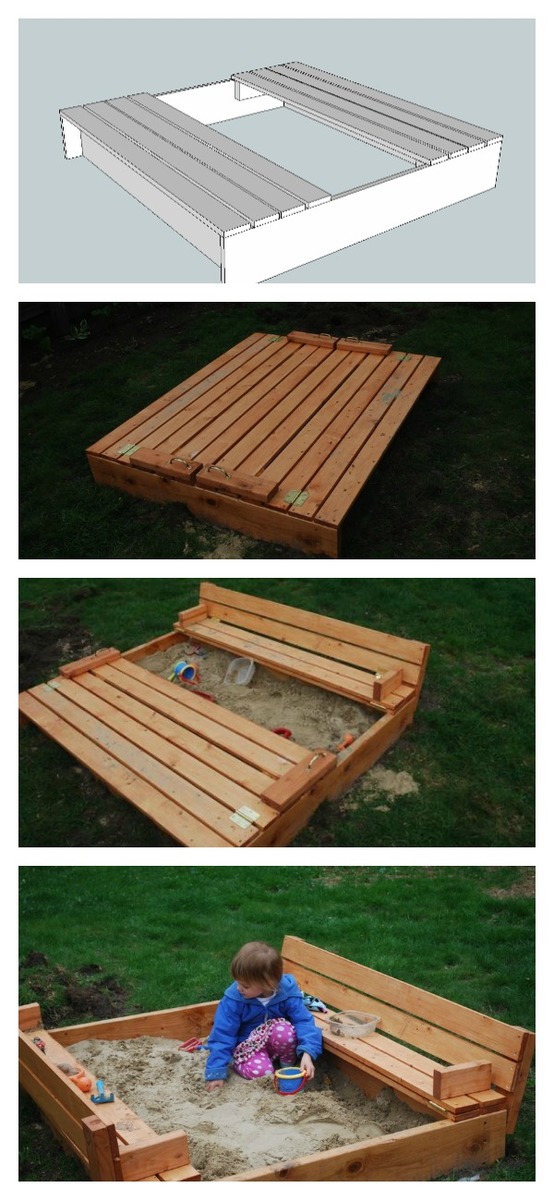 About Project
Everyone with a sand box knows that lids are a necessity. But double-duty lids are crazy awesome, especially if they convert to a seat! Check out the inspiration for this sand box! http://www.gltc.co.uk/fcp/product/-/great_outdoors_sandpits/Wooden-Sand… You'll notice that it's not an exact replica, as I wanted to make this easy to build for everyone. Not everyone has the tools necessary to notch out boards and create the overhangs on the sides. For more awesome projects (or to leave some love if you've built this) visit my blog at www.ladygoats.com !!
Yes, I've finally gotten around to posting these plans!
These plans have been sitting on my computer for weeks, waiting patiently for me get pictures of my sand box to accompany them.
It's fall break over here, and my sister and I tag-teamed road trips. I feel like I totally failed, because I've had them but haven't taken the time to share them... Or even stage mine for photos! But for those of you waiting patiently for me to post these plans, THANK YOU! And I'm sorry it's taken so long! Photos coming soon :-)
Dimensions
47 1/2" W x 47 1/2" D x 7 1/2" H
Preparation
Shopping List
2 - 1 x 8 x 8 6 - 1 x 4 x 8 1 - 2 x 4 x 8 or Stud Length You will also need: 4 sets of exterior grade hinges Rope OR 4 exterior grade handles (search "gate pull" or "gate handle")
Common Materials
1 1/4 inch screws
1-1/4" Pocket Hole Screws
Cut List
(a) 2 - 1 x 8 @ 47 1/2" - long sides of box (b) 2 - 1 x 8 @ 46" - short sides of box (c) 12 - 1 x 4 @ 47 1/2" - top planks (d) 4 - 2 x 4 @ 7 1/2" - arm rests (e) 4 - 2 x 4 @ 12 1/2" - back support/handle
General Instructions
Please read through the entire plan and all comments before beginning this project. It is also advisable to review the Getting Started Section. Take all necessary precautions to build safely and smartly. Work on a clean level surface, free of imperfections or debris. Always use straight boards. Check for square after each step. Always predrill holes before attaching with screws. Use glue with finish nails for a stronger hold. Wipe excess glue off bare wood for stained projects, as dried glue will not take stain. Be safe, have fun, and ask for help if you need it. Good luck!
Instructions
Step 1
Create a basic box, insetting the short sides as shown above. You can either use pocket holes or pre-drill through the long sides and use 1 1/4" screws.
Step 2
Screw in two planks on each side, countersinking your screws through the top. Space the boards 1/2" apart
Step 3
Create what will become the seat. Screw the 1 x 4 boards (1/2" apart) onto the 2 x 4 arm rests (d). Make sure that the 2 x 4s are at least 1" inset from the edge to allow for them to fold into the box nicely. (you'll be making two of these)
Step 4
I have NO idea how to add hinges in sketch-up, but attach the seat that you made in step 3 to the plank you screwed in in step 2. I found it easier to attach the hinge to the seat (on the side opposite the arm rests) and THEN attach it to the screwed-in plank. Make sure to space them 1/2" apart.
Step 5
Step 6
Attach your second set of hinges to the seat back, on the opposite side of the 2 x 4s, and then attach to the seat (easy to do with the seat "up"). Make sure to space the 1/2" apart.
Preparation Instructions
Fill all holes with wood filler and let dry. Apply additional coats of wood filler as needed. When wood filler is completely dry, sand the project in the direction of the wood grain with 120 grit sandpaper. Vacuum sanded project to remove sanding residue. Remove all sanding residue on work surfaces as well. Wipe project clean with damp cloth.

It is always recommended to apply a test coat on a hidden area or scrap piece to ensure color evenness and adhesion. Use primer or wood conditioner as needed.