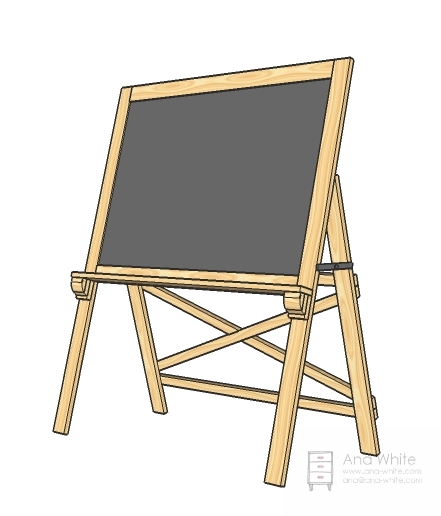 About Project
A large chalkboard, with cross bracing and a chalk ledge. Can be built to fold flat.
Thank you everyone for liking the Toddler Chalkboard Easel. I'm at heart a three year old, and when I see lots of likes, it really does make my day. Thank you.
As we get closer to the Holidays, my stress is definitely increasing.  There are just so many plans I want to get out to you in time to build and gift.  So today I am going to put the plans for the Schoolhouse Chalkboard up. It's big.
Dimensions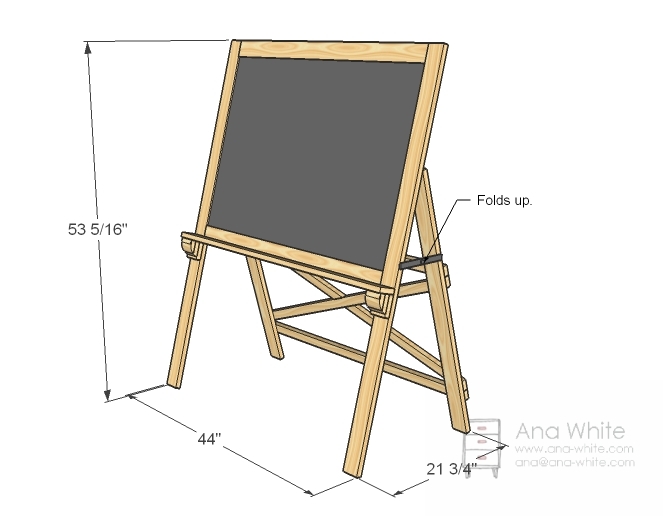 Dimensions are shown above.
Preparation
Shopping List
4 -1×3
2 – 1×2
1 1/4″ pocket hole screws
1 1/4″ screws
3/4″ screws
wood glue
finishing supplies
1/2 sheet of 1/4″ thick hardboard (backside of paneling works great
chalkboard paint
1 set of 2 1/2″ wide hinges (door hinges would work or industrial hinge)
1 set of hinge for lift tops toy boxes – the longer the better.
Cut List
2 – 1×3 @ 39″ (Frame Top)
2 – 1×3 @ 55″ (Frame Sides)
1 – 1/4″ hardboard @ 44″ x 31 1/2″ (Chalkboard)
1 – 1×3 @ 44″ (Tray)
2 – 1×3 @ 39 1/4″ (back legs)
2 – 1×2 @ 44″ (horizontal back supports)
1 – 1×2 @ 46 3/4″ (first cross support – see diagram before cutting)
1 – 1×2 @ 48″ (second cross support – see diagram before cutting)
Instructions
Step 1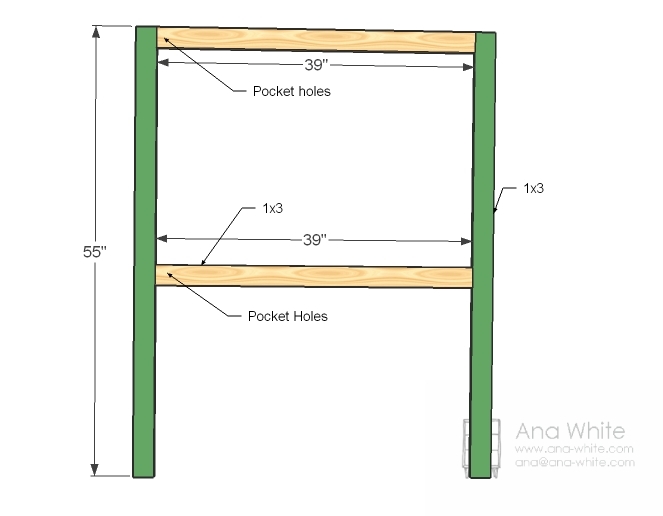 Build the Frame
Drill pocket holes in both ends of the horizontal frame boards. Build the frame.
Step 2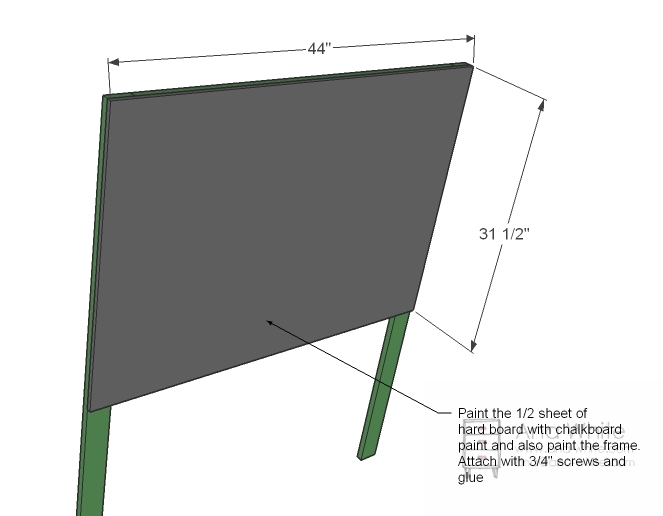 Chalkboard
After painting both the frame and the chalkboard, glue and screw the chalkboard to the frame using 3/4″ screws and glue.
Step 3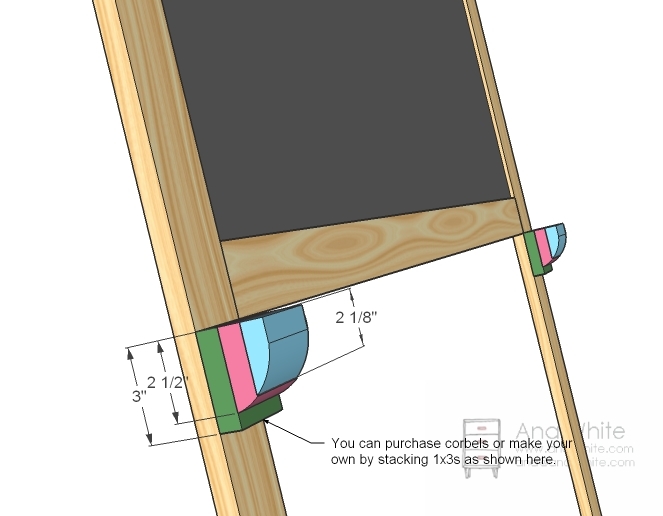 Corbels
Attach corbels, or make your own as shown above. Glue and screw or use finish nails to secure.
Step 4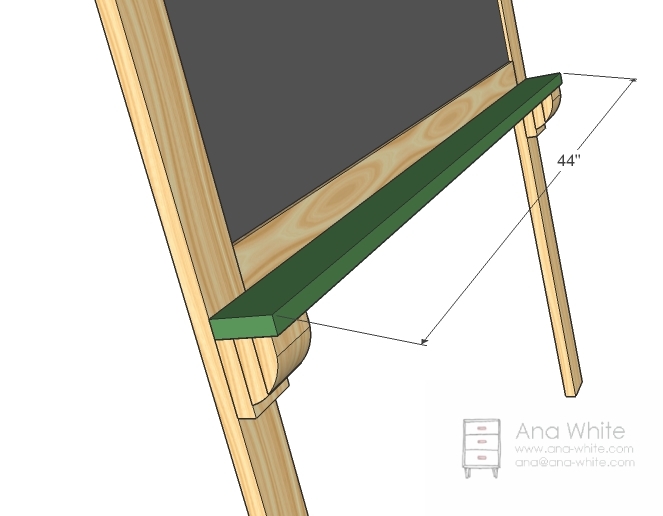 Tray
Now attach the tray to the corbels and screw through the back into the back side of the tray. Use 1 1/4″ screws and glue.
Step 5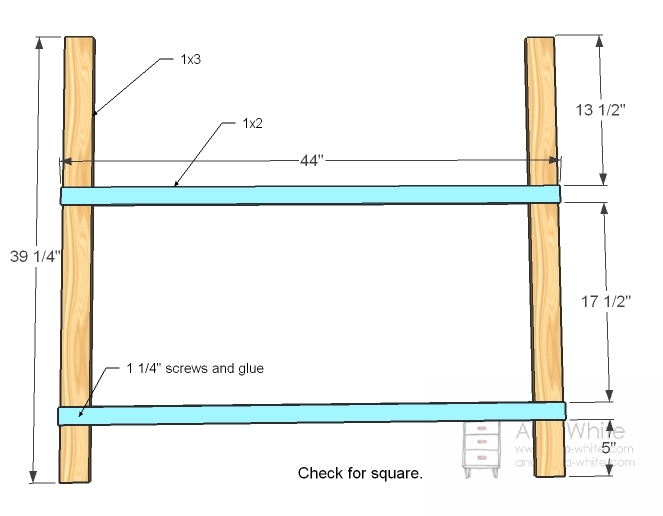 Step 6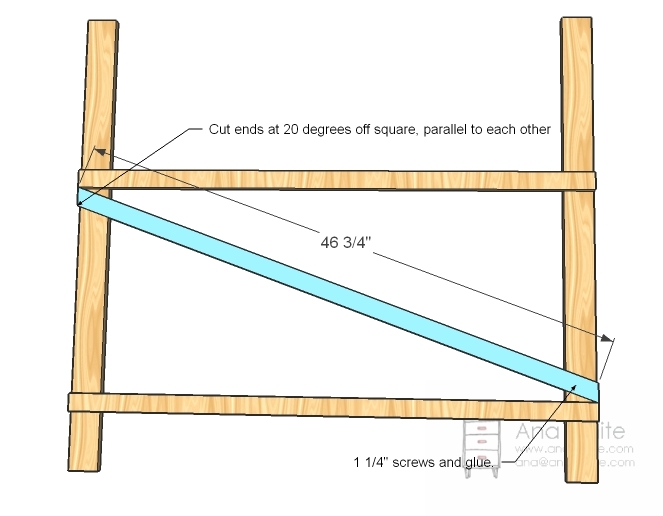 Cross Support
The easiest method is to lay the 1×2 over the back and mark. Cut with a jigsaw, then glue and screw in place with 1 1/4″ screw and glue.
Step 7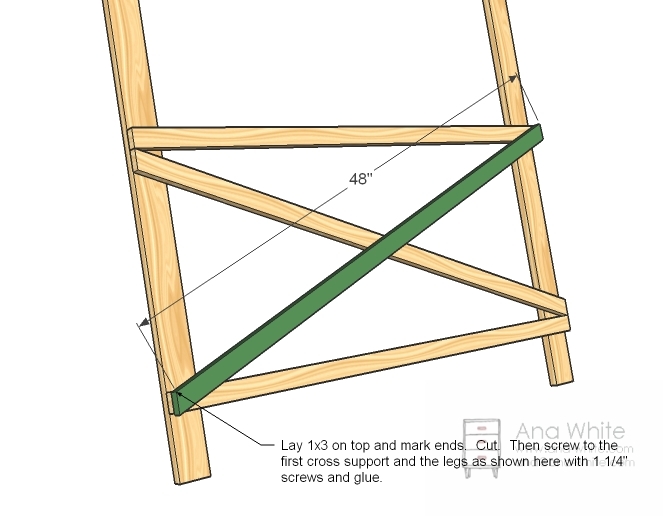 Top Cross Support
Now simply lay the top cross support on top, mark, cut and then glue and screw in plac
Step 8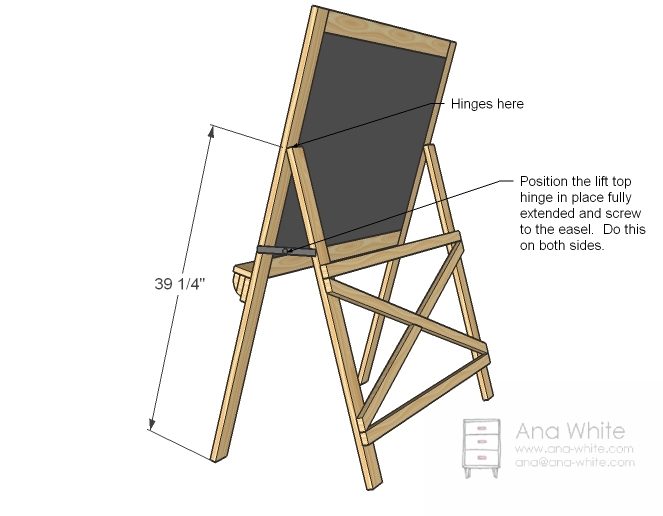 Assembly
Hinge the back to the front as shown in the diagram. Then prop the chalkboard up in the position that works for you. With lift top hinges fully extended, screw in place on both sides where the hinges fit (longer ones will add more support).