This simple bench has a secret!  Store boots inside it!  Free plans by ANA-WHITE.com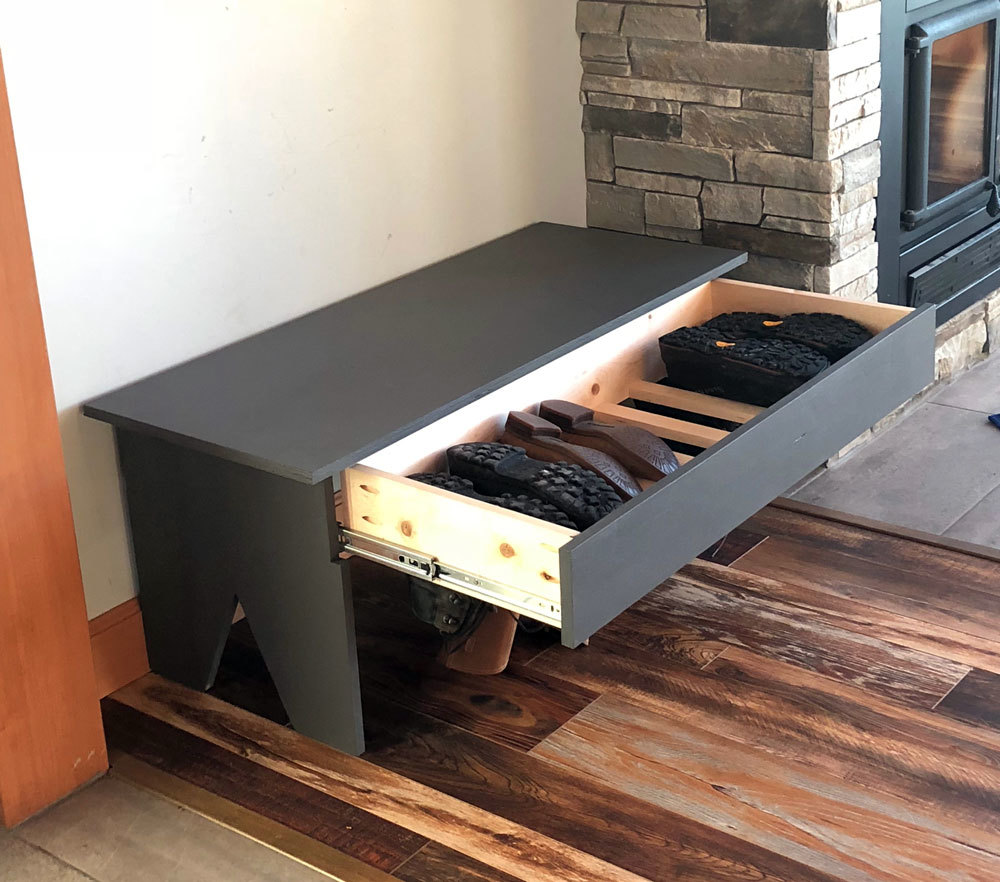 Dimensions
Dimensions shown above
Preparation
Shopping List
1 - 3/4" x 18" project panel, 7 feet long OR 48" x 48" 3/4" plywood panel, cut into two pieces, 18" x 48" (will have a scrap leftover about 12" wide)
1 - 1x6 @ 8 feet long
1 - 1x4 @ 6 feet long
2 - 1x2 @ 8 feet long
16" full extension side mount drawer slides (usually the silver ones)
Common Materials
1-1/4" Pocket Hole Screws
Cut List
2 - 3/4" plywood @ 18" x 17-3/4" - legs
1 - 1x6 @ 41-1/2" - back support
1 - 1x2 or similar (can be 1x3 or 1x4 or 3/4" plywood strip) @ 40" - front support
1 - 1x6 @ 41-1/2" - drawer front
1 - 1x4 @ 39" - drawer back
2 - 1x4 @ 15-1/4" - drawer sides
9 - 1x2 @ 15-1/4" - drawer bottom slats
1 - 3/4" plywood @ 18" x 45-1/2" - top
Instructions
Step 1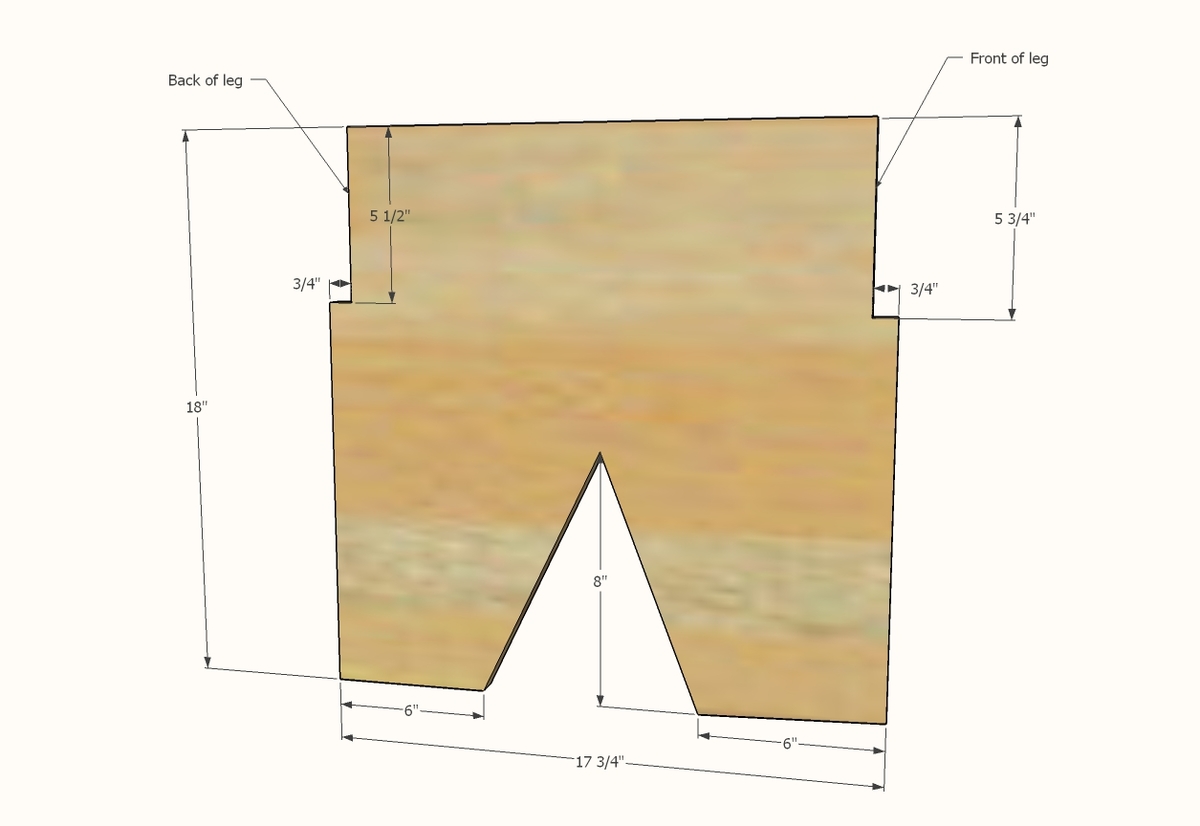 Cut the plywood pieces with a circular saw or table saw.  Mark out detail cuts and cut with a jigsaw.  Sand any rough edges.  Mark front edge and inside/outside edges of pieces.
Drill 3/4" pocket holes facing up along upper inside edge (make sure you are drilling pocket holes on insides of the two legs in mirror) and along the notched out back edge (see next steps).
Step 2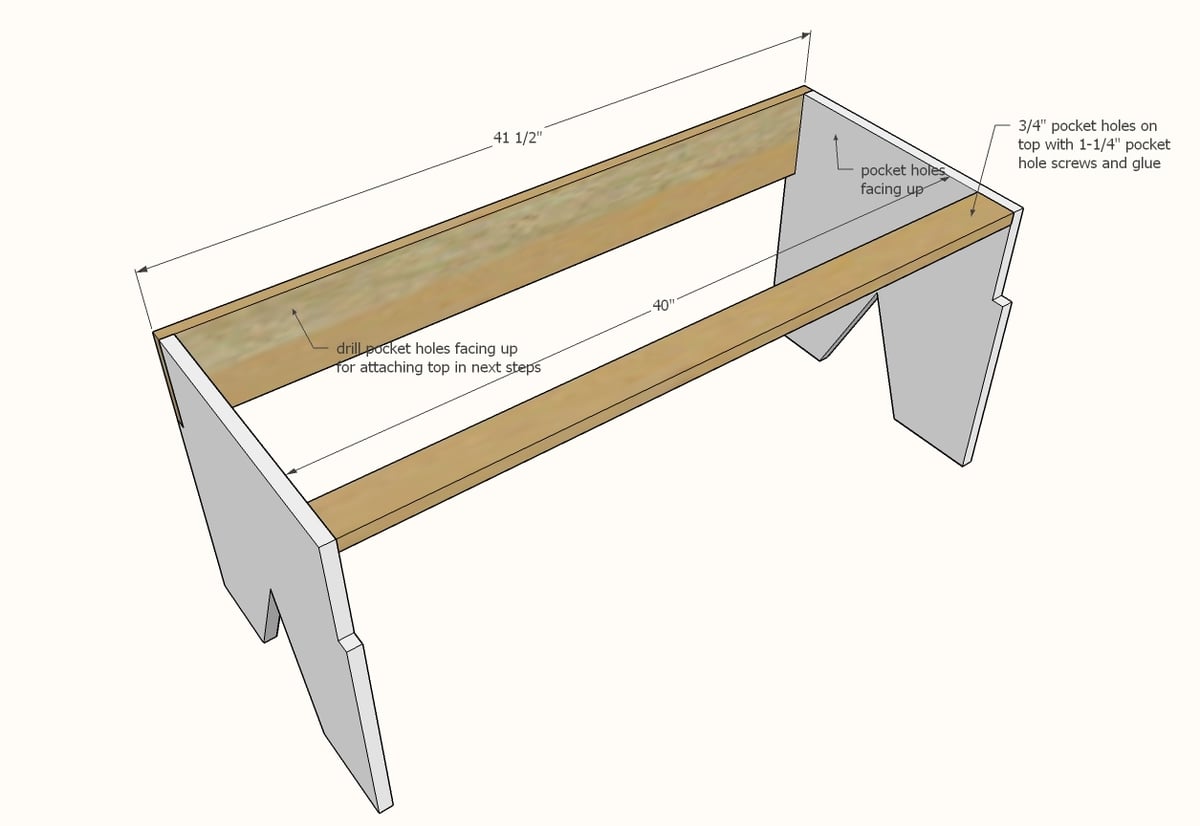 Attach back support with 1-1/4" pocket hole screws and glue.  
Drill two 3/4" pocket holes on each end of front support.  Attach to front edge of bench.
Step 3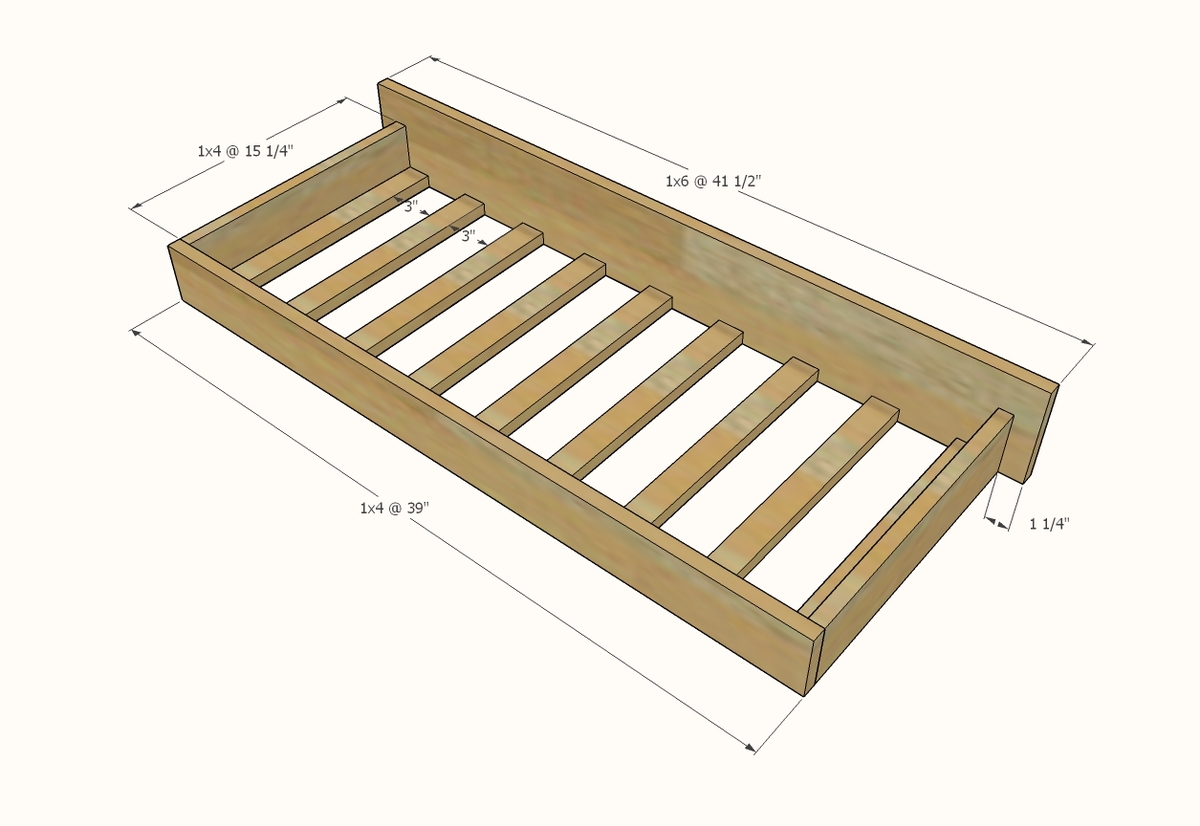 Build the drawer as shown.  I used pocket holes for strength.
Step 4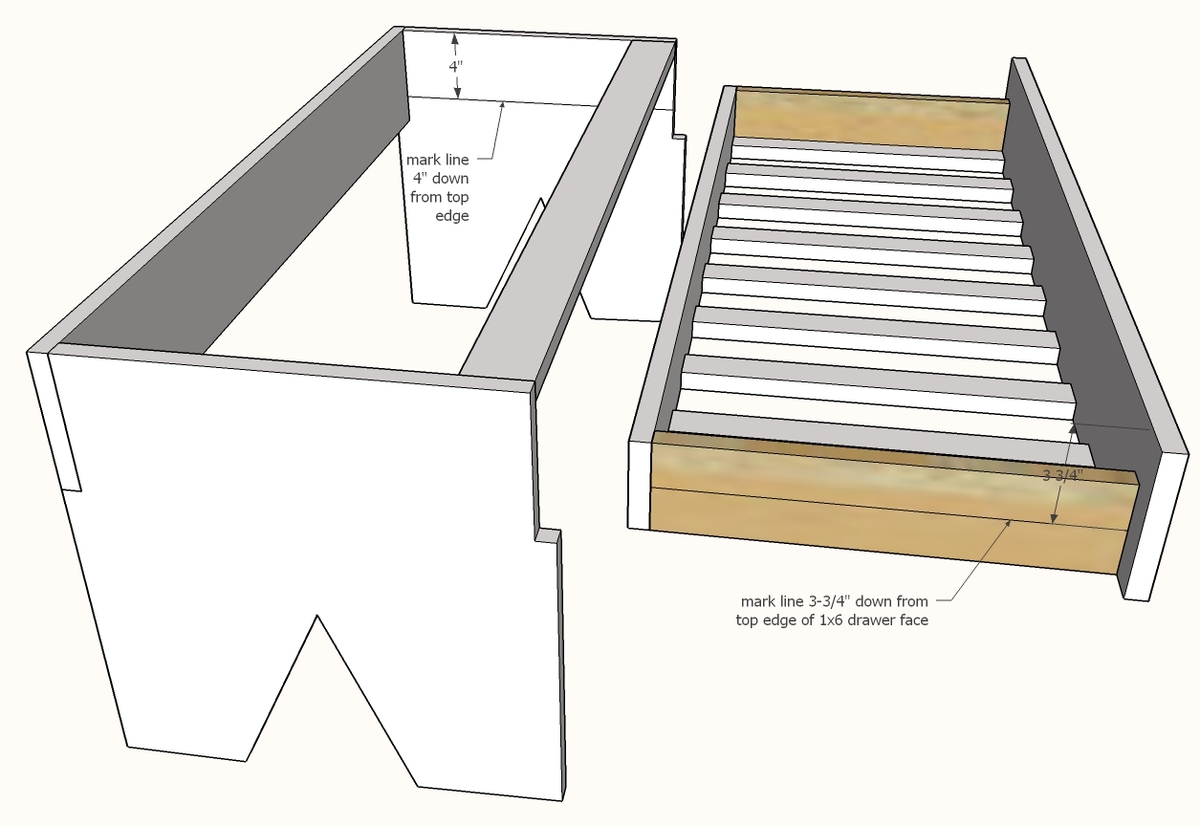 Step 5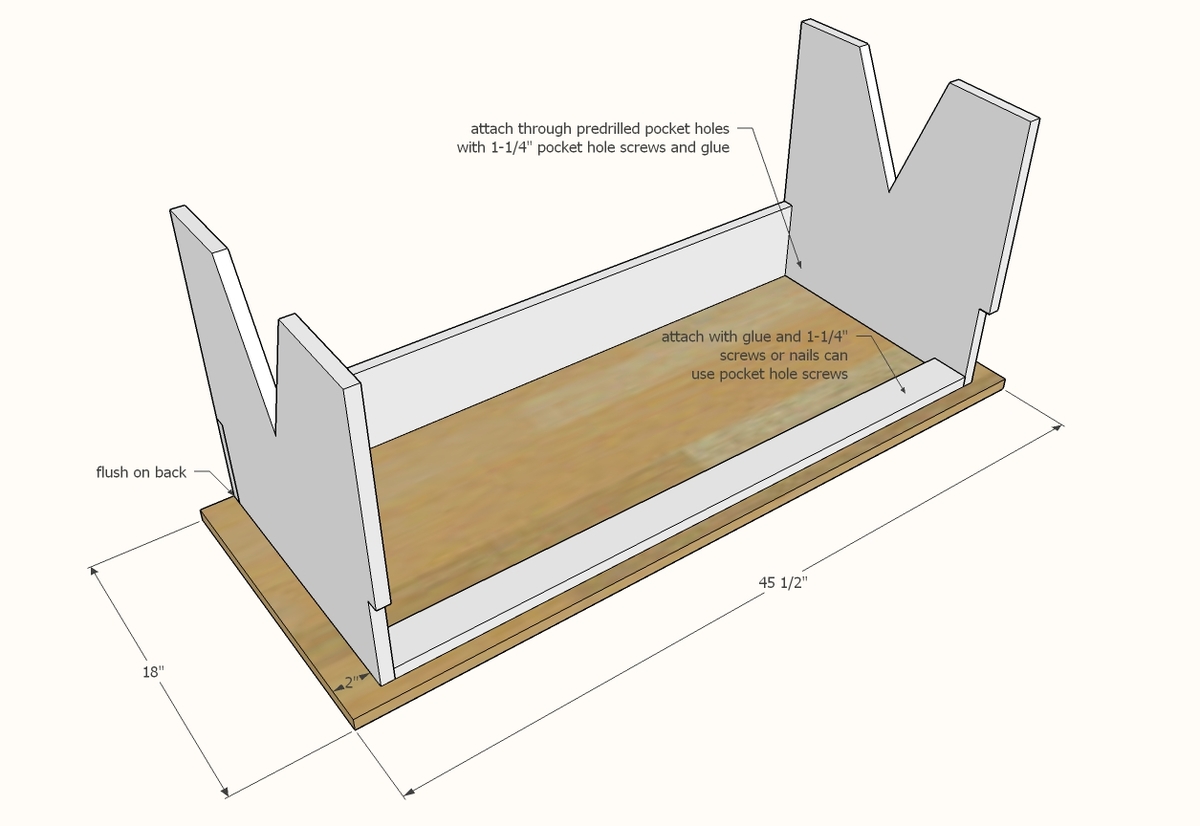 We apologize if there was an error in this plan. Please help us out and report any errors here.