Stairs for the playhouse loft bed. Featuring lift top storage, behaving much like a large hidden toybox. Give your child easy safe access to their bed!
Special thanks to Kimberly for sharing her
You have our community project request forum to thank for today's plan.
Because I certainly didn't believe I had the skills to develop a plan like this.  But you believe in me.  So I try, and what do you know?  We got a playhouse loft bed with stairs.
There are unlimited number of ways to approach building stairs with storage.  And I thought of all the options.  And this one seemed to make sense.  Because there is a window on the other side of the bed, this side would most likely be in a corner, removing all access from the stairs side of the bed.  So drawers could be done, but there would be a huge amount of wasted space in the very back.  We'll do a different type of design for stairs on a different bunk bed where we use drawers.
I personally love the idea of lift top stairs because they are inexpensive to do - just three sets of hinges is all you need for hardware - and they take advantage of all the space in the stairs.  You could stash suitcases, costumes, stuffed animals, sleeping bags, extra bedding - what couldn't you stash in those stairs?  And the lower stairs could be a toy box that your child uses regularly.
Dimensions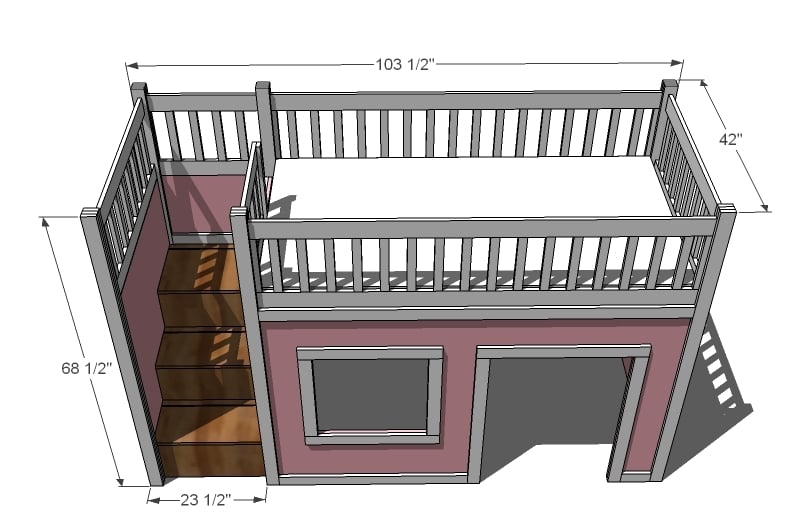 The stairs are going to add about 2 feet to the overall width of the bed. Same height.
Preparation
Shopping List
In addition to what you purchased for the playhouse loft bed without the stairs, you will need:
Another sheet of 3/4″ MDF or Plywood or Particle Board
4 feet of 1×10 Boards
6 – 1×3 Boards
6 – 1×2 Boards
2 – 1×4 Board, 10 feet long
1 – 1×3 Board, 10 feet long (you can use a 1×4 here if you can't find a 1×3)
3 – Sets of Hinges
Cut List
Because of the complexity of this plans and since it is a modification of a previous plan, cut list will go with each step.
General Instructions
Well, you already got half the story in yesterday's post of the Easy Playhouse Loft Bed. Go through and read that post. You will need to build the front and the side wall without the ladder. The cut list will change, as some of those pieces will change for the modifications. So update the cut list - the one shown below is ONLY for the back wall and the stair wall and the stairs.
Instructions