Make your own street hockey, lacrosse or soccer goal!  Heavier than PVC so won't blow away in the wind, but inexpensive and easy to make! Free plans by ANA-WHITE.com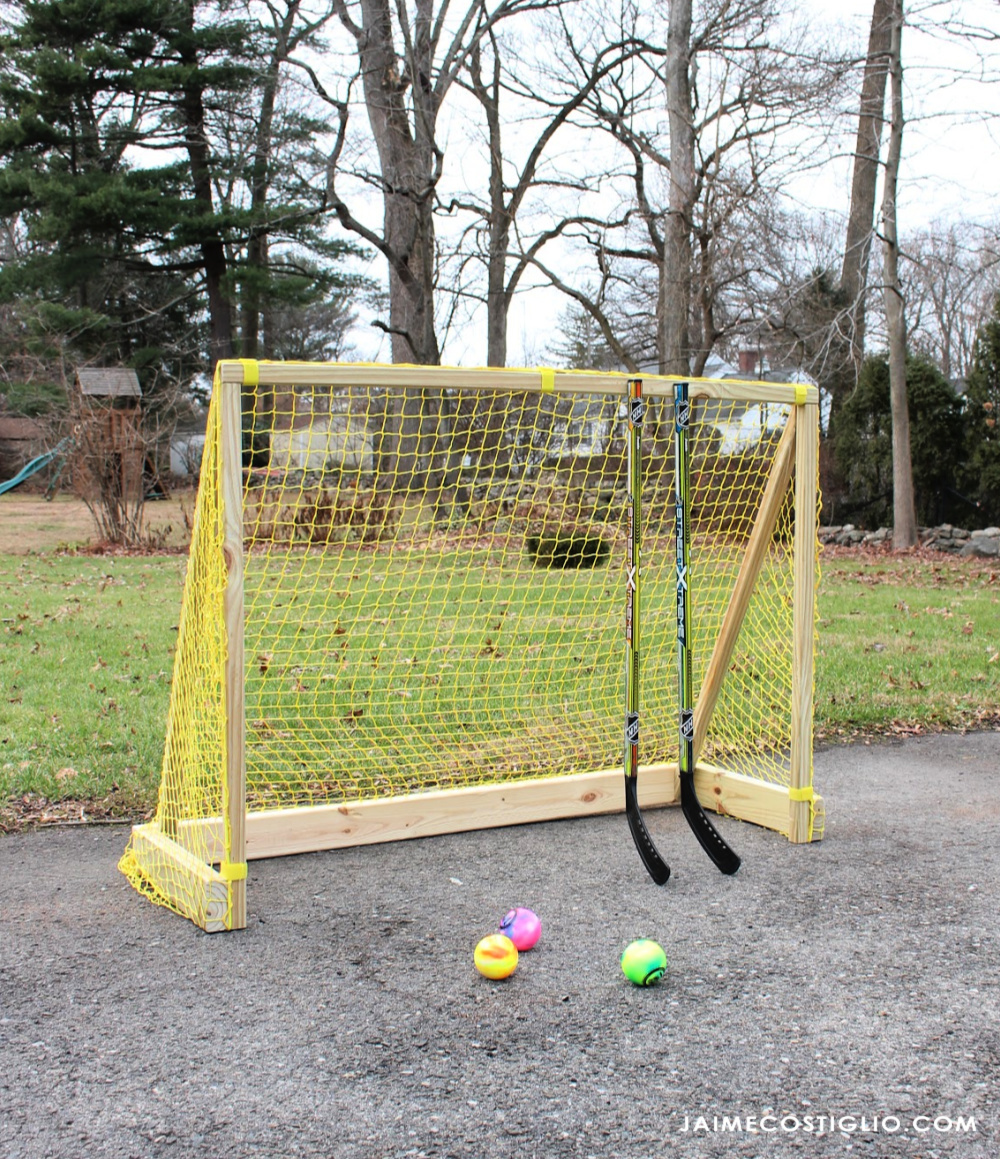 Dimensions
Dimensions shown above - sized for street hockey or cross ice hockey games
Preparation
Shopping List
INDOOR VERSION
1 - 1x4 @ 8 feet long
3 - 2x2 @ 8 feet long
1 - 1/4" and 2-1/2" pocket hole screws
Recommed Kreg Jig 
OUTDOOR VERSION  - Use outdoor appropriate materials
4 - 2x4 @ 8 feet or stud length
2-3/4" self tapping exterior screws
Does not need Kreg Jig
Cut List
Can be made as shown with 1x4 and 2x2 or can be made with all 2x4s for exterior use (heavier and more durable).  If for exterior use use treated or cedar or other outdoor appropriate materials.
1 - 1x4 @ 52-1/2" OR 2x4 @ 54"
2 - 1x4 or 2x4 @ 18"
2 - 2x2 or 2x4 @ 36"
1 - 2x2 or 2x4 @ 51" 
2 - 2x2 or 2x4 @ approx 48" - cross piece, will be cut shorter
Instructions
Step 1
Build the base frame as shown. 
If using 1x4s, use 3/4" pocket holes and 1-1/4" pocket hole screws. 
For the outdoor version (2x4s), use 2-3/4" screws.
Step 2
INDOOR VERSION: Attach 2x2s together at top with 1-1/2" pocket holes and 2-1/2" pocket hole screws.  Then attach 2x2 frame to 1x4 frame with 1-1/4" pocket hole screws, screwed through the 1x4s into the 2x2s from outside - 2 screws per joint.
OUTDOOR VERSION: Build the upper frame exactly as you did the lower frame in step 1 (but legs will be longer) using the 2-3/4" self tapping screws.  Then attach to the lower frame at the bottom corner.
Step 3
BOTH VERSIONS: Position cross piece where it will be installed and mark the angles.  Cut the angles with a circular saw or jigsaw.  
Step 4
BOTH VERSIONS: Attach in place with glue and wood screws. You can use pocket hole screws for indoor version, self tapping screws for outdoor version.
Step 5