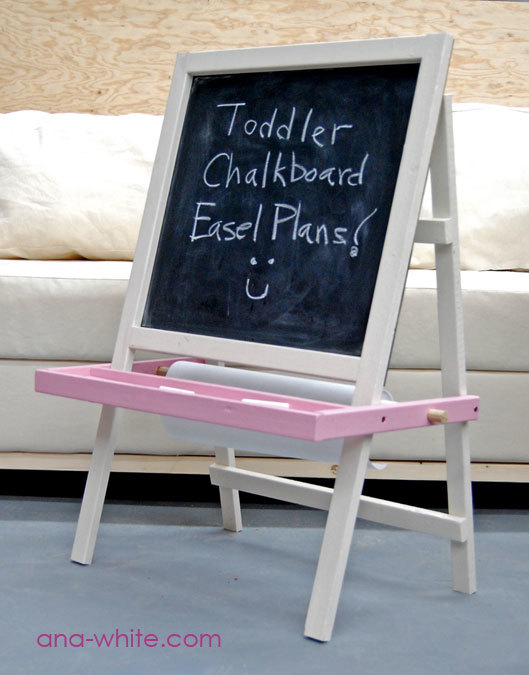 My daughter's favorite thing. A just my height toddler chalkboard that also works with a roll of craft or freezer paper to become a easel.
It is that time of the year.  Time to think about gifts.  This year, I challenge you to handmake at least one gift for someone you love.  By putting your time into a gift, you not only give a treasured present, but your loved will feel even more loved knowing you made with your hands their gift.
And if you just so happened to know a toddler that needs a chalkboard (under 4 is recommended), this might be that gift.  Also shown, Clara's Table and the Four Dollar Stackable Chairs.
And with the addition of a cheapo wood dowel and some good ole freezer paper, this little guy turns into an art easel too!
Complete with a little tray.  Is this the one?  If not, expect lots more smaller, giftable projects in the next month or so.
Dimensions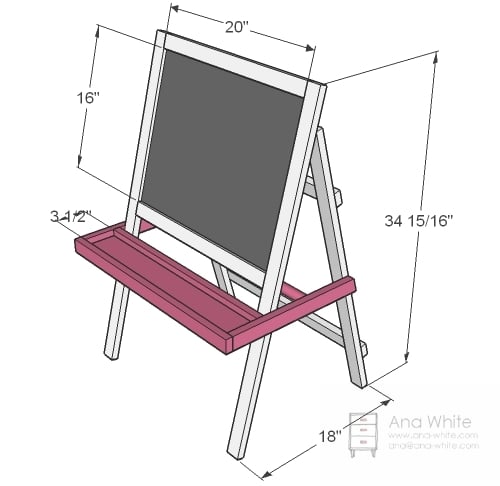 Dimensions are shown above. Warning, this is a little easel. If you are looking for a larger easel, go here for those plans.
Preparation
Shopping List
1×2
1×4, 24 inches
2″ screws
3/4″ screws
wood glue
1/4″ hardboard scrap (I used the backside of scrap paneling)
chalkboard paint
finishing supplies
Cut List
2 – 1×2 @ 20″ (Tops and Bottom of Frame)
2 – 1×2 @ 36″ (Frame Legs)
1 – Chalkboard (made my own out of hardboard paneling and chalkboard paint) @ 23″ x 19″
2 – 1×2 @ 23″ (Back)
2 – 1×2 @ 31″ (Back)
1 – 1×4 @ 23″ (Tray)
1 – 1×2 @ 23″ (Tray Back)
2 – 1×2 @ 15″ (Tray Sides)
1 – 1×2 @ 24 1/2″ (Tray Front)
3/4″ wood dowel @ 28″ (Paper Holder)
Instructions