Easy to build Treehouse Bed - just cut and screw boards together!  Free plans by ANA-WHITE.com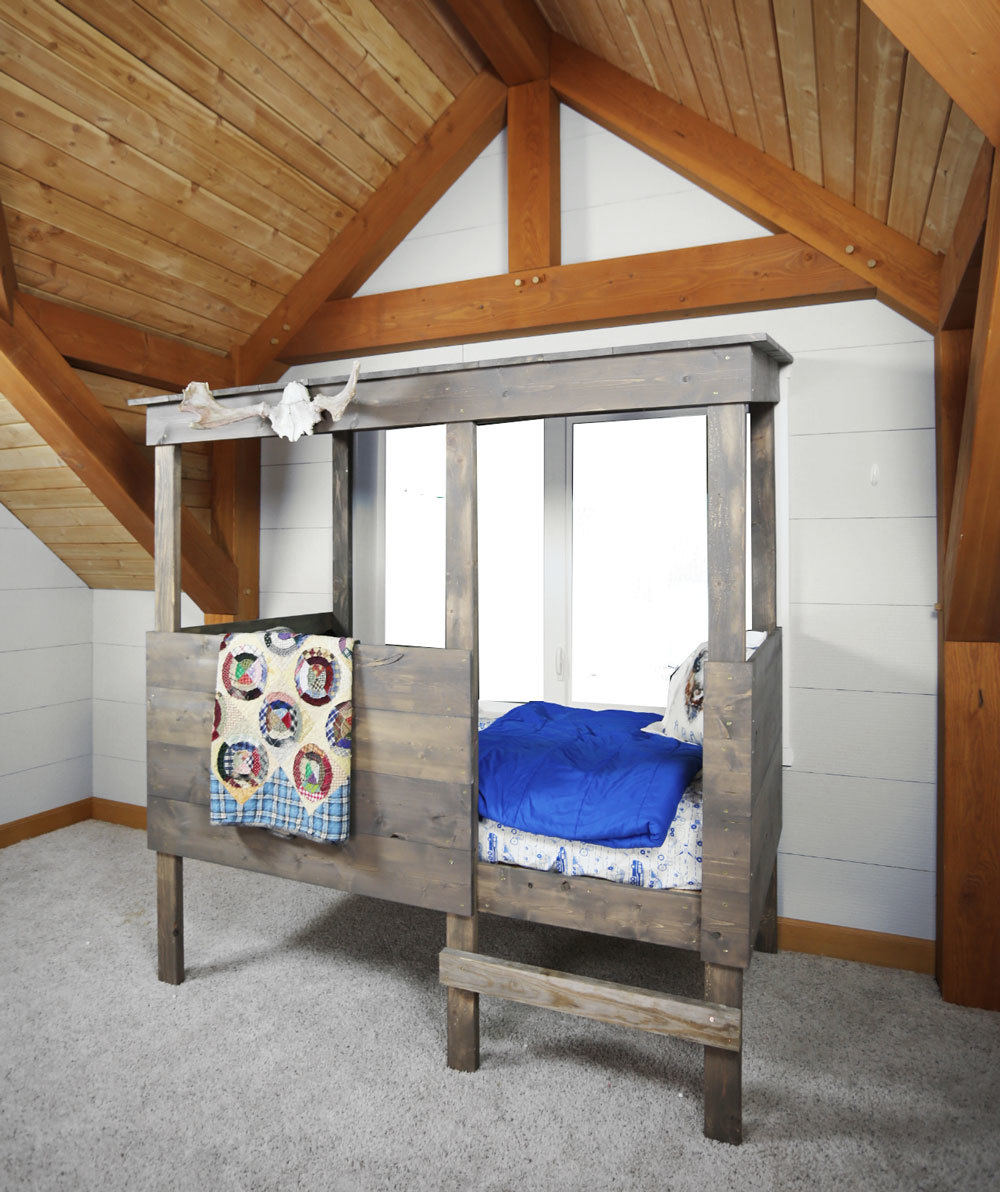 Dimensions
Twin Size, Dimensions shown in diagram
Preparation
Shopping List
12 - 2x4 @ 8 feet or stud length (whatever is cheaper or better material)
3 - 1x6 @ 8 feet long
12 - 1x8 @ 8 feet long
About 60 - 2-3/4" self tapping screws (SPAX or similar)
About 150 - 1 - 3/4" self tapping screws (SPAX or similar)
Cut List
2 - 2x4 @ 85" - longest point measurement, one end cut at 10 degree bevel - back legs
3 - 2x4 @ 77-7/8" - longest point measurement, one end cut at 10 degree bevel - front legs
2 - 2x4 @ 75" - mattress cleats
2 - 1x6 @ 42-5/8" - long point to short point measurement, both ends cut at 10 degree angle, ends ARE parallel - side roof trim
2 - 1x6 @ 76-1/2" - front/back roof trim
8 - 1x8 @ 42" - side siding
4 - 1x8 @ 47-1/2" - front siding
4 - 1x8 @ 4-1/4" - small front siding - cut last from scraps
1 - 1x8 @ 24-3/4" - front mattress trim
1 - 2x4 @ 31-3/4" - step
11 - 1x8 @ 45-3/4" - roof
9 - 2x4 @ 39" - mattress slats
General Instructions
It may be easier to prefinish all of the boards before assembly
Instructions
Step 1
Layout the front and back frames carefully and attach the mattress cleats as shown, taking care to keep the roof angles right on the tops of the legs.  Make sure the top of the legs are 75" wide, as is the bottom.
Step 2
Attach the front frame to the back frame with the roof angled trim.
Step 3
Attach remaining roof trim to the fronts of the legs and back. 
For the front, keep the top down enough so the roofing boards attached in later steps will be able to lay flat on the dotted line.
Step 4
Attach the bottom side siding first, adjusting for square and level.
Step 5
Step 6
Repeat siding steps to complete the siding.
Step 7
Add the mattress trim and ladder rung.
Step 8
Attach center roof panel first, carefully screwing into the front 1x6 roofing trim.  This may be a little tricky, so take your time and make sure the screw hits the board.
Step 9
Repeat, working from the center out, for the rest of the roof boards.
Step 10
Lay 2x4 slats inside the bed on the mattress cleats.  Attach with screws.
NOTE: Your mattress may require more slats than shown. Spacing shown is about 5" appart - add mor slats if in doubt.