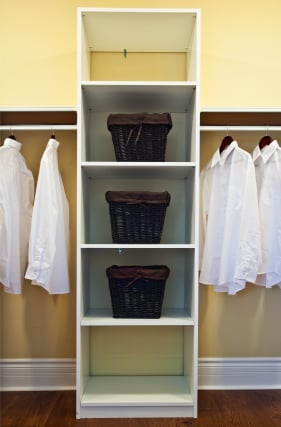 Closet organizers can be so expensive, or are often made of particle board. Yet they are so easy to build and customize to your needs. This is a large closet organizer, suitable for dividing up closet space.
As I was looking through our Community for inspiration (thanks Leah!) for today's plan (as paint dries on some of the "surprises" for the next few weeks  :)  ) and came across a request for a closet organizing system, it took me back to the days before I was comfortable with a drill.  And I assembled a closet system from out of the box like this one and considered it a major accomplishment.  And it WAS.  It took me hours to build it.  Yes, build.  With an allen wrench and instructions, but it was still building
And I spent hundreds on what is essentially just a bookcase made of particle board.  The inside wasn't even finished.
Today's plan is really straight forward and boring, not like Grace's closet (click for plans)
Built by Kristin - wow!  And BTW, Kristin, if you are reading this, I just gotta know what beautiful shade of pink that is?  It seems to have a calm gray undertone.  Love it!
Anyway, really boring - but so necessary.
I'd like to add more components to the closet system, but starting with this is perfect.  We have this system in our master bedroom closet (ha ha master right, it's four feet wide and behind the main door) and it holds so many things!  And I'm quite fond of the open design - makes for staking the Rams pants quite easy!  I use baskets for socks and underwear.
Dimensions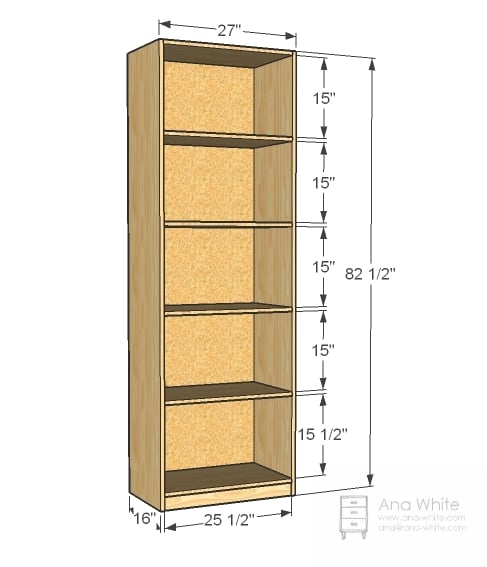 Dimensions are shown above. Customizable to suite your needs.
Preparation
Shopping List
2 – Sheets of 3/4″ Particle Board (closet grade) or MDF or A1 plywood cut into 15 1/2″ wide strips, 8 feet long
You could also use closet shelving in any width as a substitute (for example 20″ wide shelves for a 20″ deep shelving system)
1 sheet 1/4″ plywood or MDF
1 – 1×2 26″ long
2″ screws
2″ finish nails
Common Materials
120 grit sandpaper
primer
wood conditioner
paint
paint brush
Cut List
2 – 1×16 @ 82 1/2″ (Sides)
6-1×16 @ 25 1/2″ (Shelves)
1 – 1/4″ Plywood @ 82 1/2″ x 27″ (Back)
1 – 1×3 @ 25 1/2″ (Footer)
Instructions