I'd been looking for a plank-style farmhouse table for quite some time. Couldn't find what I wanted to buy anywhere (and too cheap to spend the money even if I did), so decided to make my own table. Made up my own design for the table top, and then went looking for the right legs. I liked the pedestals on Ana's design a lot, but thought 3 was too many for my project. Looking at some of the other tables that had been done with only two, I decided I didn't love the high placement of the spanning bar when done with only 2 legs. So, I moved it down to the bottom of the legs instead, and added a couple of decorative knobs to make up for the lost visual interest to the pedestal columns. I'm not a particularly physically strong woman, but I was was able to do this entire build single-handedly, with very little previous experience assembling furniture (lots of diy experience doing other kinds of home improvement projects though). Only needed a second set of hands when finally lifting the top onto the legs at the end. Fun project overall.
Final table size is 8' X 33.5". Seats 8 comfortably; can fit 10 when needed.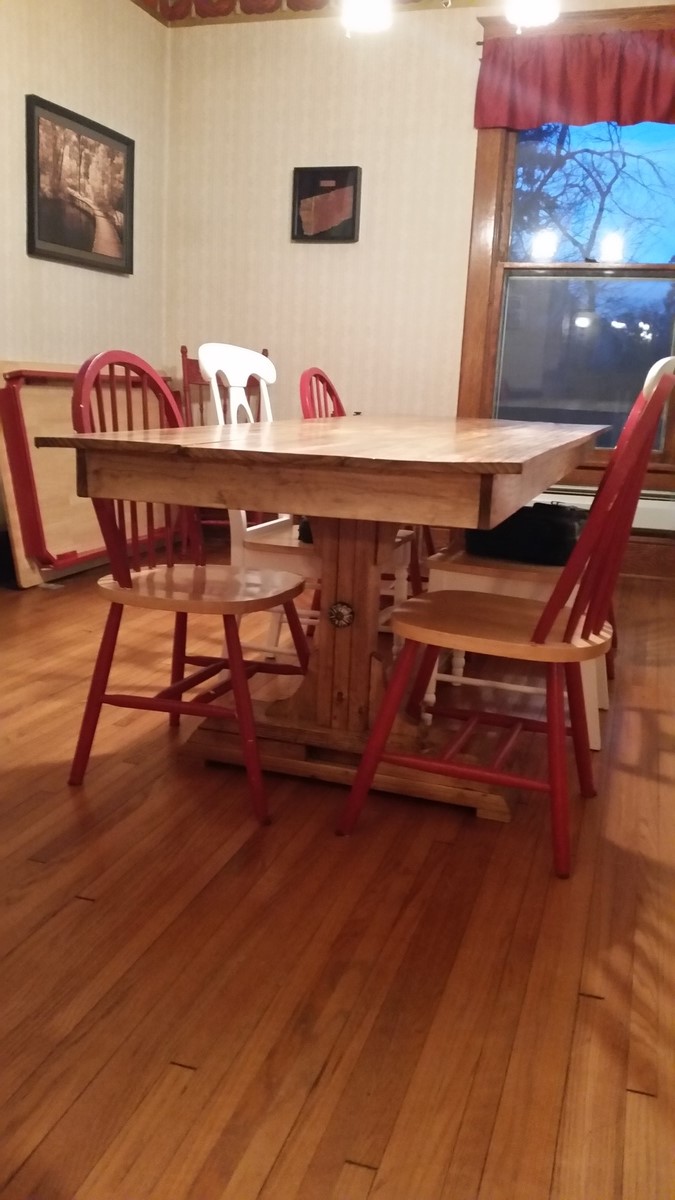 Estimated Cost
$227 for wood (pine), $70 in other materials
Estimated Time Investment
Week Long Project (20 Hours or More)
Finish Used
First did a rough, sloppy application of dark walnut stain, using a brush. Did lots of splatters and deliberately made it uneven. Wiped almost immediately after applying to keep color light. Next, did a solid, smooth coat of Ipswich pine stain using a cloth. Final finish was 2 coats of clear, semi-gloss polyurethane. Staining and finishing was greatest time investment of the project.
Recommended Skill Level
Intermediate