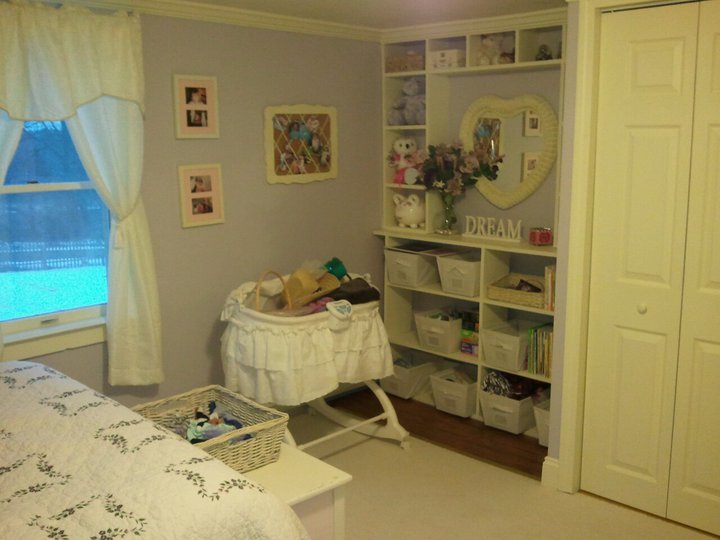 I used a combined/modified version of the Logan and Kristen's modified version as well. The opening in the middle houses the mirror currently, but was designed to fit a 27" flat panel tv when Ceira is older (maybe, LOL). I used regular pine to build it. I built it in two pieces (top and bottom). I couldn't put a back on it, as the heater (baseboard) is there, as well as outlets, and I didn't want to have to move either one. I adjusted the top portion to be slightly wider to cover the distance between the wall and the base bookshelves. This actually worked out well, as when we do eventually install a tv, we will be able to install and hide the wiring easily, and without having to add/move electrical outlets. I made sure to attach the shelves to the studs behind the wall as I am convinced some child, at some point will attempt to climb them. :)
Things I learned from this project - paint BEFORE assembling. This was a huge pain to get inside all of the upper shelves after it was already installed. Also - I hadn't had the carpeting installed at the time I built the shelves (it came about 2 weeks later). Make sure you either do your flooring first, or keep enough scrap flooring to cover the space behind the bottom shelves and under the radiator. Fortunately, I had enough (this time).
Estimated Time Investment
Day Project (6-9 Hours)
Finish Used
I used leftover primer, and the same paint that I used for the moldings & trim (leftover) - Valspar semigloss in a shade of cream. Against the pale lavender walls looks very classic and girly.
Recommended Skill Level
Beginner