My FIRST furniture making project ever! Previous woodworking project was a sorry-looking wall shelf made in high school shop class. The plans for this project were VERY easy to follow! Thank you, Ana!
Once I set up the sectional on our screened porch, I realized I really wanted a coffee table. So, I used the Accent Table for Simple Modern Outdoor Sectional plans as a guide. I lengthened the side and underneath supports to accommodate a longer top (46 1/2" for side supports and 45" for underneath supports) and made 13 top slats, instead of only 6 for accent table. Finished coffee table measures 48" length x 23 1/2"width x 17" height and used 7 boards, plus a scrap 17" piece leftover from sectional pieces.
Project Costs for 4 armless sections, 2 corner sections & coffee table (Maryland):
40 1x4"x8' common boards
2 boxes 2" dipped wood screws
1 box 1 1/4" dipped wood screws
bottle of wood glue
Quart of Kilz outdoor primer
Quart of Benjamin Moore "Ben" Low Lustre Exterior paint in Bittersweet Chocolate
Four Rolston 2-piece and Two Rolston 3-piece replacement outdoor cushions in Beige from Target (now discontinued). (Biggest chunk of cost, $520)
TOTAL = $~765
P.S. Find and buy the cushions first! It took me a long time to find them online. And when I went back to reorder more, after I decided to make sectional bigger than I originally planned, they had discontinued the corner sections. So, I just used a 2 piece cushion for one end. I actually like the way it looks (see pictures).
P.P.S. Our dog especially loves to sleep under the sectional...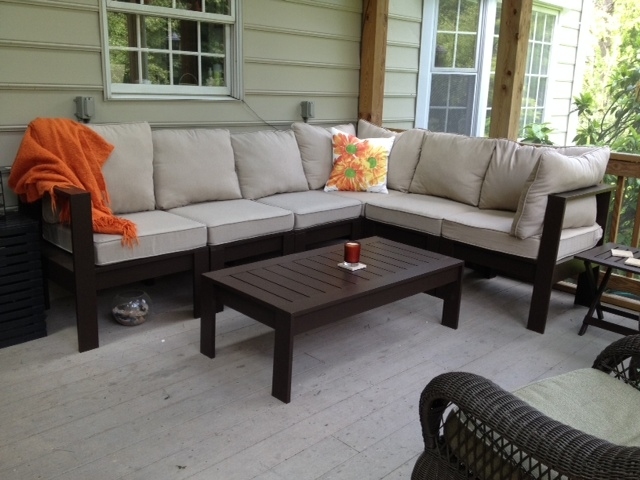 Estimated Time Investment
Weekend Project (10-20 Hours)
Finish Used
one coat Kilz indoor/outdoor primer (hides pine knots better than regular primer)
two coats Benjamin Moore BEN Low Lustre Exterior in Bittersweet Chocolate
Recommended Skill Level
Beginner