This is our third project. We needed a table set in the living room since our IKEA coffee table did not survive the move to TX. My husband and I fell in love with the rustic X collection and decided to start with the coffee table first. Everything was quite straight forward until cutting the 2x2 for the X. Well, without much wood-working experience, I made a rookie mistake of cutting them to length before cutting the angles. Eventually, we came up inches short on the 2x2 bars to make a complete X. We had to re-measure and re-cut all the angled bars. But we made it! At first, my husband got frustrated and wanted to leave the X's out and let the table be open on all four sides. But since we are trying to build a whole collection (end tables next, and then console able), I really wanted the X's to make them cohesive. So we survived the taunting tasks and have learned from the experience. We cut the 2x2 a little long and then mark them against the frame before we cut. The original measurements from the plan did not really match up to our frame so we decided to mark and fine-adjust. It worked out well. There was a slight "rainbow curve" in the middle plank of the table top. We decided to use a heavy duty 2 1/2 PH screw on the sides to suck it in, to try to make it level. It worked out well too! At the end, we sanded all the corners and tops really well because I wanted an even top. It is a very nice size coffee table and heavy and sturdy. And we are both extremely happy with the final product.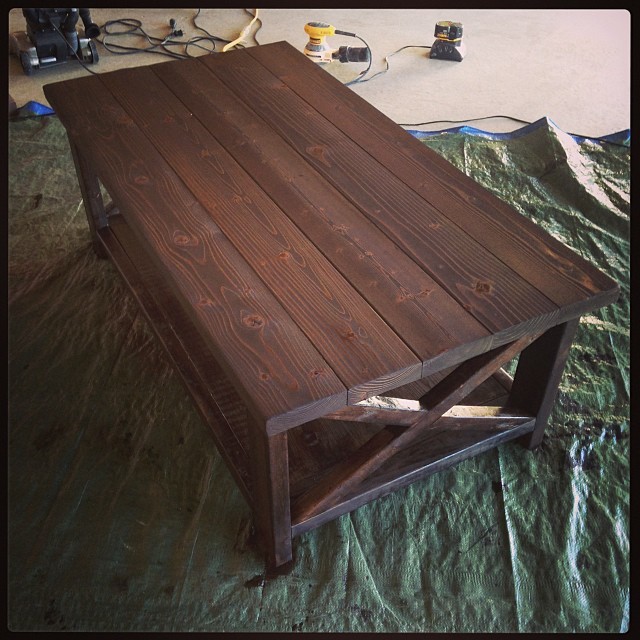 Estimated Time Investment
Day Project (6-9 Hours)
Finish Used
After intensive sanding, we used a brush vacuum to get as much debris off as possible. Then we stained with "kona" for a darker strain. Only one layer because we love how the grain is showing. Matte finish.
Recommended Skill Level
Intermediate