This is the first sink that I made, for one of my nieces of course, and when the other niece saw it, she started campaigning for one of her own. They are extemely easy to build, used my trusty Kreg jig, and on the back, hinged, is a painted, plain top, so when they're tired of using the sink, the top can come off, and instant nightstand! I used the home depot brand sink fixture, 10.00, and a dog dish for the sink. I added a "granite" top, and since this pic, I've sewn the 3 tier curtains. There are 2 different sinks in the below pics.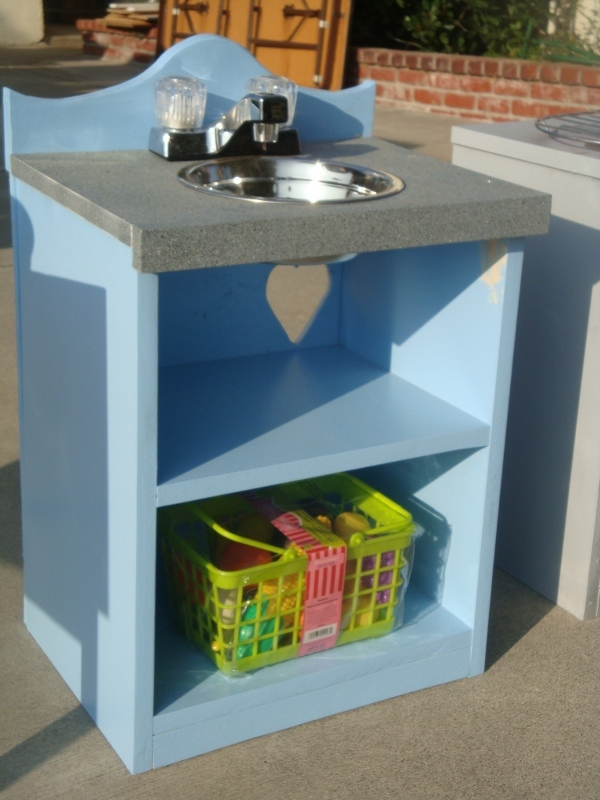 Estimated Cost
45.00 around there
Estimated Time Investment
Weekend Project (10-20 Hours)
Type of Wood
mdf 3/4 inch, pine for trim
Finish Used
kilz tinted to match colors, 2 coats, light sand, red on one, and icey blue on the other.
For the countertop, mixed a handful of playsand into light grey paint, when dry, sprayed top (before fixtures and sink added) with Krylon grey granite stone faux finish. Let dry completely, then it's very important to spray clear coat of Polyurethane over this and let dry. if you use a brush, you'll remove the "granite" finish. I've since done a pink one with tile countertop, just haven't grouted it yet.
Recommended Skill Level
Intermediate