Build your own play kitchen and customize and accessorize to match your home.  This childrens kitchen is so adorable! Our free plans use off shelf materials and simple building skills.  This plan is for the play kitchen sink and stove.  We also have free plans for the matching play kitchen fridge.  Step by step diagrams, shopping and cut list from Ana-White.com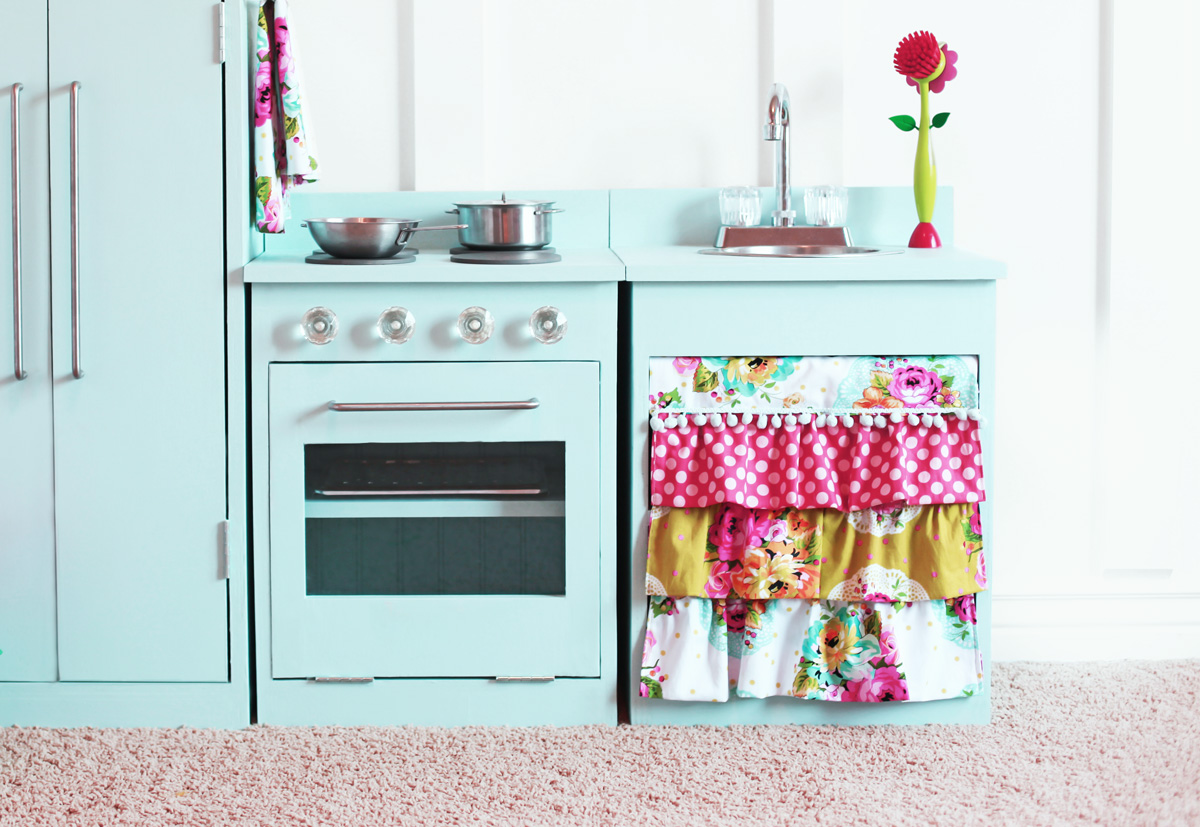 Dimensions
20" high x 16" wide x 12" deep
Preparation
Shopping List
Shopping List is For ONE base (sink or stove)
1 - 1x12 @ 8' long
1 - 1x10 @ 14-1/2" long
1 - 1x2 @ 30"
1 - 1x4 @ 30"
1 – scrap piece of plywood (I use beadboard) 16"x20". You could omit this if needed.
Additional Supplies for Stove
1 - 1x3 @ 30"
2 - 1x2 @ 18"
4 knobs
1 set of hinges
1 magnetic clasp
1 - 11" x 20" piece of acrylic glass
Cut List
Base for Both Sink and Stove (cut list is for one)
2 - 1x12 @ 20" Sides 
2 - 1x2 @ 14 1/2" Toekick 
1 - 1x12@ 14 1/2" Bottom Shelf
1 - 1x10 @ 14-1/2" Middle Shelf
1 - 1x12@ 16 1/2" Countertop 
1 - 1x4 @ 16 1/2" Backsplash 
1 - 1x4 @ 14 1/2" Front of Sink 
1 - 16" x 20" piece of plywood for the back (optional)
Stove Door (large gaps)
2 - 1x3 @ 14"
2 - 1x2 @ 8-3/4"
Stove Door (small gaps)
2 - 1x3 @ 14-1/4"
2 - 1x2 @ 9"
Cutting Instructions
Cut all the boards first with either a compound miter saw or a circular saw with a straight edge used as a guide.
General Instructions
You can use different methods depending on your tool set to build this play kitchen stove or sink.
2" self tapping screws like these 
1-1/4" brad nails and wood glue (recommend an 18 gauge brad nailer)
A Kreg Jig with 1-1/4" pocket hole screws
I personally would just nail and glue this together.
Instructions
Step 1
Attach the 1x2 and 1x4 apron to the sides.
Recommend: 1-1/4" brad nails and glue.
Step 2
Add the bottom shelf, fasten to both the sides and the 1x2s.
Step 3
The shelf can be placed at any height.  
Step 4
Attach the backsplash to the top first.
Then attach the entire top to the base.
Step 5
Build the door with 3/4" pocket holes and 1-1/4" pocket hole screws.
Attach acrylic glass to the back with either craft glue or hot glue or predrill holes and attach with screws.  Just make sure the screws DO NOT have a bevel on the back of the screw head.
This completes the sink base build.  You can now accessorize by adding a sink bowl, curtains, faucet - the options are endless.
Step 6
To make the base into a play kitchen stove, you'll need to add a stove door.
Install the stove door.  I recommend a side swing so no little toes get bruised with a up and down swing. Install a magnet to keep the door closed.
Install handle and four knobs.
Preparation Instructions
Fill any exposed holes with wood filler and let dry. Apply a second coat if necessary. Sand with medium grit sandpaper. Clean project and work surface. Prime and paint as desired.
Finish Used
Finishing. Fill any nail holes with wood filler and sand, paint, and enjoy! Oh, don't forget to put your sink in (glue not recommended, Grace's is glued in, and it would be nice to be able to take the sink out and clean it).
We apologize if there was an error in this plan. Please help us out and report any errors here.