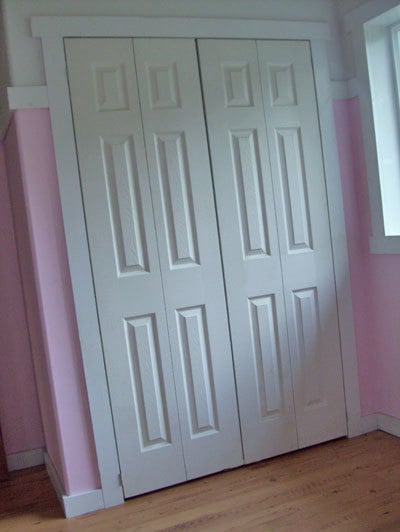 Claim two extra square feet in your closet with this amazing easy plan!
Guess  what goes on behind closet doors in the Knock-Off Wood house?
Scary, eh?  What could be behind Grace's closet doors . . . .
I'll give you a sec to put junior football helmet on . . .
What can you expect out of a preschooler's closet?
It's taken me weeks to get the courage to share the closet of a three year old with the world, but it's taken me months to take what was just a clever idea and turn it into . . .
A closet with even more storage
Here's the bottom.  You can see how I simply built bookshelves, attached them to the inside of existing closet doors, put the doors on hinges, and added a couple extra square feet of storage to a tiny closet.  Oh, those hooks are Command hooks from 3M - So easy to use, I love them!
When open, the doors opens completely flush, giving you the most room to access the inside of the closet (as long as there is not a wall or something in the way).  No those are not my bookcases (the saggy white ones), they are the last of the flat pack particle board furniture that I have in my home. When closed, the bookshelves sit in the door frame, taking up what used to be completely wasted space.  And in a house the size of mine, with exactly three closets, every square inch of a closet is prime real estate.
These are super easy to install.  Simply remove the bifold door hardware and attach the bifold doors with standard hinges as shown in the photo
The weight of the doors rests on wheels, so you can load the doors up.  In one closet door, I was able to store ALL of Grace's books.
That's alot of books!
Think of the possibilities - pantry items, toiletries, towels, accessories, and did anyone mention shoes?
And best of all?  I can close the doors live my dream of a simple, bare home, free of clutter.  No one (besides you, my friends) would ever know what's behind my closet doors.  All for around twenty bucks a door!
So wanna make your own?  Here's how I did.  You will need to alter your shelves to your own closet specifications.  So get your measuring tape out!
Pin For Later!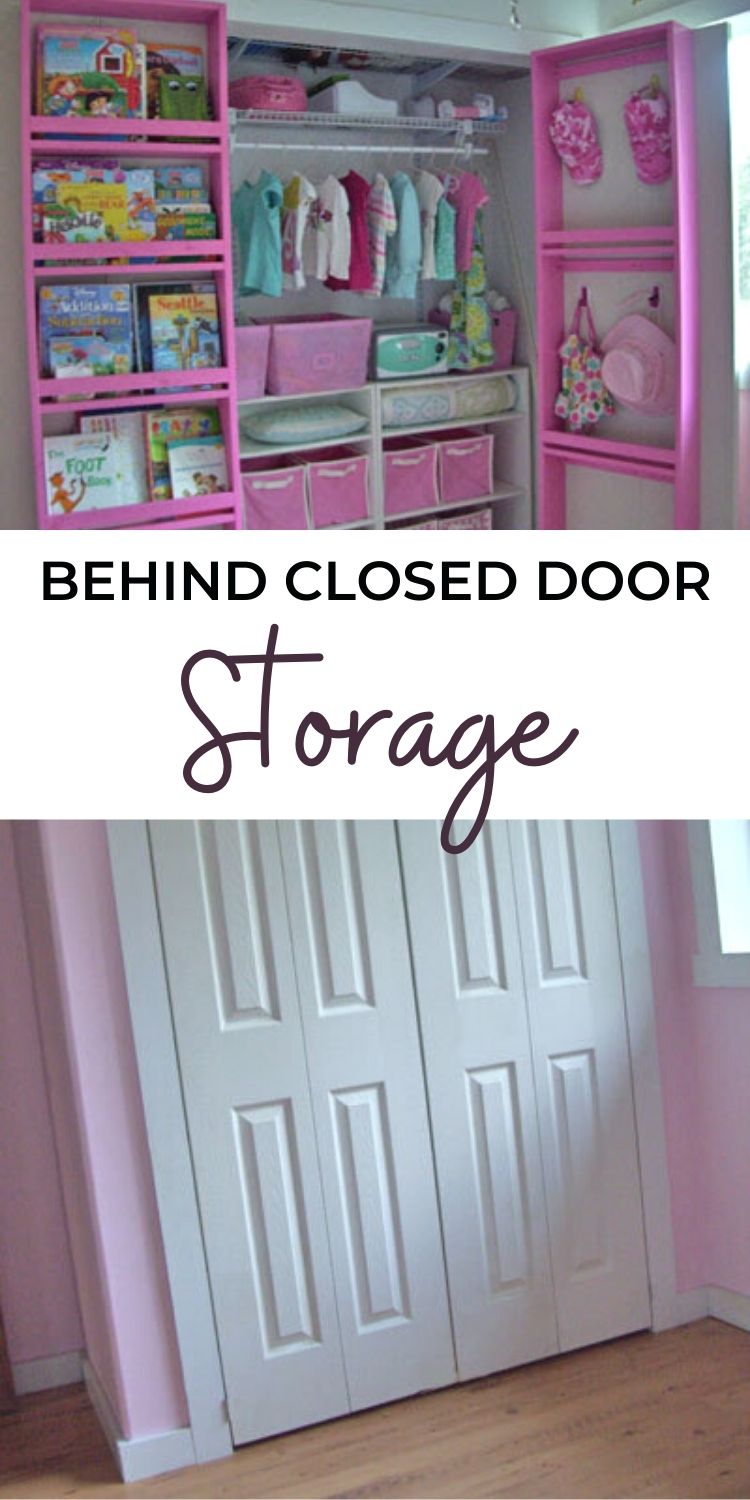 Measure to fit your closet doors.
Preparation
Shopping List
1x6 Boards Heavy duty hinges four caster wheels 1x2 Boards Anchoring bolts for hollow core doors Screws
Common Materials
120 grit sandpaper
primer
wood conditioner
paint
paint brush
Cut List
Cut your boards to fit your closet and closet doors.
General Instructions
The success of this project greatly depends on building square, and installing level and square with a square closet opening.
Instructions