Take advantage of often wasted corner space by building a hutch for the storage beds. This hutch sits on top of the pictured corner unit.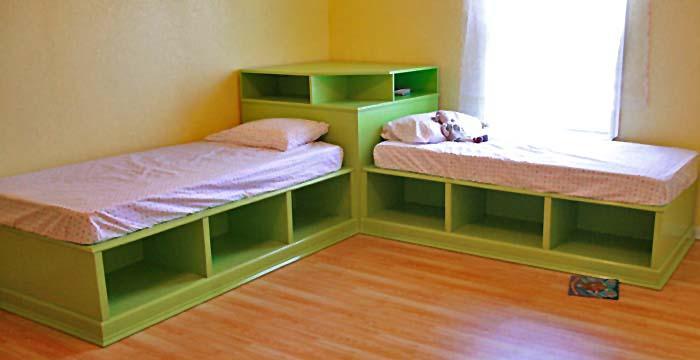 Dimensions
Dimensions are shown above
Preparation
Shopping List
1 – 1×2 8′ Length
2 – 1×12 10′ Length
1 – 2×2 8′ Length
1/4″ Plywood for the Backs (1 Sheet)
3/4″ MDF for the Top and Face (1 Sheet)
2″ Nails or Screws
1 1/4″ Screws
1 1/4″ Nails
Wood Glue
Common Materials
120 grit sandpaper
primer
wood conditioner
paint
paint brush
Cut List
8 – 1×12 @ 24 1/2″ (Sides and Shelves)
2 – 1×12 @ 26″ (Tops)
2 – 1/4″ Plywood @ 25 1/4″ x 26″ (Backs)
8 – 1×2 @ 11″ (Cleats, one end cut at a 45 degree bevel)
1 – 3/4″ Plywood or MDF @ 19 1/2″ x 25 1/4″ (Face)
2 – 2×2 @ 27 1/4″ (Back Supports)
1 – 2×2 @ 25 1/4″ (Back Leg)
1 – 3/4″ Plywood or MDF @ 40 1/2″ x 40 1/2″ (Top, end clipped off at angle as shown in step 6)
General Instructions
Due to the size of this piece, it is recommended to finish the bookshelves and the top and face pieces separately, then assemble in the room. Build on a clean level surface. Be safe and use safety equipment. Use glue. Pre drill all screw holes. Have fun!
Instructions
Step 1
Build your box as shown above. You can use either 2″ screws or nails and glue. Screws will be stronger but nails (with a nailer) will be easier and easier to hide and fine for this application. Use screws if you plan on heavy objects resting on the top shelf. Build two as shown above.
Step 2
BACK
Fasten the back on with 1 1/4″ nails and glue. Make sure you also fasten to the back shelf.

Finish the bookshelves at this stage, painting as desired.
Step 3
CLEATS
Use 1 1/4″ nails and glue to fasten the cleats to the side of the bookshelves, on the insides. The cleats will NOT be fastened to the same side on the two bookcases, so line your bookcases up as shown below and attach the cleats.
Step 4
FACE
Paint or finish the face as desired at this stage. Then on room assembly, use 1 1/4″ screws to fasten the face to the cleats as shown above.
Step 5
Step 6
TOP
Paint or finish the top piece independently. Then on assembly, attach as shown above to the tops of the bookcases and the back support pieces. You may wish to also attach the bottoms of the bookcases to the tops of the corner unit.
We apologize if there was an error in this plan. Please help us out and report any errors here.