DIY Greenhouse plans - build your own DIY greenhouse, free step by step plans by ANA-WHITE.com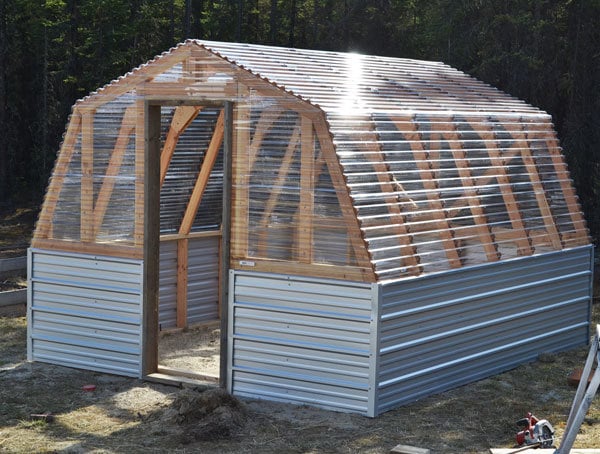 Dimensions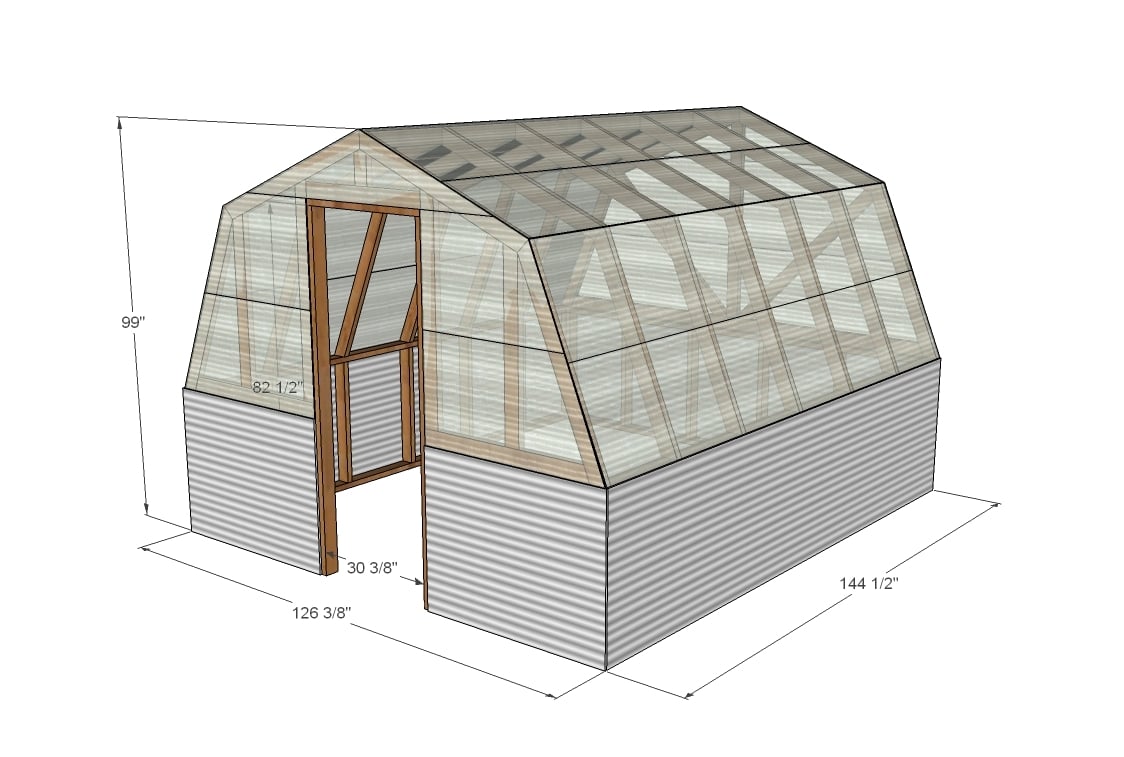 Dimensions are shown above for the DIY Greenhouse. It's a good size for a standard family of 4 or 5
Preparation
Shopping List
3 - 2x4 @ 10 feet long - use on back wall
5 - 2x4 @ 12 feet long - use on sides/ridgepole DO NOT CUT
32 - 2x4 @ 8 feet long
11 - 12 foot x 26" standard corrugated plastic greenhouse panels
1 - 8 foot long x 26" wide standard corrugated plastic greenhouse panel (use on door side)
3 - 12 foot long tin panels (use on sides and back)
1 - 8 foot long tin panel (use on front)
Tin screws
28 - 4' long ribbing strips
L flashing (optional for the corners)
You'll need either metal gussets for the trusses or to cut plywood ones from 1/2" plywood
Cut List
Cut list is in plan at each step
Instructions
Step 1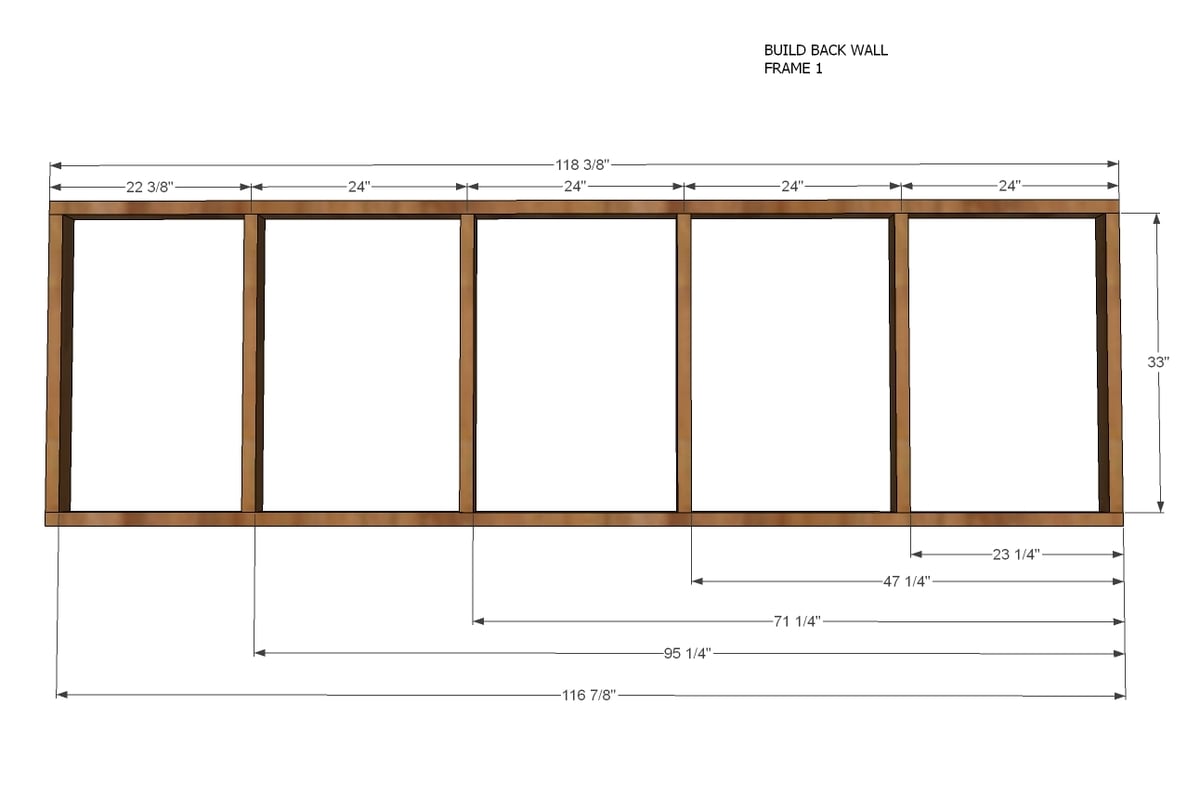 Back wall framing.  Cut 2x4s as listed below.  Screw together with 3" screws or nail together.
2 – 2x4 @ 118 3/8"
6 – 2X4 @ 32"
Step 2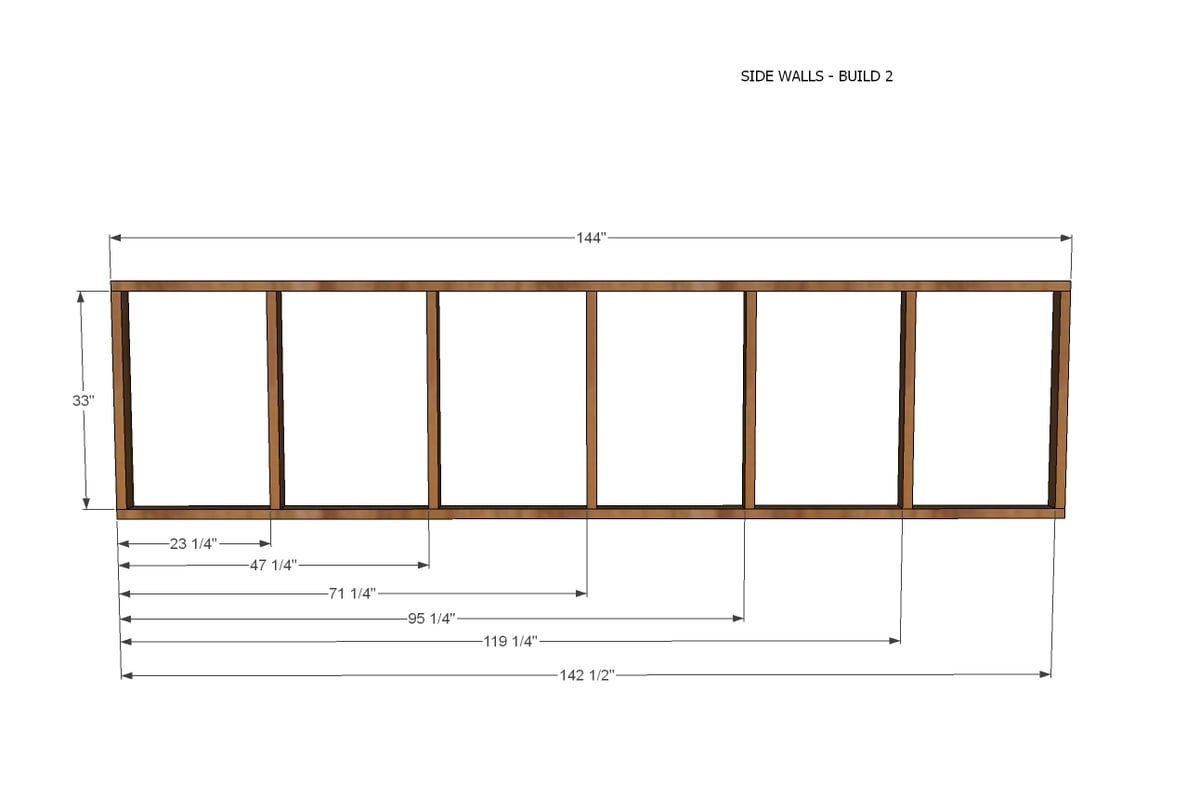 Side Wall Framing - Build TWO
4 – 2X4 @ 144"
14 – 2X4 @ 32"
Step 3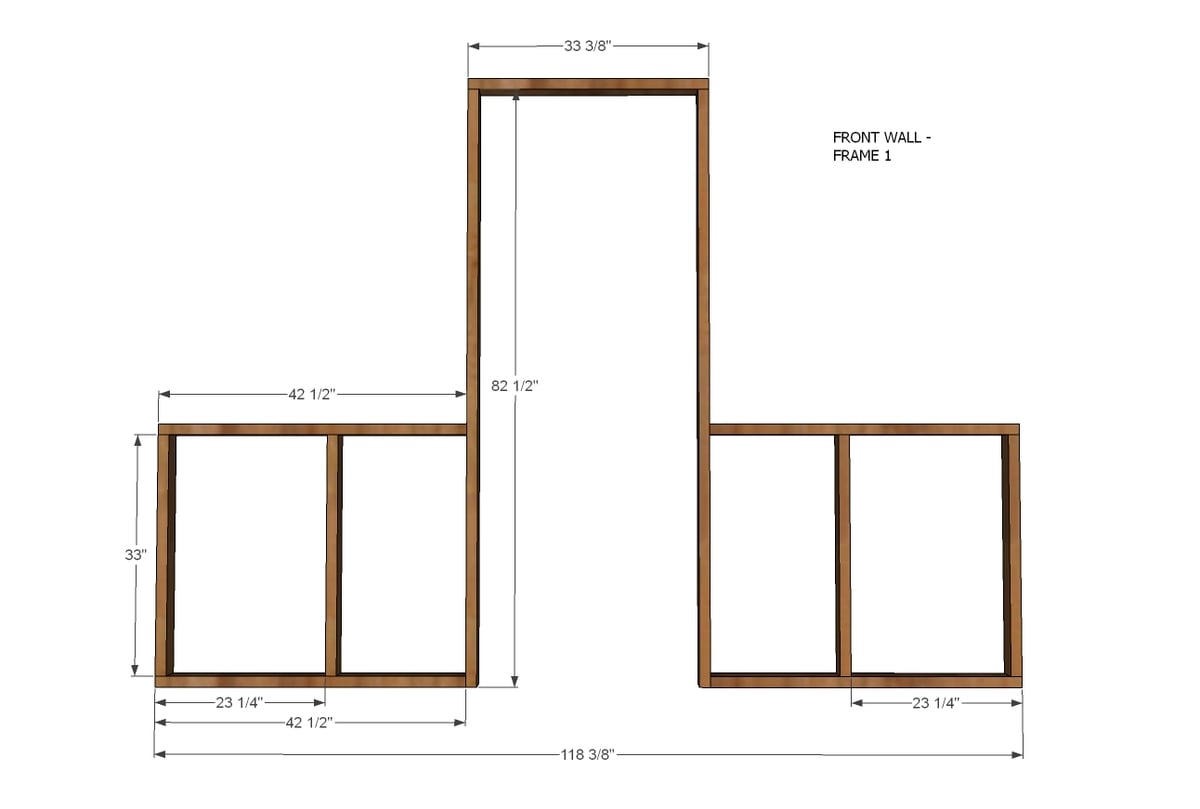 Front Wall Framing
4 – 2X4 @ 32"
4 – 2X4 @ 42 ½"
2 – 2X4 @ 81 ½"
1 – 2X4 @ 33 3/8"
Build the front walls as shown.
Step 4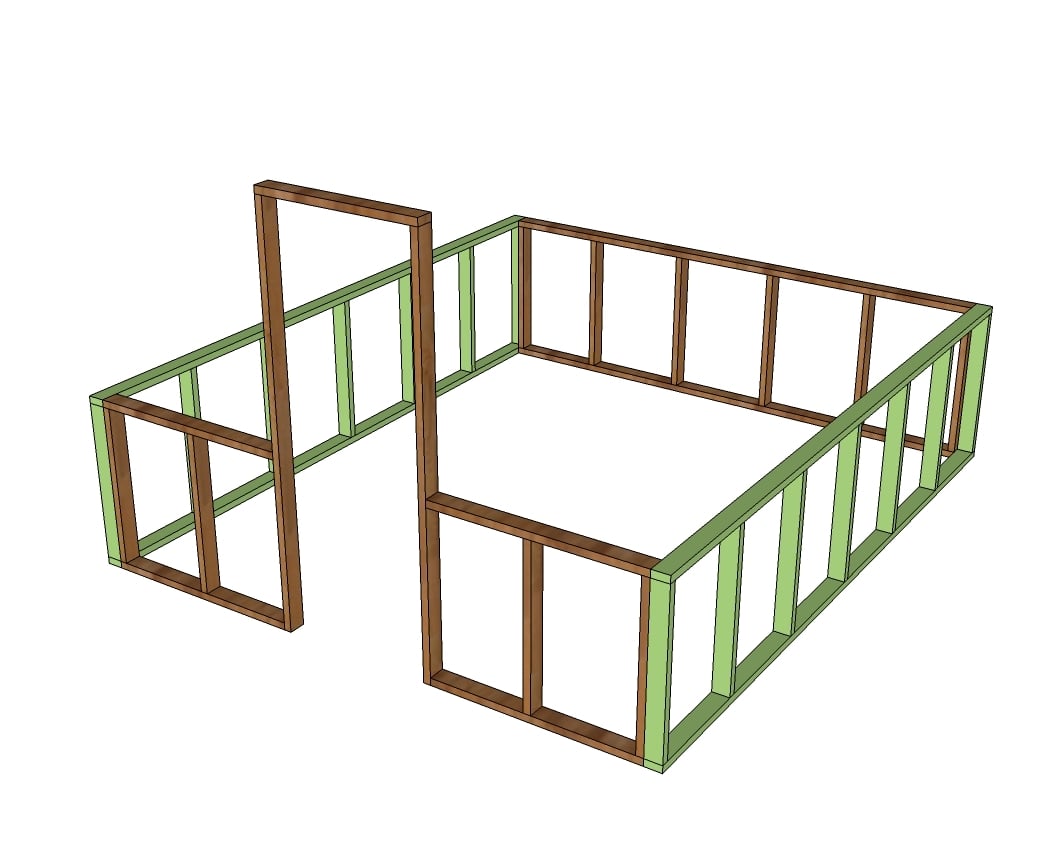 Attach the four walls together with 3" screws at corners.
Step 5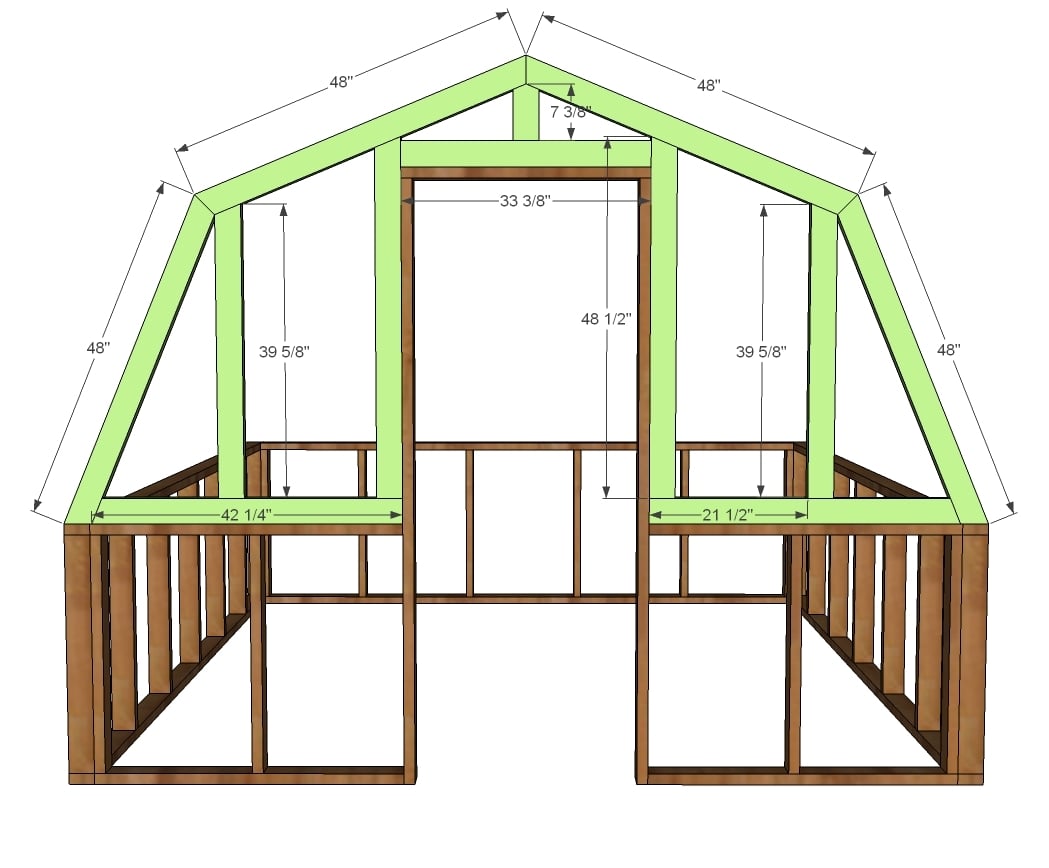 Step 6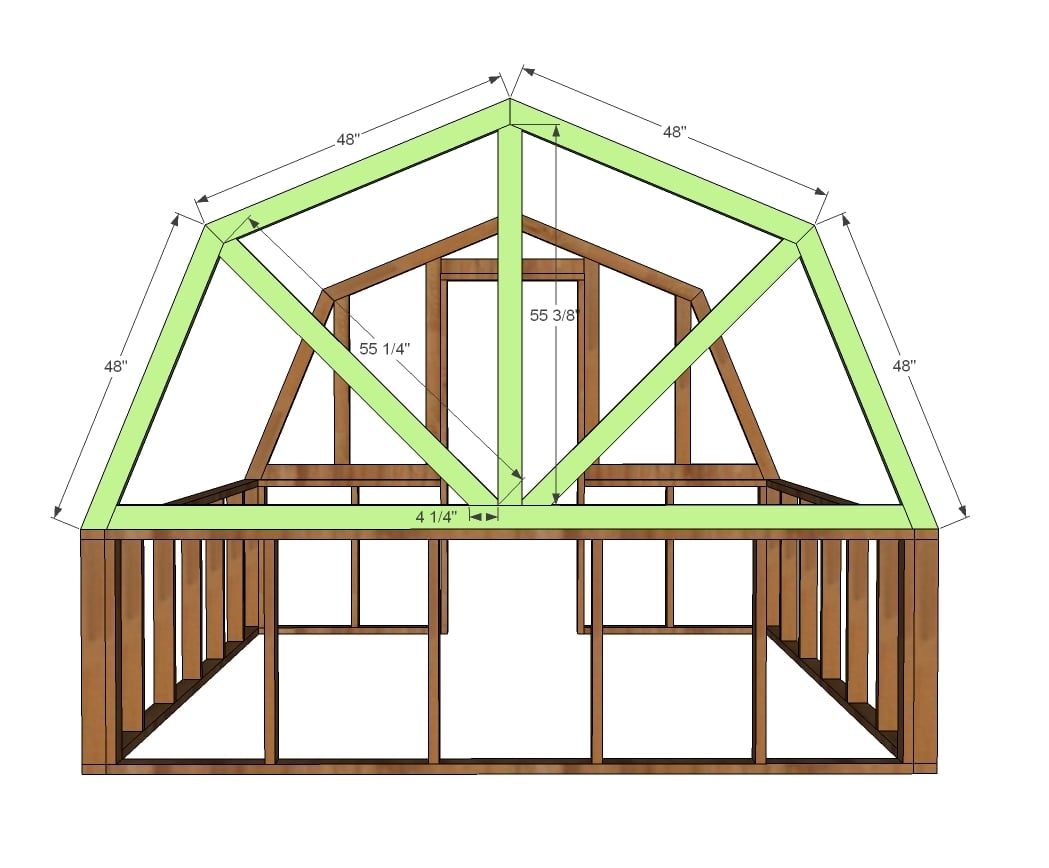 4 – 2X4 @ 48" (BOTH ENDS CUT AT 22 ½ DEGREES, ENDS NOT PARALLEL)
1 – 2X4 @ 117 7/8" (BOTH ENDS CUT AT 22 1/2" DEGREES, ENDS NOT PARALLEL)
1 – 2X4 @ 55 3/8 (TOP CUT TO DOGEARED POINT, 22 ½ DEGREES)
2 – 2X4 @ 55 ¼" (TOP CUT TO DOGREARED POINT, BOTTOM CUT 45 DEGREES OFF SQUARE, END CLIPPED)
The back truss is built same as front. See next step for close up of the center cuts
Step 7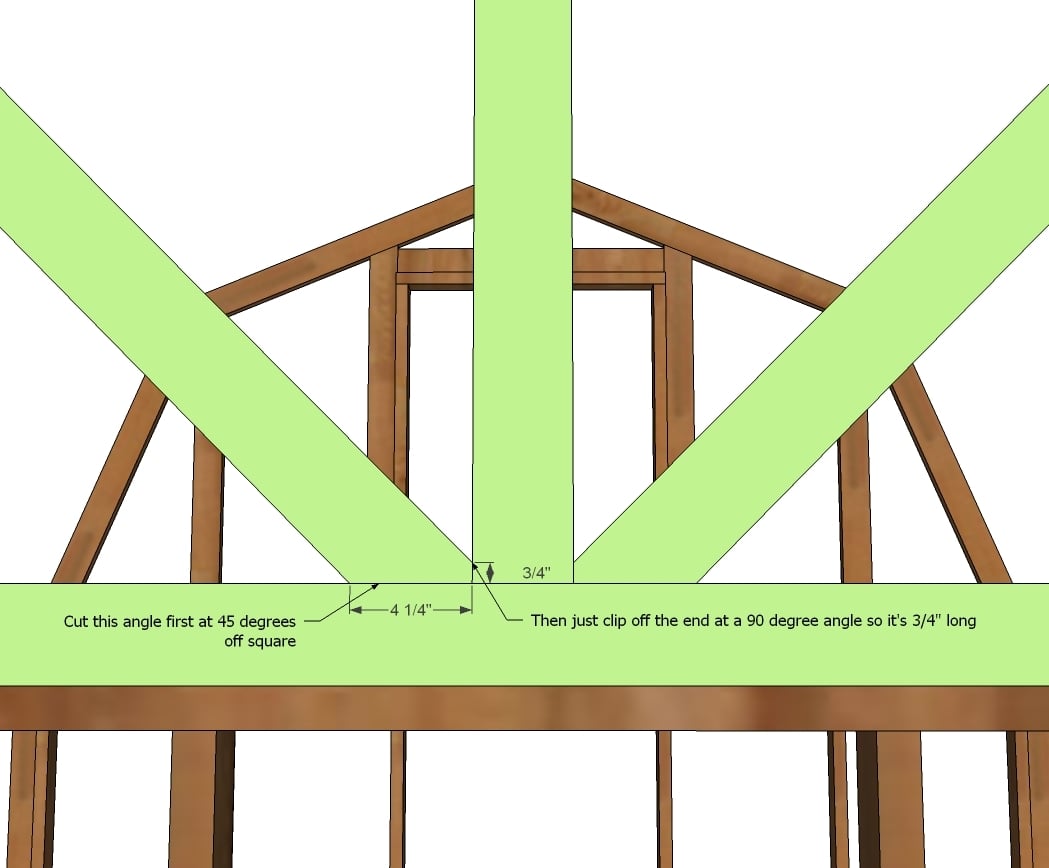 This board was a little tricky to cut - practice first!
Step 8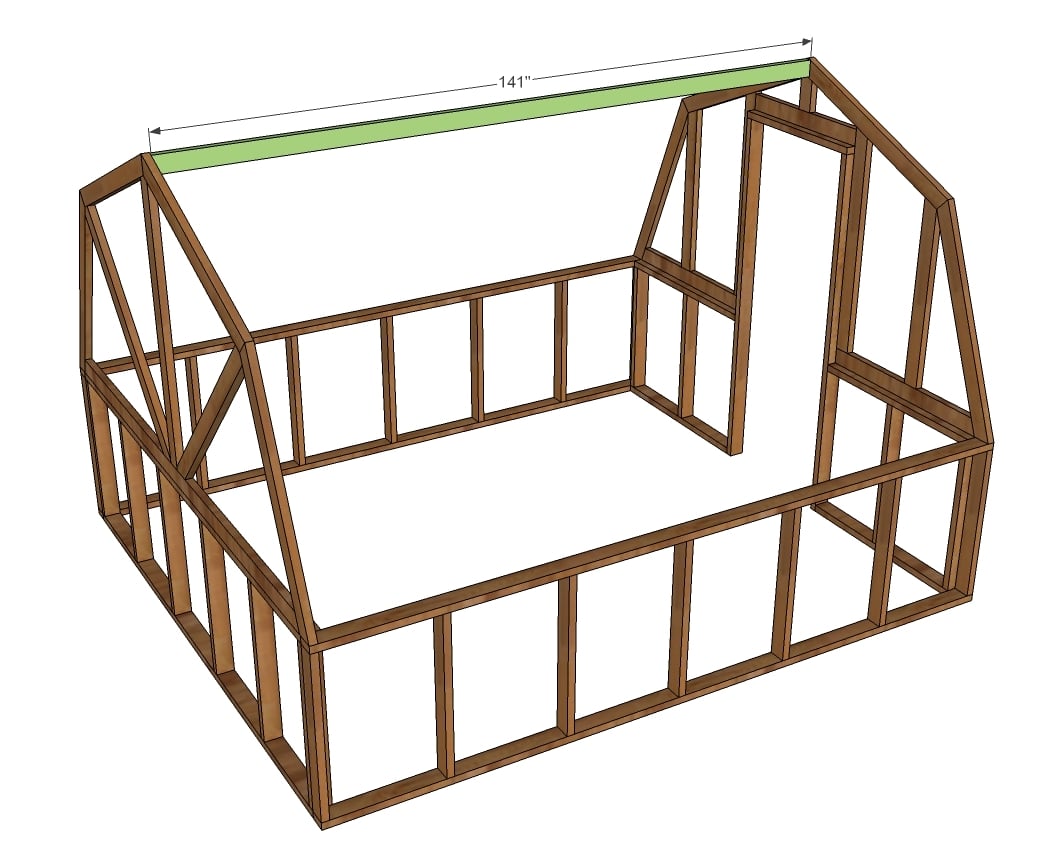 1 – 2X4 @ 141"
NOTE: If you use gussets - we used 1/2" plywood - this will affect your ridgepole length. 
Step 9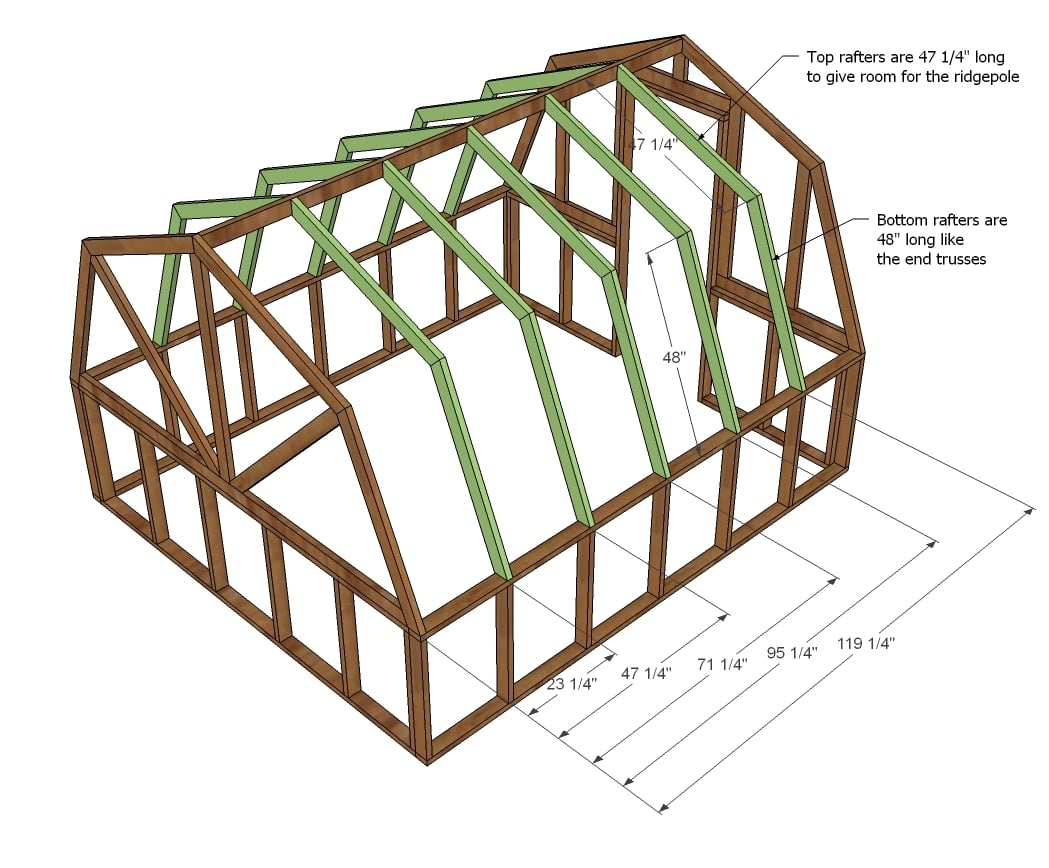 10 2X4 @ 48" (BOTH ENDS CUT AT 22 ½ DEGREES ENDS NOT PARALLEL)
10 2X4 @ 47 1/4" (BOTH ENDS CUT AT 22 ½ DEGREES ENDS NOT PARALLEL) - shorter rafters go up to meet the ridgepole.  I marked all shorter rafters to avoid confusion.
For the common rafters of this barn style greenhouse, we ended up using plywood gussets to save money. After cutting quite a few, I figured out how to cut gussets the super quick and easy way - got gusset cutting down to less than a minute each.
We put gussets on both sides of each rafter joint with glue and screws. We made all of the small trusses first on the ground, then it was just a matter of stacking them on the ridgepole and attaching to the studs. We used 8 screws per gusset. Common rafters are installed flush to top of ridgepole and flush to outside of side walls. We had to "toenail" the screws in - meaning they are screwed in at an angle. We used glue and 3" screws from both sides.
Step 10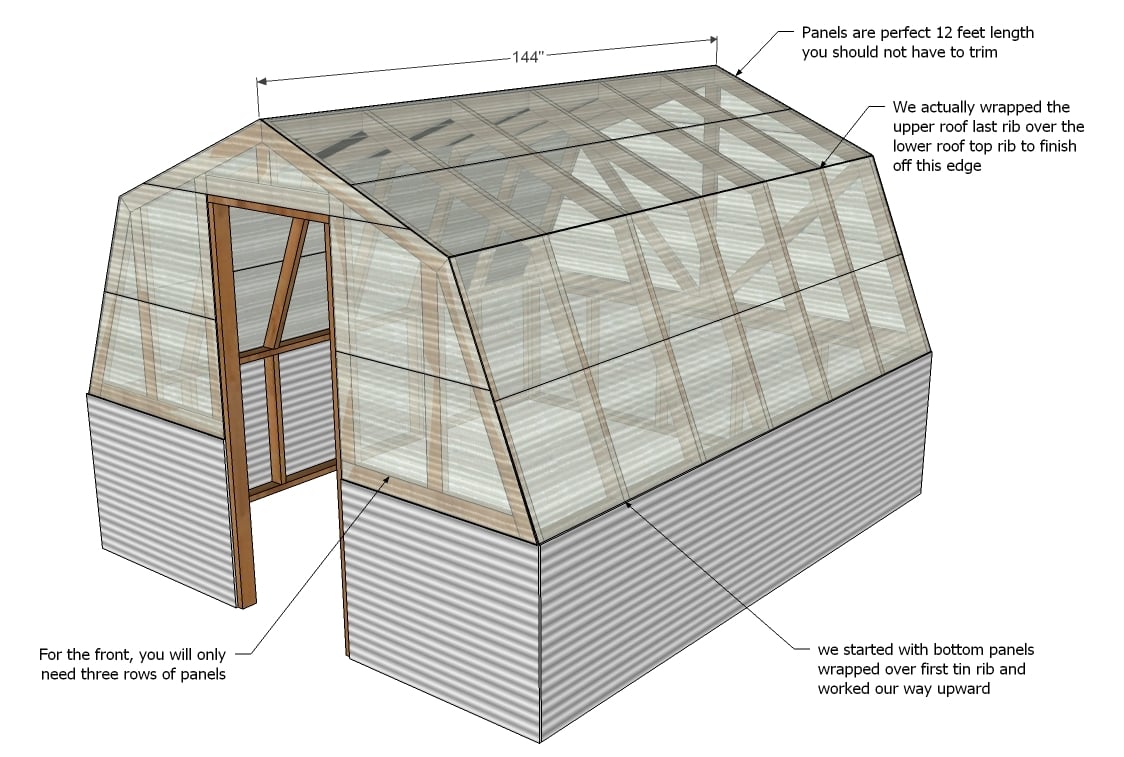 The plan will get you through the framing.
At this point, you could use plastic paper, lexan glass panels, you name it to seal the frame in.
We used the corrugated plastic panels detailed earlier for installation. IMPORTANT: If you do not use panels you will need some sort of lateral support to keep the greenhouse from swaying side to side. Try 12 foot long 2x4s. 
Preparation Instructions
Fill all holes with wood filler and let dry. Apply additional coats of wood filler as needed. When wood filler is completely dry, sand the project in the direction of the wood grain with 120 grit sandpaper. Vacuum sanded project to remove sanding residue. Remove all sanding residue on work surfaces as well. Wipe project clean with damp cloth.

It is always recommended to apply a test coat on a hidden area or scrap piece to ensure color evenness and adhesion. Use primer or wood conditioner as needed.
We apologize if there was an error in this plan. Please help us out and report any errors here.