Create slipcovers for parson chairs with french pleats with this sewing pattern.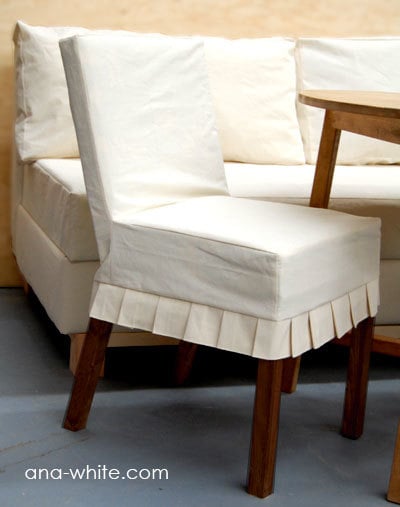 Yesterday, I got a tweet from @sewfearlessly asking if you can sew, can you build?  And my reply is definitely, if you are crafty and can sew, I bet building is going to be easy for you.
But here is the real question: If you can build, does that mean you can sew?
Up until recently, I would have said maybe.  Because when you build (at least anything from Adub.com) it's all about straight boards and straight cuts.  On the contrary, fabric and patterns aren't always straight.  I've struggled with sewing.
But last week, my sister was visiting, and she mentioned she needed a new couch, one that had storage, and one that costed next to nothing.  So we built her a couch (I'll be blogging it very soon) and I sewed.  But I designed the plan so that all the sewing was point A to point B, straight lines.  And guess what?  The sewing was not that difficult.
With half a drop cloth leftover and Grace too sick to go to the garage, I decided to use up the scraps to sew a slipcover for my parson chairs. And guess what?  You, yes you, can do this.
It's all straight lines.  And it's a perfect fit to our parson chair plans.
Don't stress about the knife pleat hem.  It's surprisingly easy (and beautiful!).
And the slipcover fits how it should - snug but not tight, tailored but easily removable for washing.
And one more of the table
Cannot wait to move this into my dining room . . .
Want to build your own?  The table plans are here and the parson chair plans are here.  Couch plans are on their way.  And here is the slipcover plans:
Preparation
Shopping List
1 small paint drop cloth, 10mm thickness
white upholstery thread
Parson Chair from these plans
Cut List
2 – 18″ x 16″ (Pieces A for Seat and Seat Backrest)
1 – 18″ x 6″ (Piece B for Front Apron)
2 – 16″ x 6″ (Pieces C for Side Aprons)
1 – 18″ x 21″ (Piece D for Back)
2 – 21″ x 3″ (Sides)
1 – 18″ x 3″ (Top)
1 – 7″ strip 12 feet long (for knife pleats, spice fabric together to create 12 feet)
Cutting Instructions
Make sure you prewash your drop cloths prior to cutting.
Instructions
Step 1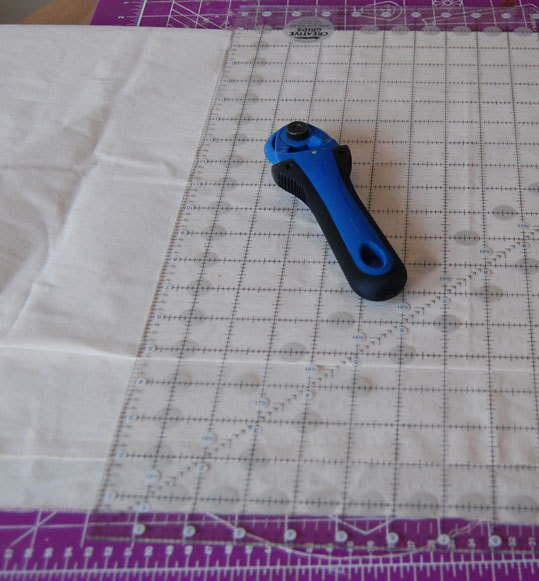 Cut Fabric
Use a quilter's mat, square and rotary cutter to cut out all the pieces as directed in the cut list. If your fabric has a direction, be careful to cut in the right direction.
Step 2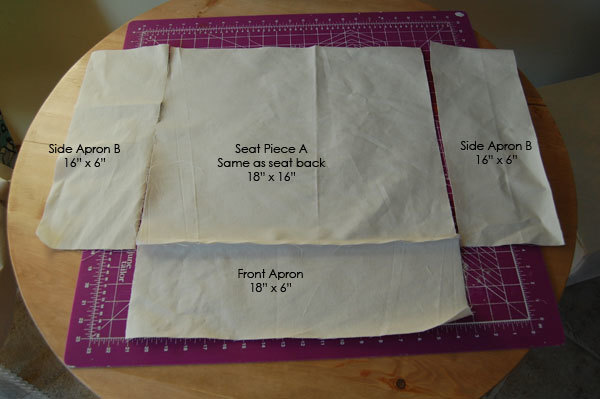 Sew Seat to Aprons
Start by sewing the front apron to the seat along the front edge, with 1/4″ seams. Then start at the back and sew the side aprons to the seats, stopping 1/4″ from the end of the seat edge, with needle depressed in fabric, rotate the fabric to sew the front apron to the side apron. Repeat on other side.
Step 3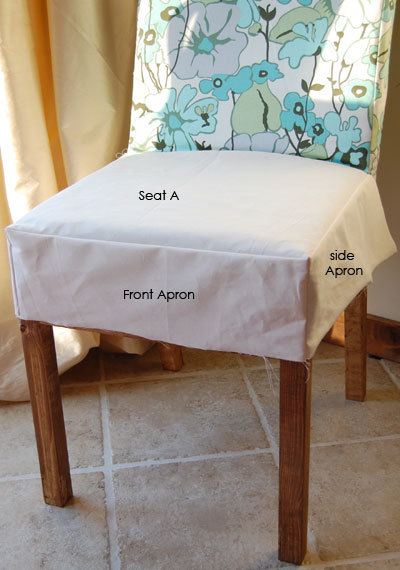 Fit Seat
The seat should look like the above photo if you have done step 1 correctly. Adjust seams as necessary.
Step 4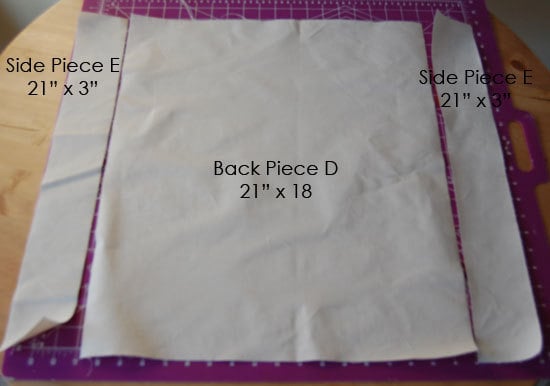 Back and Sides
Now sew the back (not the seat backrest, but the back back, measuring 21″ long x 18″ wide) to the sides as shown above with 1/4″ seams.
Step 5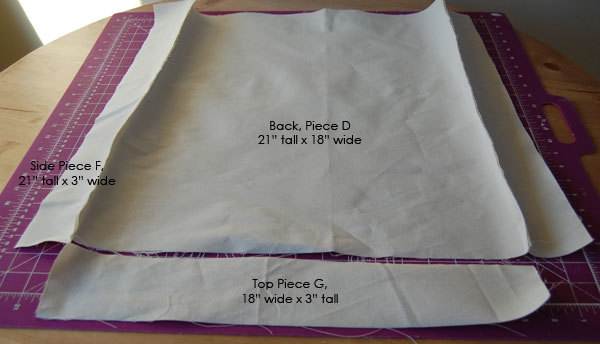 Step 6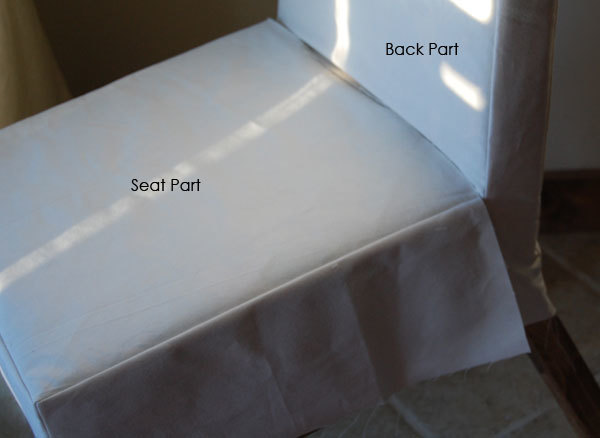 Fit Back and Seat
If you did step 4 correctly, the back should slide onto the back of the chair like a snug sleeve. Fit to and adjust if necessary. Remove and again, start at the center of the back of the seat and the bottom of the backrest, with right sides together, sew the back to the seat, turning corners to sew the side apron to the side. Repeat on the other side.
Step 7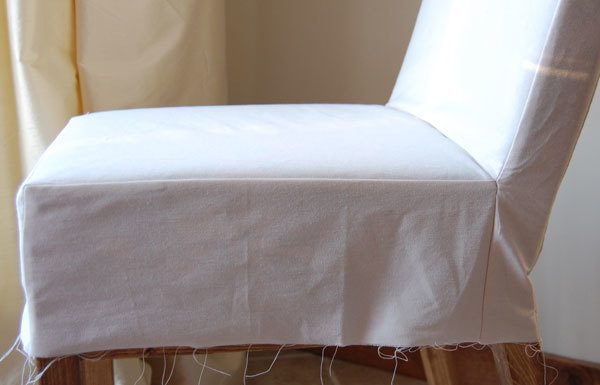 Fit
If you did step 5 correctly, your slipcover should look like the above diagram – a snug fit but not too tight, with all corners lining up, and any differences showing up along the hem and not in the slipcover. You can simply hem the chair at this stage or you can opt for fancy knife pleats.
Step 8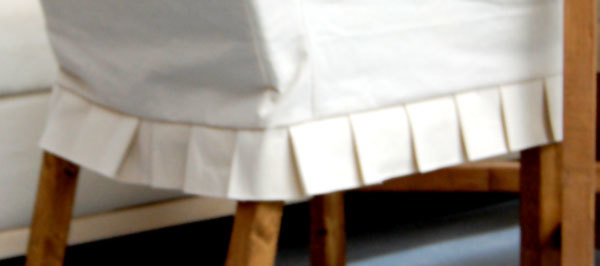 Knife Pleats
Looks to complicated? Yeah, I thought so too. But consider this – what you see above is my first attempt at knife pleats and I did not have to do any ripping. You can do this! Simply cut your fabric into strips 7″ wide, and sew strips together until you have a piece that is 12 feet long. Then press with a steam iron the entire strip in half lengthwise. Then press the knife pleats into the strip (I eyeballed mine, but you can measure if you want exact knife pleats). Then simply start in the back, pinning right sides of the slipcover to the knife pleat raw edge, all the way around. Sew. And then trim the ends and sew together. It is really really simple. Want a step by step tutorial?
Step 9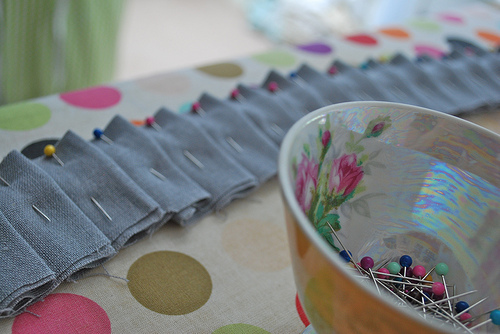 Check out Pink and Polka Dot's tutorial That's how I learned!
Oh, and you can make the pleats longer for a more formal, longer skirt, or just use a tradditional gathered skirt, but you cannot simply make the aprons longer – won't work for this chair. Good luck, and here's to someone going for a really bold floral!
We apologize if there was an error in this plan. Please help us out and report any errors here.