I built this bed for my daughter a few years back. It's essentially just a false front and sides on a platform bed. Some notes - this bed does reach the ceiling, so make sure you are prepared for the bed filling up your space. It's big. The interior height is suitable for preschoolers.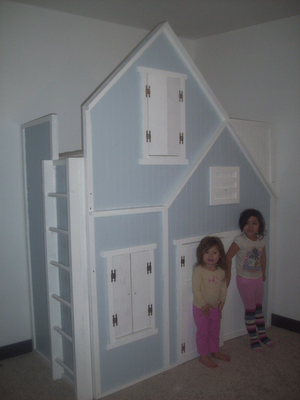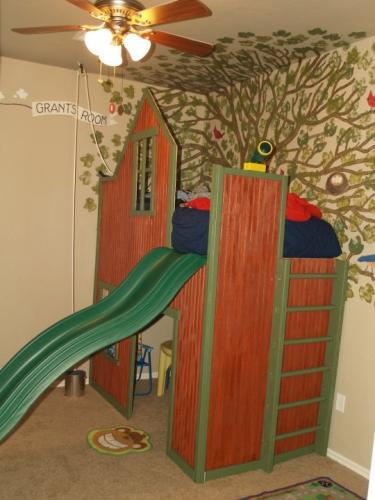 Dimensions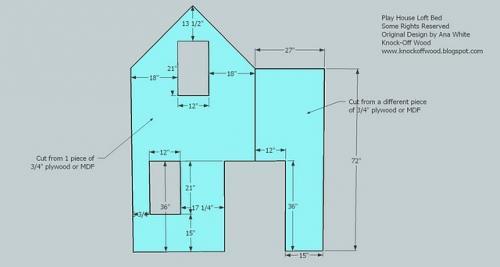 8 Feet Tall x 7 Feet Wide x 4 Feet Deep (approximate size)
Preparation
Shopping List
4 sheets of 3/4″ plywood 
1 sheet of 1/2″ plywood 
bundle of 1x2s 
couple of 1x4s and 1x6s 
 1 - 1×12 @ 8 feet 
6 - sets of hinges
 2 - 8′ long 1 1/2″ dowels 
6 - 2x4s
1- 2×6
Common Materials
1 1/4 inch screws
2 inch screws
2 1/2 inch screws
3 inch screws
3/4 inch finish nails
1 1/4 inch finish nails
2 inch finish nails
120 grit sandpaper
primer
wood conditioner
paint
paint brush
Cut List
Due to the great complexity of this project, please cut your boards as you go. Each step includes detailed instructions on cut lengths.
Instructions
We apologize if there was an error in this plan. Please help us out and report any errors here.