One of the greatest things about DIY is you can get exactly what you need and want. Not only are you free to build a big storage entainment center (special thanks to Shanty2Chic for sharing their photos)and paint it a bold shade of leapfrog, but you are also free to build a bridge to give your TV that custom built in look. Not to mention claiming a little extra storage and solving a common design problem - how to decorate over the TV.
Dimensions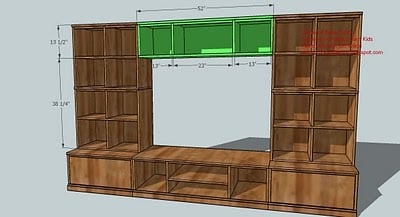 52" Wide x 13 1/2" high x 14 1/2" deep (fits over the Wide Cubby Media Base)
Preparation
Shopping List
1 sheet of 3/4" plywood
1 sheet of 1/4" plywood (back)
Common Materials
1 1/4 inch screws
2 inch screws
1-1/4" Pocket Hole Screws
120 grit sandpaper
primer
wood conditioner
paint
paint brush
Cut List
A) 4 – 3/4″ Plywood @ 14″ x 12" (Sides, Cubby Dividers)
B) 1 - 3/4″ Plywood @ 14 1/2″ x 52" (Top)
C) 1 - 3/4″ Plywood @ 14″ x 52″ (Bottom)
D) 1 – 1/4″ Plywood @ 13 1/2″ x 52" (Back)
E) 2 – 1×2 @ 13″ (Top, Cubby Trim)
F) 1 – 1×2 @ 23″ (Top Center Trim)
Cutting Instructions
Cut all pieces out from the plywood. Make every effort to make long straight cuts whenever possible. Be aware of the difference your saw blade width makes when cutting.
General Instructions
This bridge must be attached to a stud in the wall for security purposes.
Fasten with 2″ fasteners (scews or nails) unless otherwise directed. Review the fastening instructions in the plans for all of the Cameron Collection. Always use glue. Cut all of your boards first. Work on a clean level surface. Be safe and have fun!
Instructions
Step 1
Step 2
Step 3
Trim. First attach the cubby top trim, pieces E, to the tops of the cubbies, keeping edges flush with the sides and the cubby divider. The top will overhang 1/2″. Then attach the center trim F, with 1 1/4″ nails, nailing into the underside of the top. Also add a few nails to the cubby top trim, nailing through the face of E into the underside of the top.