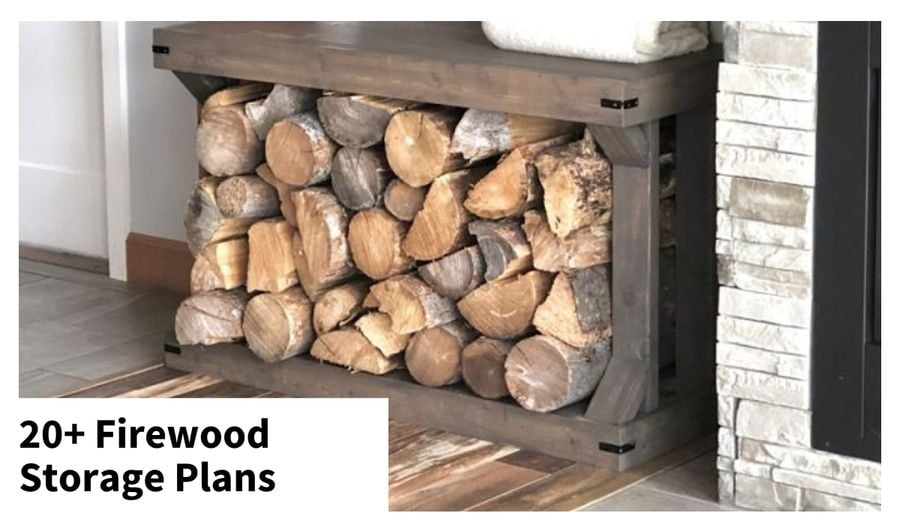 DIY Firewood Storage Solutions 
Want to build your own firewood rack but don't know where to start? Here are some of the best FREE DIY Firewood Rack plans on the internet!
To allow firewood to function and burn efficiently it is important to stack and store it properly. There are many articles about the proper way to stack, store and season firewood. These are the DIY projects to help achieve proper firewood storage whether you have a backyard firepit, a wood burning fireplace or woodstove. 
Indoor Wood Holder Benefits  - An indoor log holder makes it easy to access and feed a wood-burning fireplace. Having the right size log rack for indoor use, makes it convenient to store the right amount of firewood nearby, as it is needed and used. Generally indoor wood storage racks will be smaller than outdoor, creating a storage space for manageable stacks of firewood for everyday use. 
Outdoor Firewood Storage Benefits - An outdoor firewood rack needs to meet a few criteria. Whether is goes on the porch, patio or near a firepit, there are a few main features that need to be included. The stacked wood needs to have good ventilation and airflow and be stored up off the ground. An outdoor firewood rack should be stored near the home for easy access, but not too close, to avoid pests and critters from entering the home. A firewood storage rack allows firewood to be stacked correctly with plenty of airflow. When stored properly, your investment in firewood will be protected by ensuring a hotter and more efficient burn.
Let's look at some indoor firewood storage solutions first!