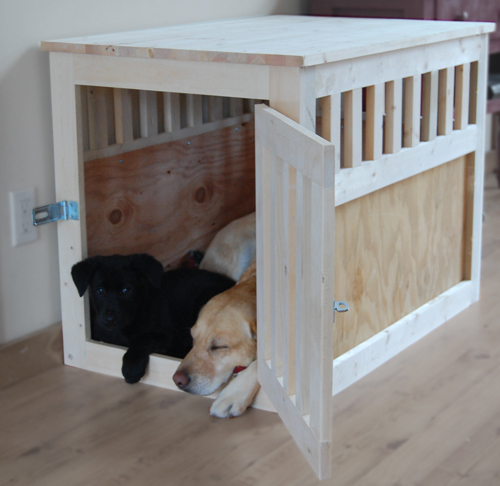 About Project
Still such a necessity in our lives, this dog kennel is both a tabletop surface and home for our puppy. We choose to leave the kennel unfinished because puppies tend to chew and scratch, but now that Avery is growing up, it may be time to paint.
When we built our home - and cabin - we had one rule: Don't move in until it's finished.  Because otherwise, the house never gets finished.  Well, Grace was crawling around on a dirty garage floor, so we moved in to the house before it was 100% done, and that was the day work stopped on the inside of our house.  And now we live in a home that is 99% done.  Because you can't just tack up trim in the middle of your life.  Well, you can, but it's not as simple as just tacking up trim.  You gotta bring tools in, move stuff out of the way . . . it's just not as simple or easy.  Life is in the way.
So we knew better.  We built another house this weekend and let the occupants move in before it was finished.
We knew better.
More Girls
Meet our puppies.  Nala has been our much loved dog for many years, and Avery is a brand new puppy.  Avery is actually Nala's grand puppy. We brought the crate inside to see if the girls would like it and if the size would fit in our living room, with the intention of hauling it back to the garage for paint and finish.
Who would have thought they would LOVE it?
Breaking More Rules
And because we broke our rule of letting them move in before their house was finished, I'm now breaking my top blogging rule: Never blog an unfinished project.  But it's either that or disturb them.  And they are loving this kennel!  What do you think?
Unfinished Shots
I wanted to show you a close up of the kennel unfinished as well because it's built from pine furring strips - just $1 a board for 1x2s and $1.50 a board for 1x3s.  By using furring strips, builder grade plywood (which will get painted) and a project panel for the top ($12) this kennel came in under $40. Not bad, considering this thing is B-I-G and solid and retails in the several hundreds.  Did I mention it's B-I-G?  Yeah, it's B-I-G  :)  .  All my girls - Grace, Nala (who weighs 90lbs) and Avery all fit in there.
Painting
The plan is to paint the pet crate black, so I'll be sure to post completed photos when that happens. 
And here is the drawing.  I'm always amazed at how accurate the drawings are to the real deal!
And one more with the door open.
Dimensions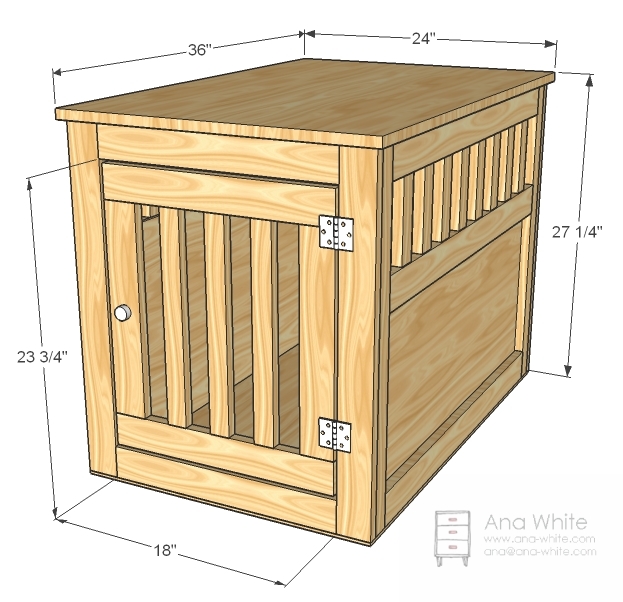 24" wide x 27" tall x 36" long. This is a big kennel.
Preparation
Shopping List
1 – 24″ x 36″ Pine Project Panel or 3/4″ plywood or MDF
5 – 1×3 Boards, 8′ Long
1 – sheet of 1/4″ plywood
4 – 1×2 Boards, 8′ Long
1 – set of hinges
1 – latch
1 1/4″ pocket hole screws
wood glue
7/8″ wood screws (or shorter)
Common Materials
120 grit sandpaper
primer
wood conditioner
paint
paint brush
Cut List
21 – 1×2 @ 6″ (Rails)
6 – 1×3 @ 30 1/2″ (Side Boards)
4 – 1×2 @ 26 1/4″ (Side Legs)
4 – 1×3 @ 26 1/4″ (End Legs)
1 – 1/4″ Plywood @ 17 3/4″ x 33 1/2″
1 – 1/4″ Plywood @ 17 3/4″ x 21″
5 – 1×3 @ 18″ (Door Frame and Back Boards)
2 – 1×3 @ 17 1/2″ (Door Top and bottom)
2 – 1×2 @ 15 3/4″ (Door Sides)
3 – 1×2 @ 15 3/4″ (Door Rails)
General Instructions
Drill Pocket Holes
There is not way around it on this one – you gotta have a Kreg Jig™. Drill all pocket holes first.
Instructions
Step 1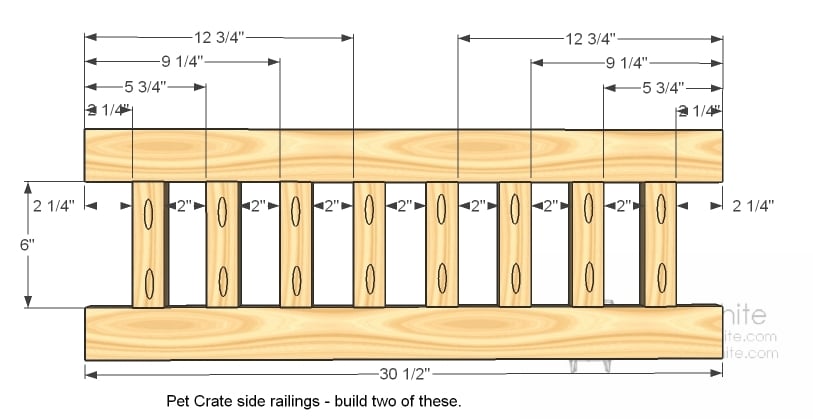 Build Side Railings
Build the side railings as shown above. Use 1 1/4″ pocket hole screws and glue.
Step 2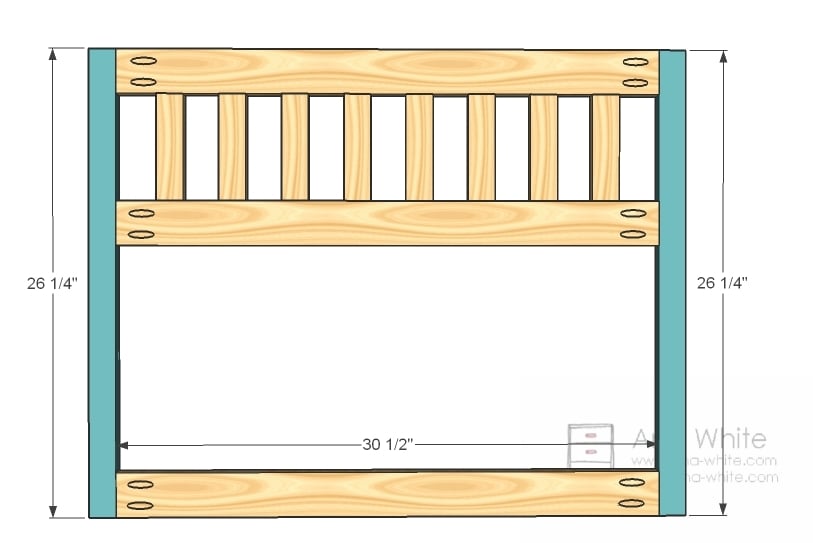 Sides
Finish building the sides as shown above. Use 1 1/4″ pocket hole screws and glue.
Step 3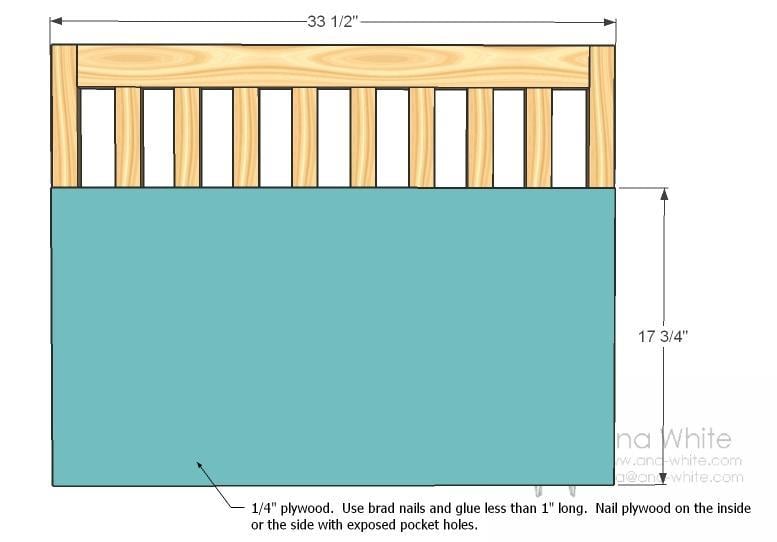 Plywood Sides
Add the plywood to the sides as shown above. Use 7/8″ screws and wood glue.
Step 4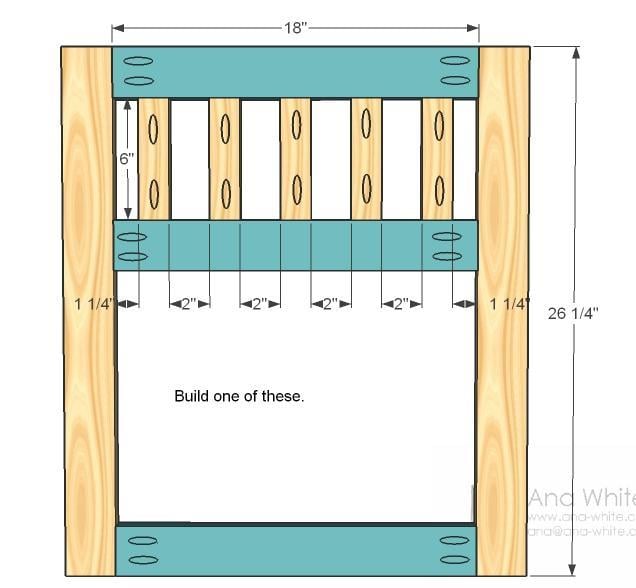 End
Build the end as shown above. Use 1 1/4″ pocket hole screws and glue.
Step 5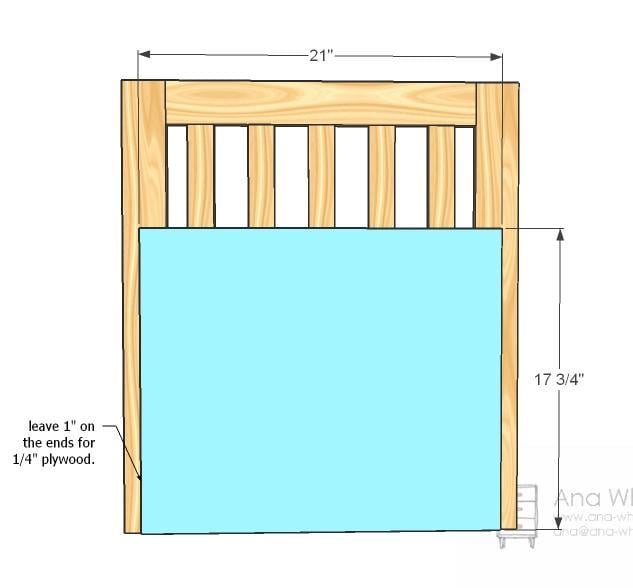 Step 6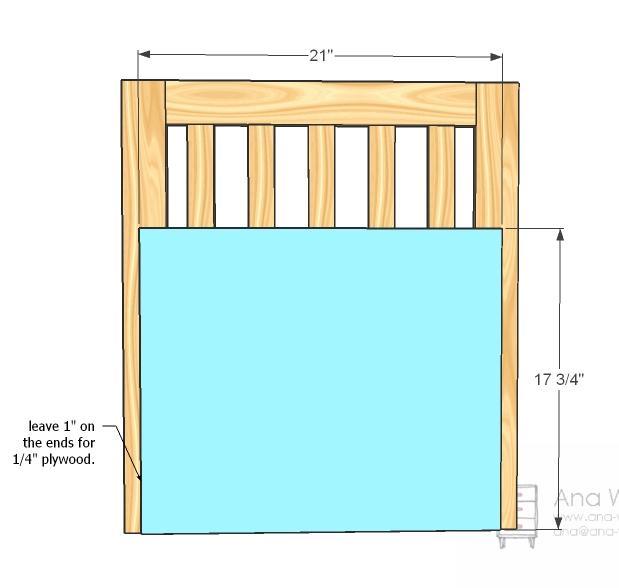 Door
The door should be a piece of cake. Just mark and screw together with 1 1/4″ pocket hole screws and glue.
Step 7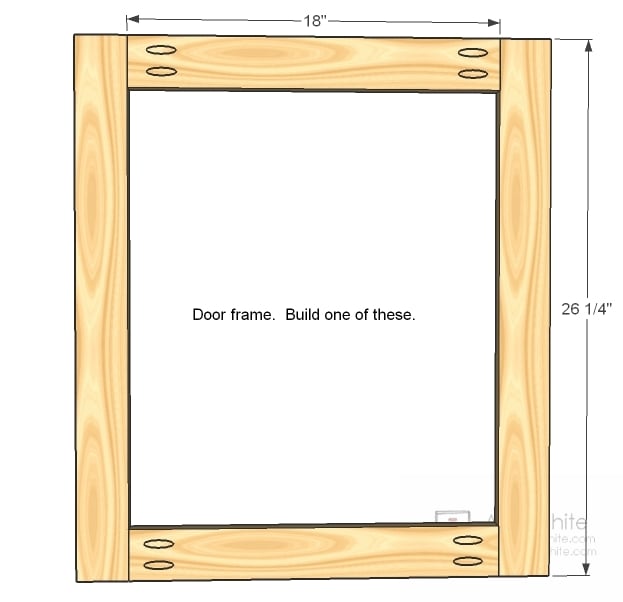 Door Frame
Build the door frame with 1 1/4″ pocket hole screws and glue.
Step 8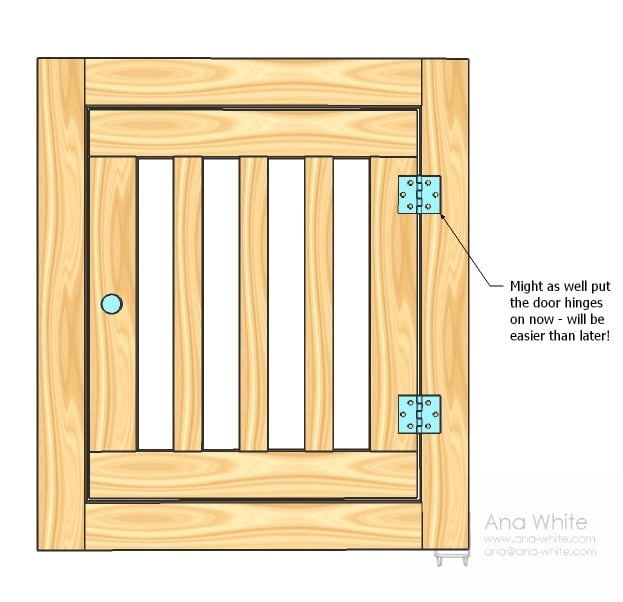 Door Hinges
Why not add the hinges while it's easy? We did, and the hinges were much easier to install this way. I also installed the latch.
Step 9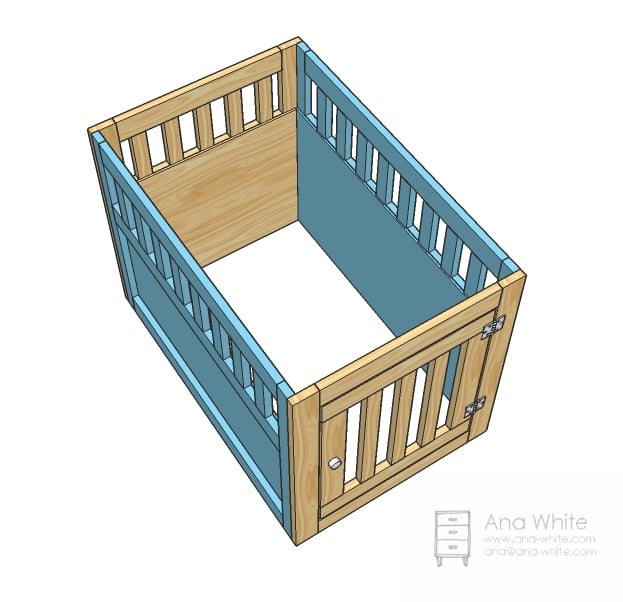 Assembly
So you have really just built four walls. Now assemble the walls! I highly recommend finishing the walls separately first – then you can easily assemble and reassemble the crate as needed. Another idea – use corner brackets to screw the walls together from the inside. Then you can break the crate down to flat pieces for storage and travel.
I filled all the pocket holes with wood filler three times and let dry. Then sanded with 120 grit sandpaper. Still need to paint
Step 10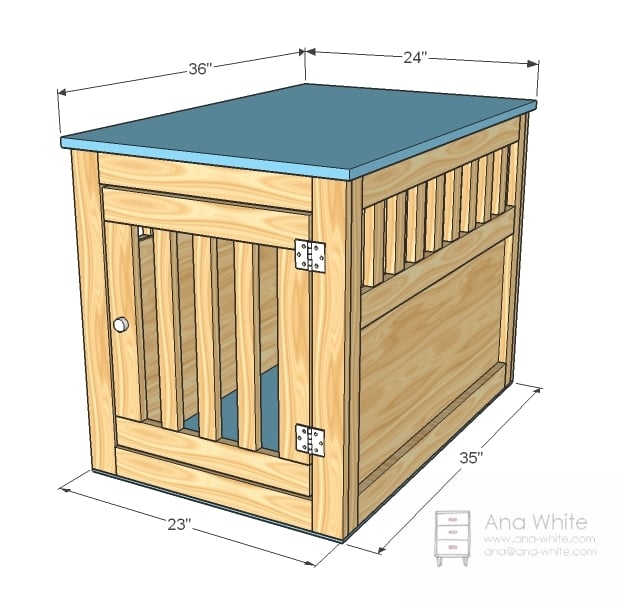 Top and Bottom
Screw the project panel to the top. We choose to leave the bottom off (our girls are house broken) but you could use some of the leftover 1/4″ plywood to make a bottom for the kennel. Simply line with plexiglass for a waterproof bottom.