Build a beautiful bar system, inspired by the Pottery Barn modular bar collection. These simple, free DIY plans are for the wine grid base.
A note from Gina:
I was so excited when I saw these plans! My husband really wanted to have a "prep" area at the bar, so Ana and I discussed this, and one possible option was to have a board that sits on top of the drawer box. So you would pull the drawer out and it has a "top" that you can rest things on. Then you can push the top board in (wood rails inside, made of 1/4" stock) to access the drawer contents. I thought that was genius, but the Mr. really wanted a breadboard. I didn't want to use drawer slides, so I kinda winged this, and came up with a great little pull-out. I'll definitely post what I did on my blog, in case anyone else wants to take a peek (and master it so everyone else can build one if they want).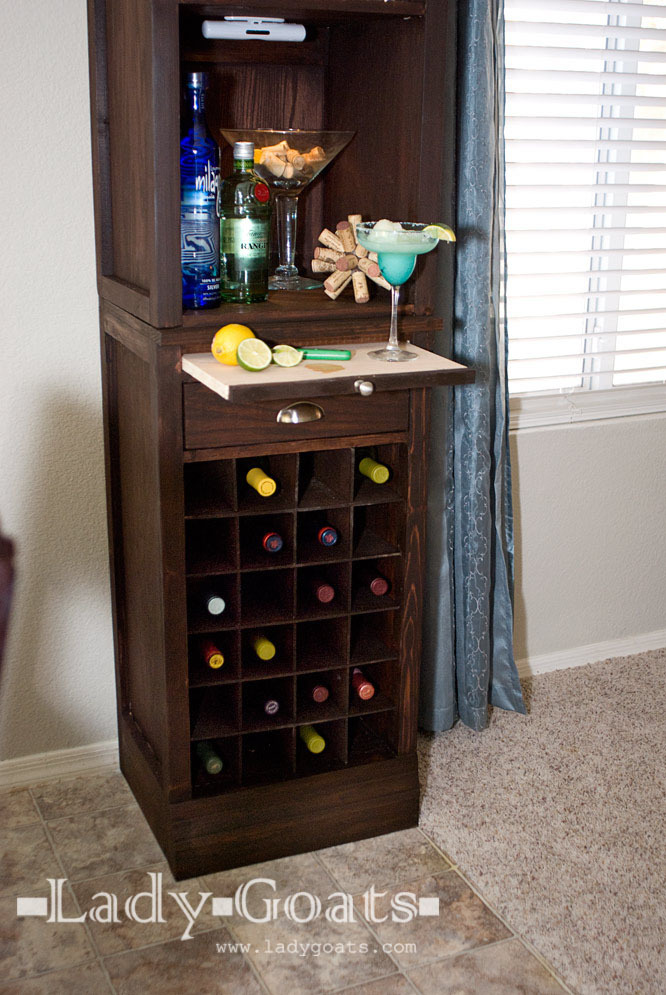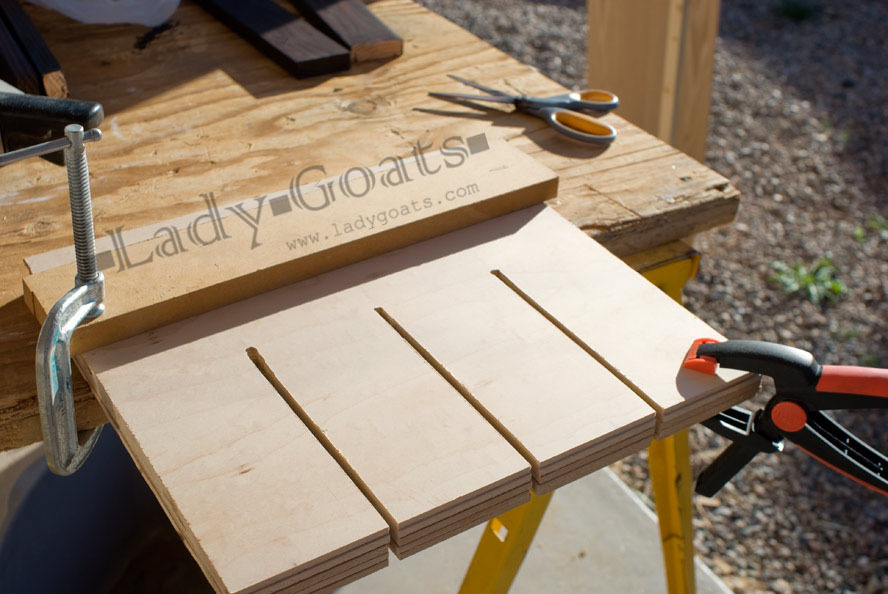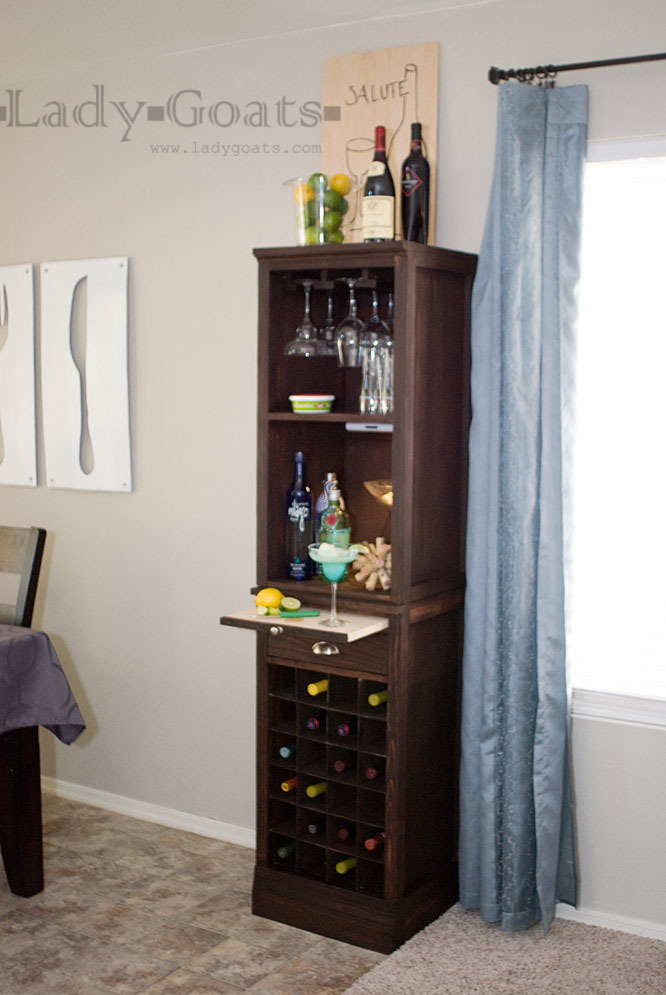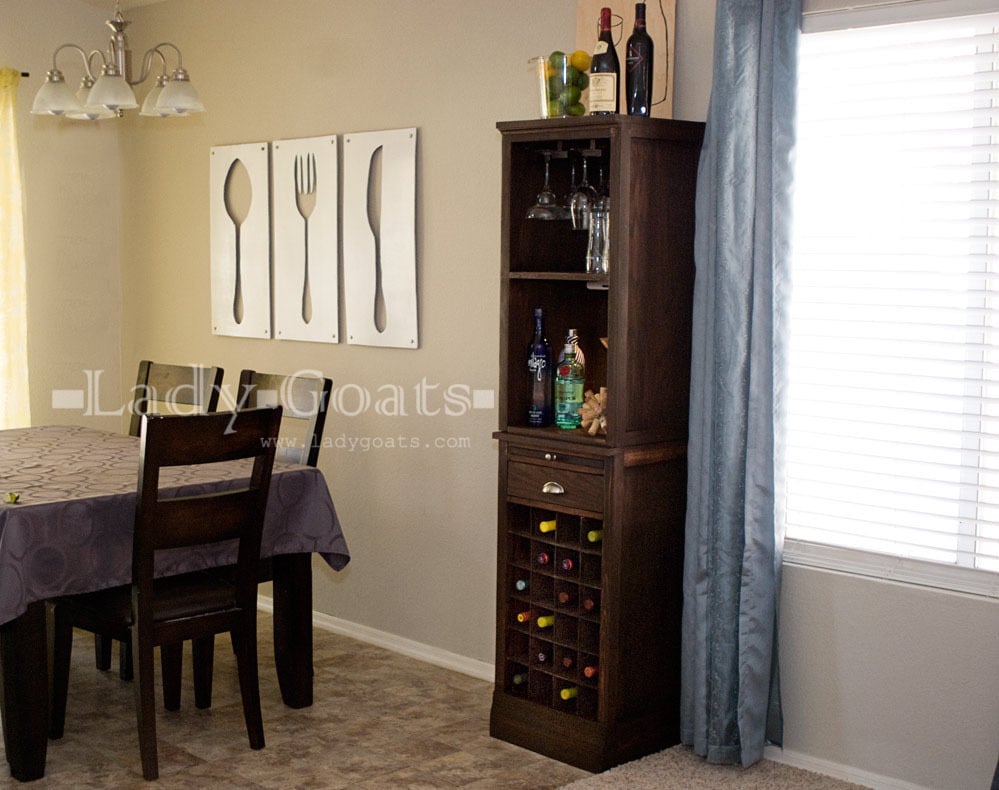 Dimensions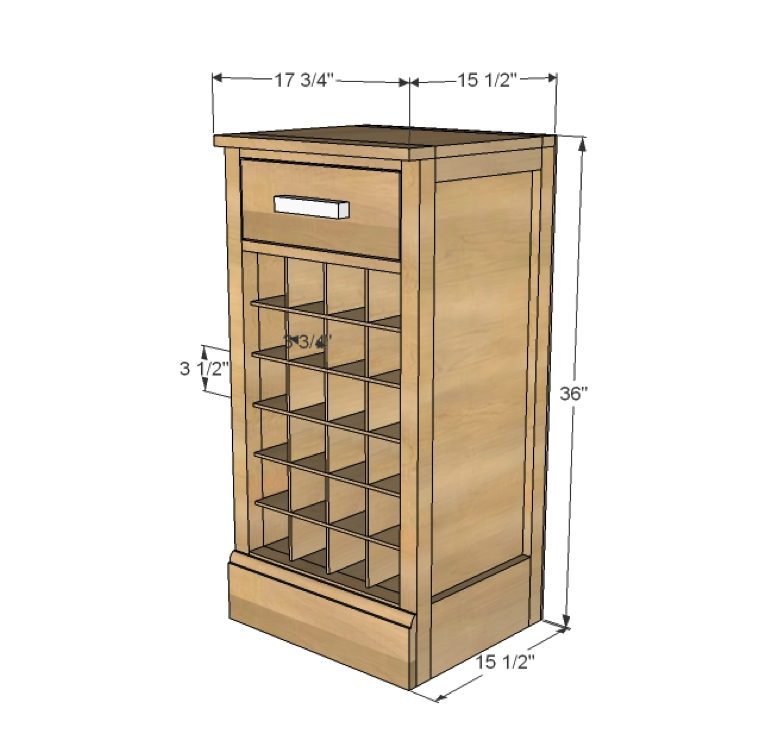 17 3/4" W x 15 1/2" D x 36" H
Preparation
Shopping List
10 feet of 1x12 boards (you can get 32 feet of 1x12 boards from a single sheet of ¾" plywood ripped into 11 ¾" widths – consider if making three bases)
1 sheet of ¼" plywood will cover one base with wine grids and one hutch
2 – 1x2 @ 8 feet long
1 – 1x6 @ 4 feet long
12 feet of 2x2 boards
2 feet of 1x3 boards
6 feet of 1x4 boards
2 feet of 5 ¼" base moulding
Knob or handle
12" drawer sides – may be able to use 14" drawer slides depending on the width of 1x12 boards
Screws and nails, depending on pocket hole use or not
Common Materials
1 1/4 inch screws
1 1/4 inch finish nails
1-1/4" Pocket Hole Screws
120 grit sandpaper
primer
wood conditioner
paint
paint brush
Cut List
2 – 1x2 @ 11 ¾" – cut to width of 1x12 boards
2 – 1x6 @ 11 ¾" – cut to width of 1x12 boards
2 – 1x12 @ 35 ¼" (shown using ¾" plywood ripped into strips 11 ¾" wide x 8 feet long)
1 – 1x12 @ 14 ¾"
4 – 2x2 @ 35 ¼"
5 – 1x2 @ 14 ¾"
1 – 1x2 @ 17 ¾"
1 – 1x12 @ 17 ¾"
1 – 1x3 @ 17 ¾"
2 – 1x4 @ 13 ¾"
2 – 1x4 @ 14 ¼"
1 – ¼" plywood @ 13 ¾" x 13 ¾"
1 – 1x6 @ 14 ½"
1 – ¼" plywood @ 36" x 17 ¾"
1 – 5 ¼" base moulding @ 17 ¾"
5 – ¼" plywood @ 13 ¾" x 14 ¾"
3 – ¼" plywood @ 13 ¾" x 22 ½"
Cutting Instructions
Rip ¾" plywood into strips 11 ¾" wide to use as 1x12 boards. These boards can also be used as sides for the hutches and additional shelves.
If using the wine grids – cut the ¼" plywood into 1 strip 17 ¾" wide x 8 feet long and 2 strips 13 ¾" wide x 8 feet long. Use the 17 ¾" wide strips for the backs, and the 13 ¾" wide strips for wine grids and drawer bottoms. The 17 ¾" wide strips can also be used for the back of the hutches.
General Instructions
Please read through the entire plan and all comments before beginning this project. It is also advisable to review the Getting Started Section. Take all necessary precautions to build safely and smartly. Work on a clean level surface, free of imperfections or debris. Always use straight boards. Check for square after each step. Always predrill holes before attaching with screws. Use glue with finish nails for a stronger hold. Wipe excess glue off bare wood for stained projects, as dried glue will not take stain. Be safe, have fun, and ask for help if you need it. Good luck!
Instructions
Step 1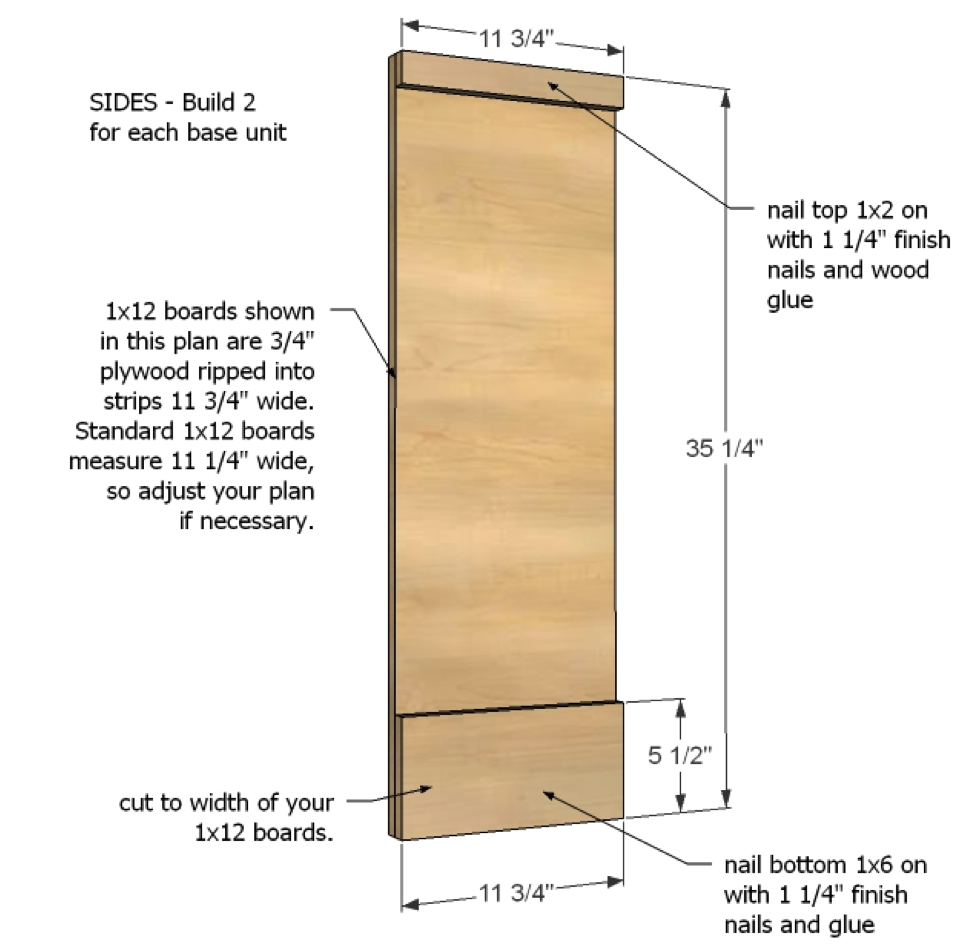 Build the sides. Cut your 1x2s and 1x6s to the width of your 1x12 boards and attach with glue and finish nails as shown. It would also be smart to add your pocket holes to the insides of these boards now (you'll need them on the opposite side of the trim, on the outside edges of the board. You do not need to put them at the top and bottom.) so that you can attach the front and back trim. You'll need to build two of these.
Step 2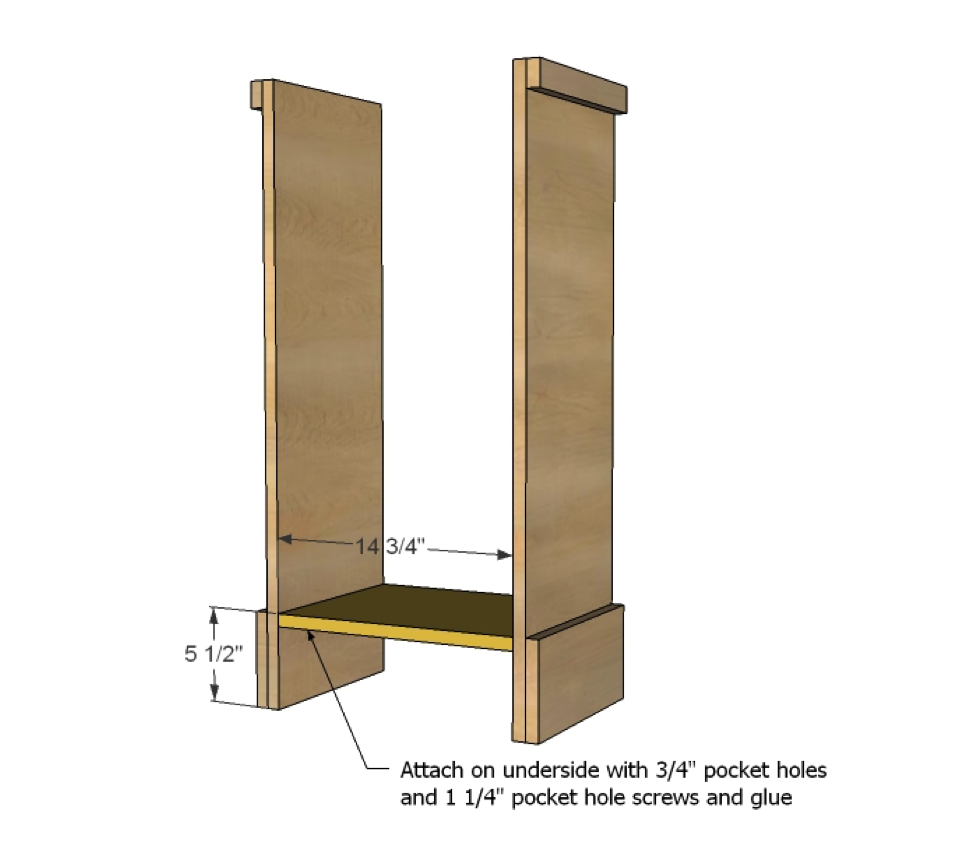 Measure 5 1/2" from the bottom, and attach the bottom shelf using pocket holes set for 3/4" stock and 1 1/4" pocket hole screws.
Step 3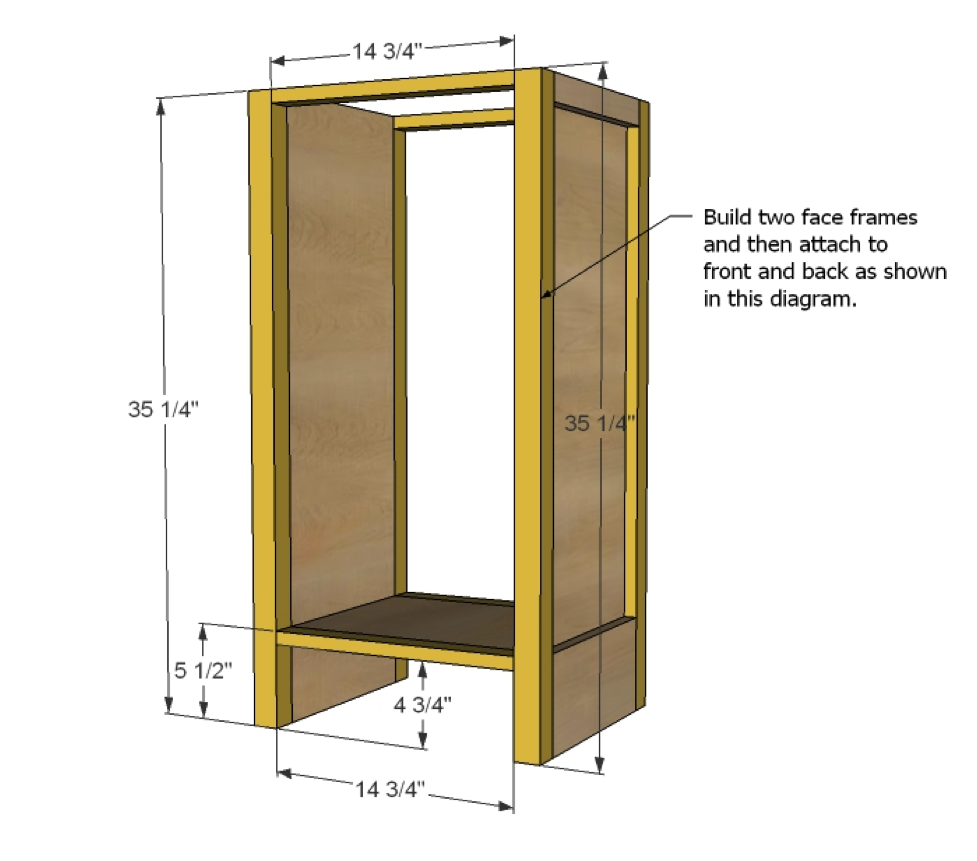 Build two face frames as shown, and atatch to the front and back using pocket holes set for 3/4" stock and 1 1/4" pocket hole screws (these are the holes you pre-drilled in step 1)
Step 4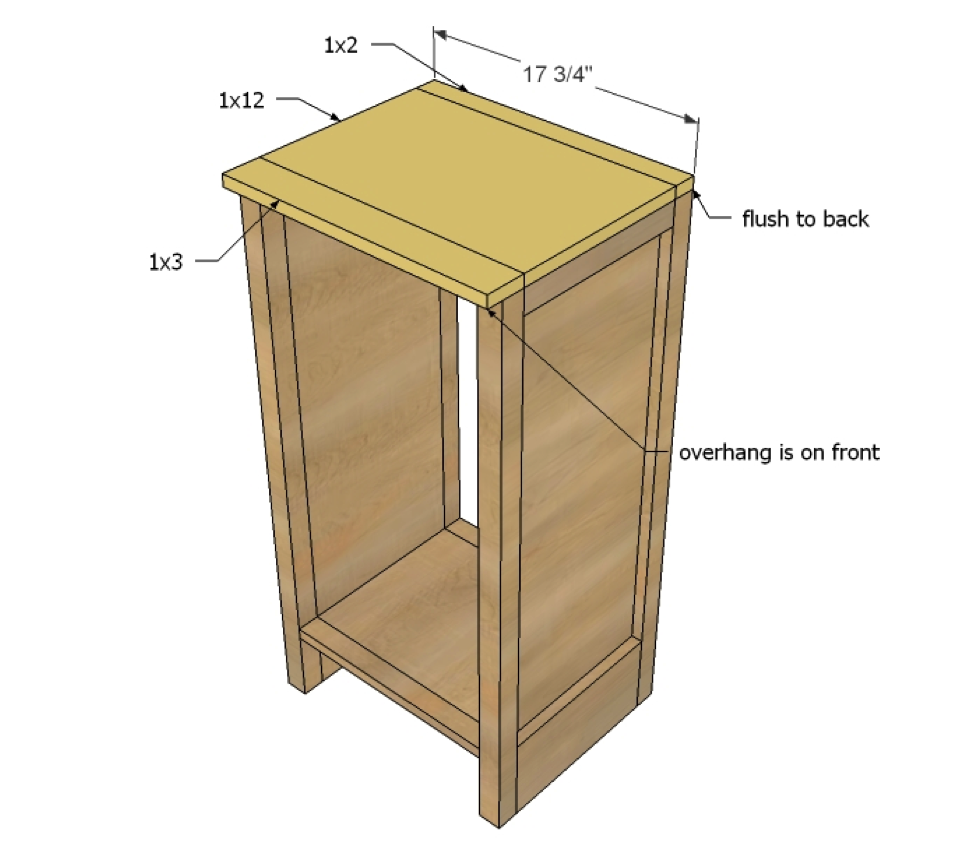 Attach the top as shown, using glue and 1 1/4" finish nails.
Step 5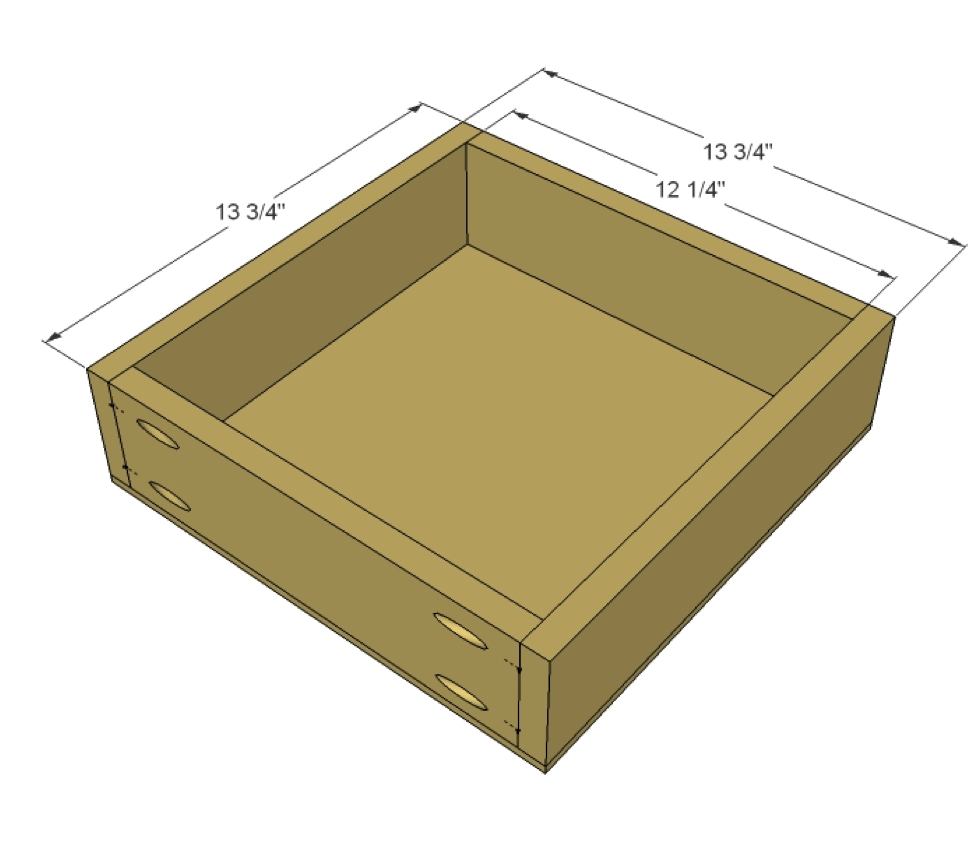 Step 6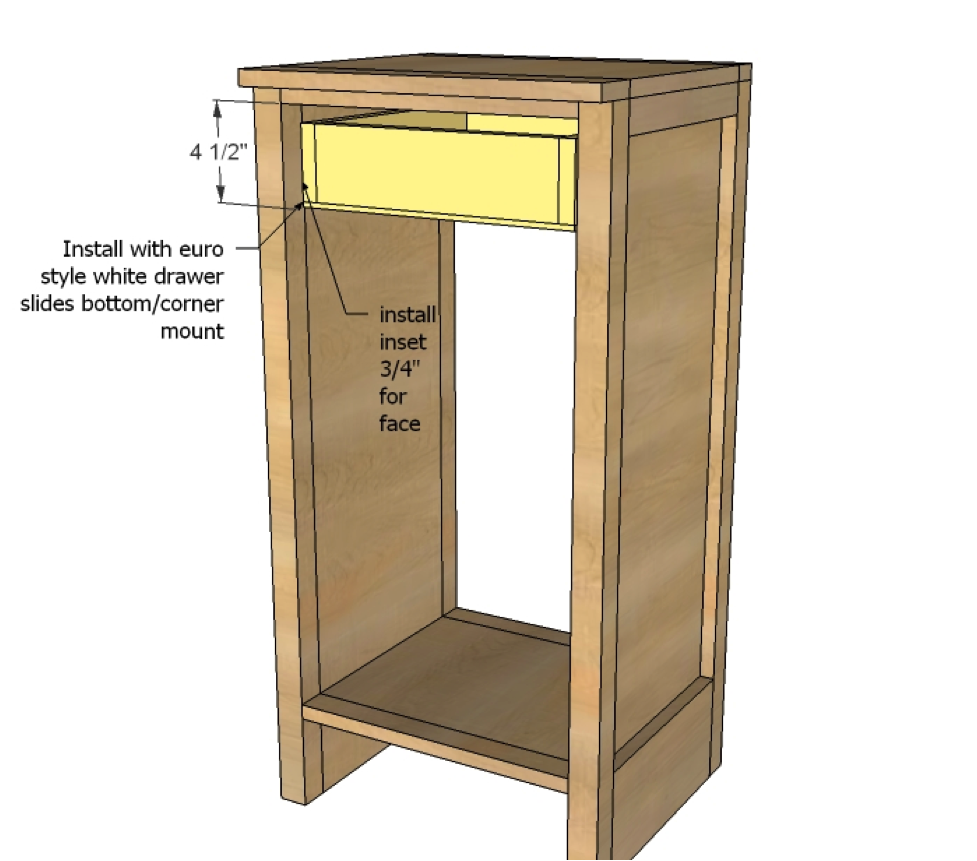 Step 7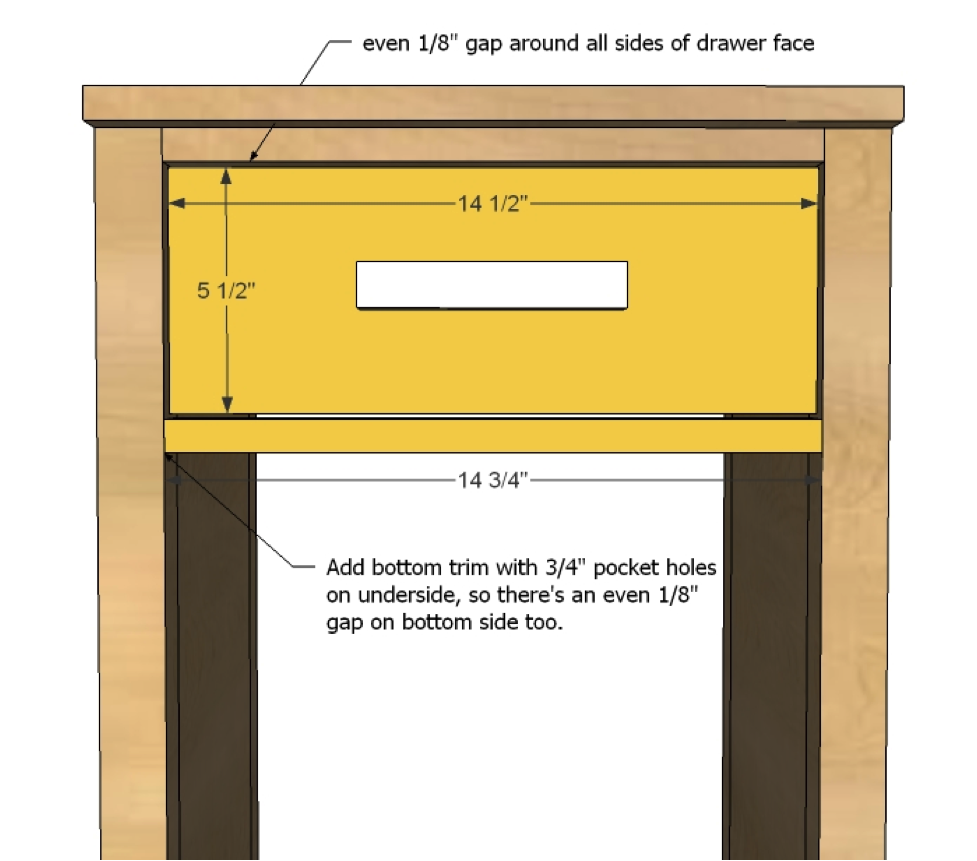 Attach your face frame so that there's an even 1/8" gap on the top and on both sides. Then attach the bottom trim so that there is a 1/8" gap on the bottom, using pocket holes on the underside, and glue.
Step 8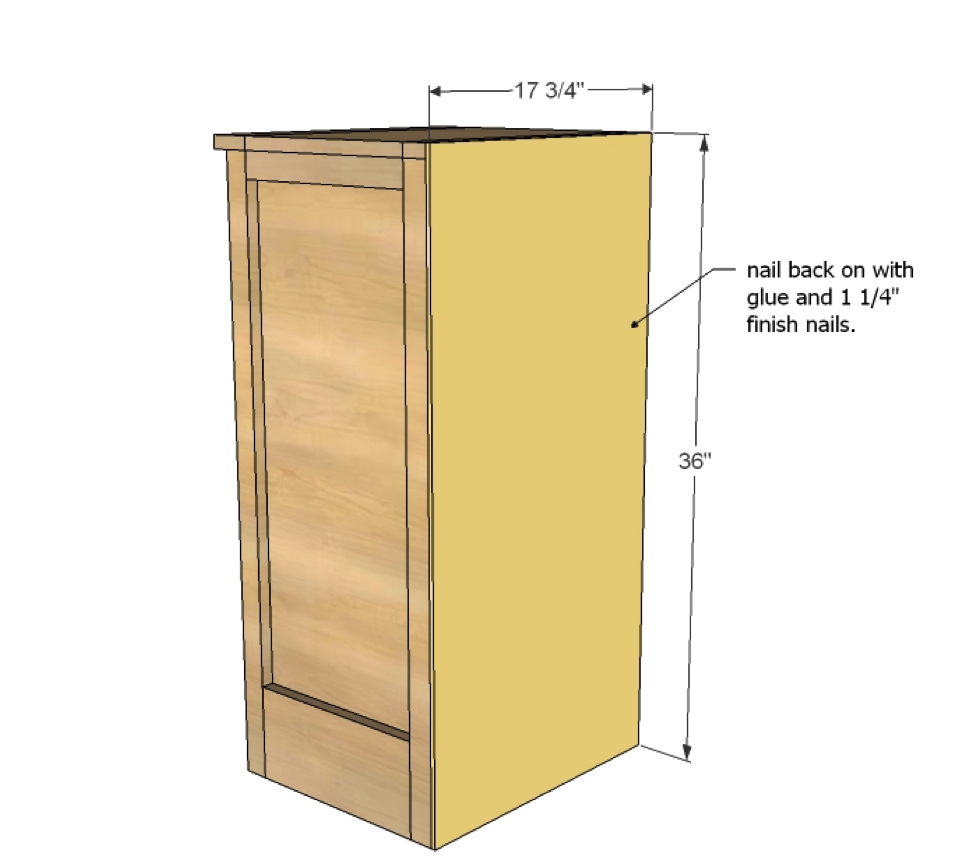 Attach the back with glue and 1 1/4" finish nails.
Step 9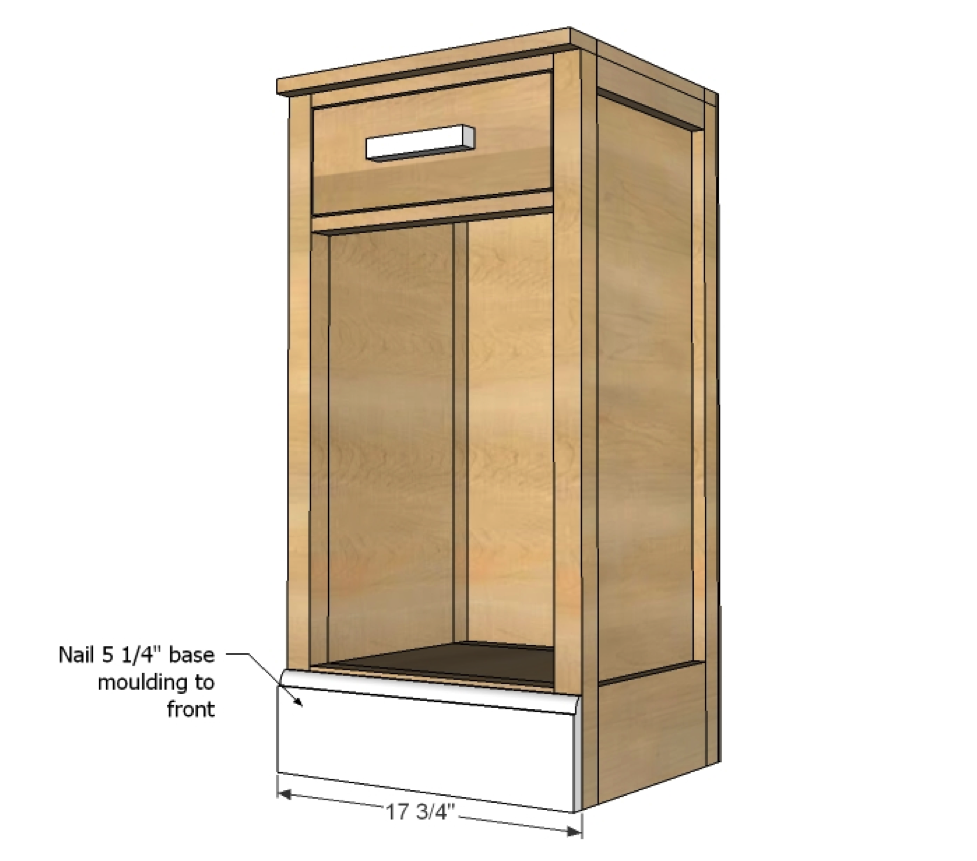 Nail your base moulding to the front. If you can't find 5 1/4" moulding that's stainable, you can buy shorter moulding and cut scrap 1x to make up for the remaining space.
Step 10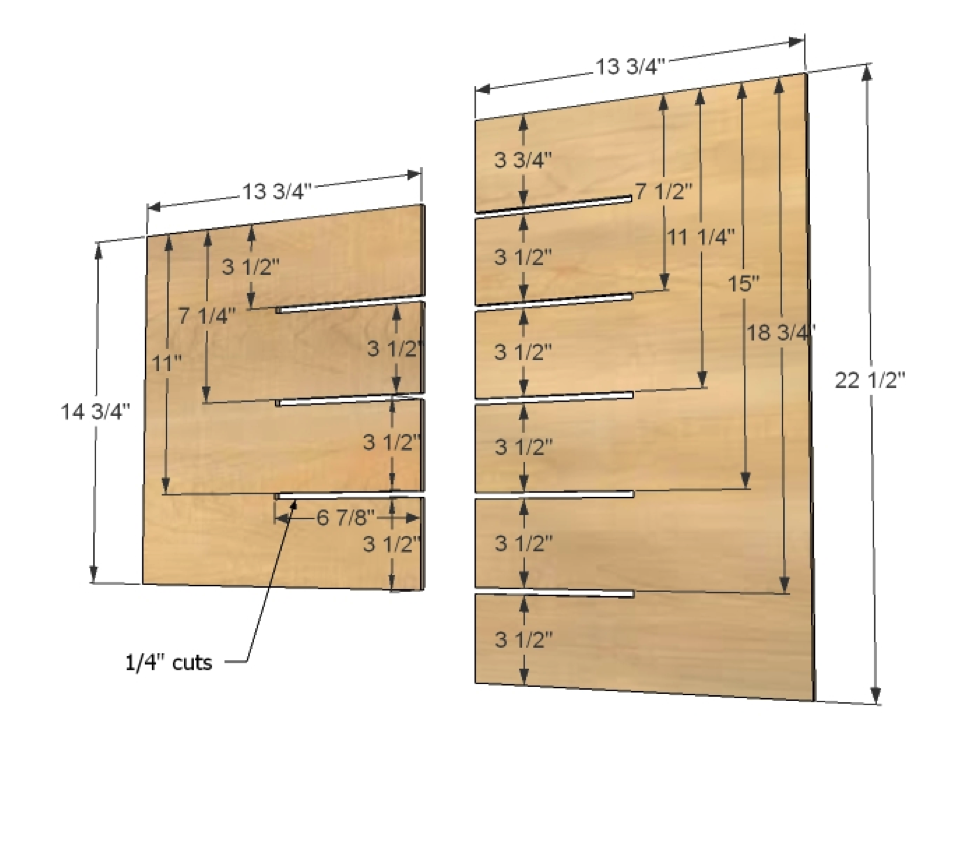 The best way to do this would be with a table saw, and just setting the fence to make these cuts. But if you don't have a table saw, you can drill ¼" holes at the end of each mark (remember to add an 1/8" to measurements shown so you drill the hole in the center of the cut) and then cutting to that mark with a circular saw or jigsaw. Use a square to mark the cuts long before you cut. Remember, the cuts need to be the width of the plywood thickness.
* Gina marked the cuts as shown above on one of each sized board and clamped all of the boards together (making sure they were perfectly aligned). Then she took her circular saw to make the cuts. If you do this, you'll need to touch up the bottom boards with either a Dremel or a jig saw, since the circular saw's rounded blade made the bottom board's cuts shorter than the top's.
Step 11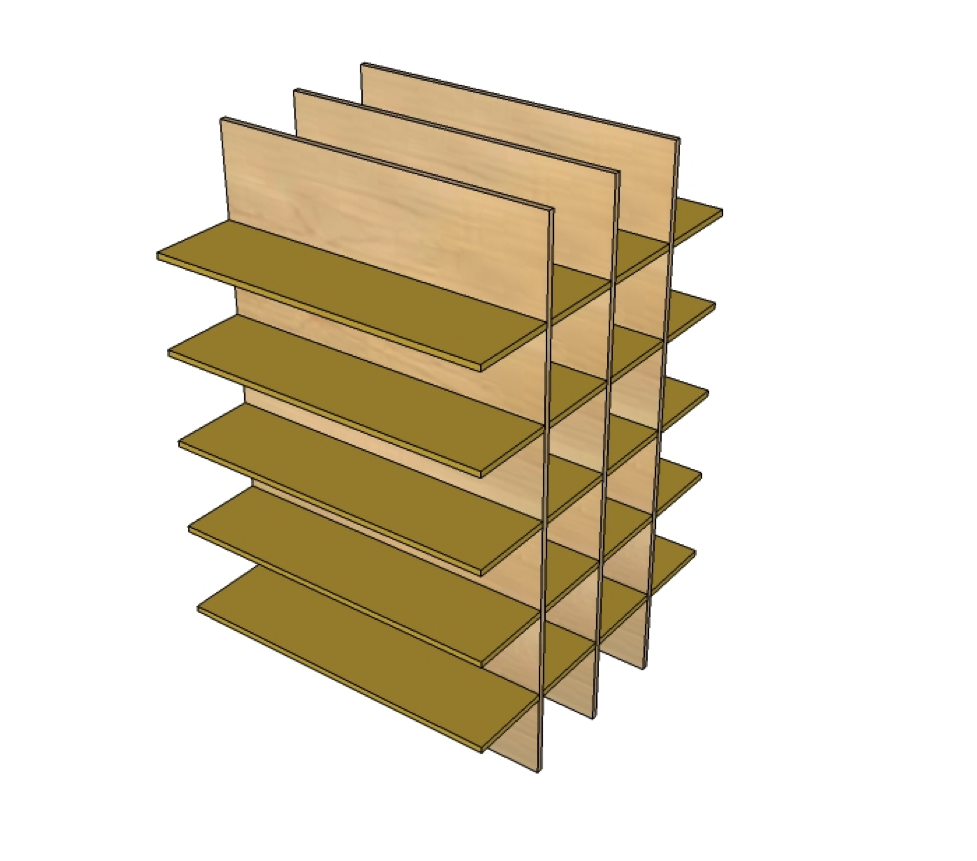 Once all the pieces go together, you should not need glue.
Step 12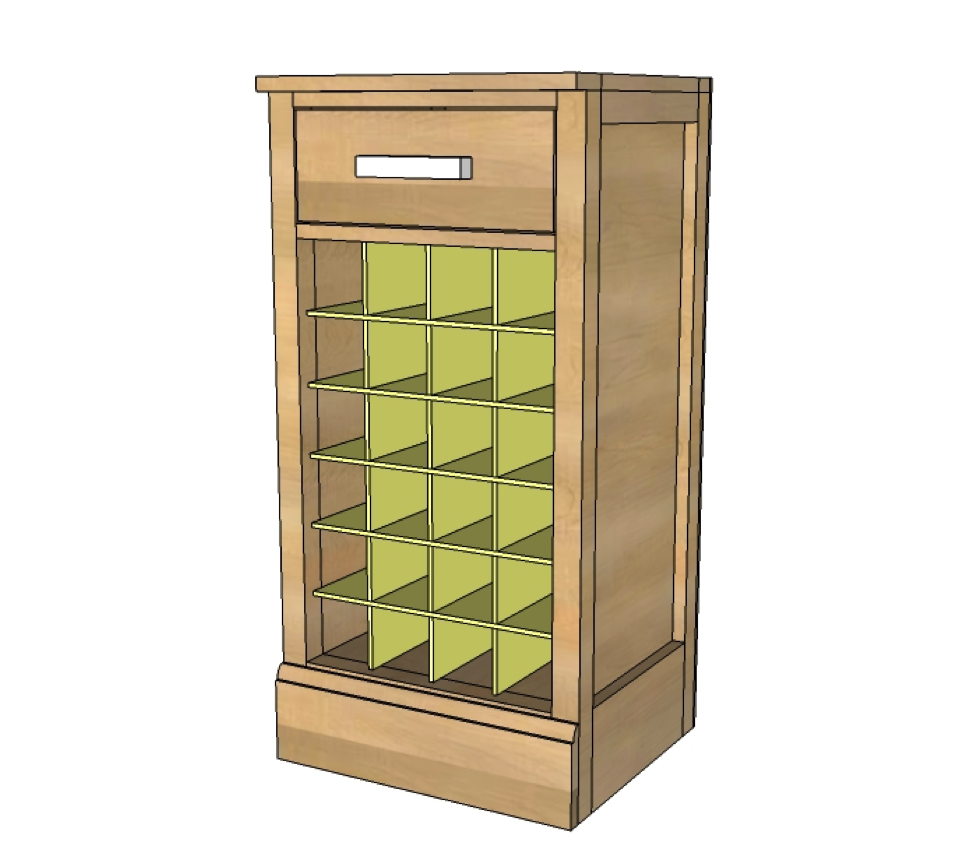 The base should hold the pieces tight and square.
Step 13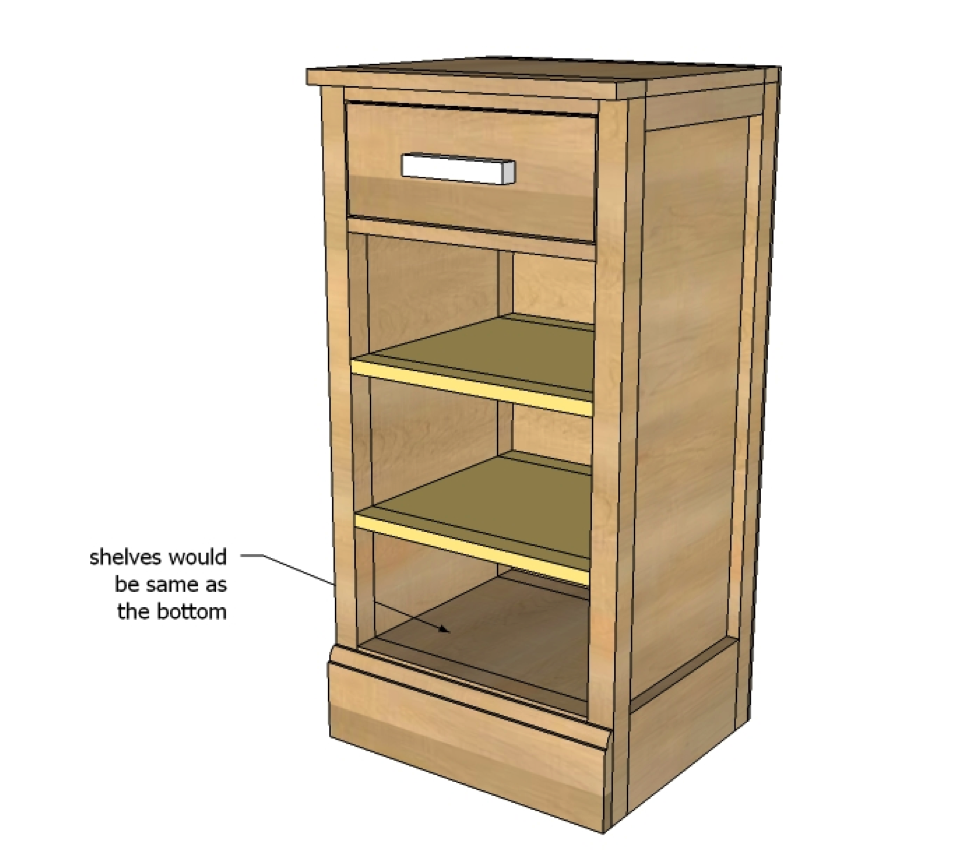 That way you can change it up with shelves if you like!
Preparation Instructions
Fill all holes with wood filler and let dry. Apply additional coats of wood filler as needed. When wood filler is completely dry, sand the project in the direction of the wood grain with 120 grit sandpaper. Vacuum sanded project to remove sanding residue. Remove all sanding residue on work surfaces as well. Wipe project clean with damp cloth.

It is always recommended to apply a test coat on a hidden area or scrap piece to ensure color evenness and adhesion. Use primer or wood conditioner as needed.
Finish Used
General Finishes gel stain in Java
We apologize if there was an error in this plan. Please help us out and report any errors here.