A beautiful craft table is simply a tabletop supported by bookshelves. Special thanks to Cherish for sharing her beautiful inspiring photos with us.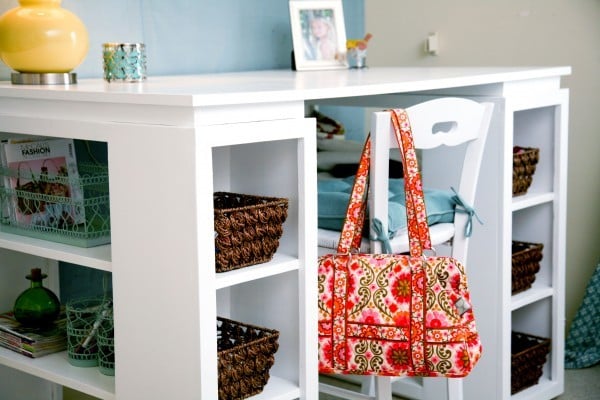 And I'm so sad that the sun went down before I could snap some photos of some of my projects from this weekend.  You must stop back by and check them out later this week - I know you are going to love them as much as I do!  In the meantime, I wanted to finish plans for the Mod Modular Office Collection Project Desk.
Pin For Later! 
Dimensions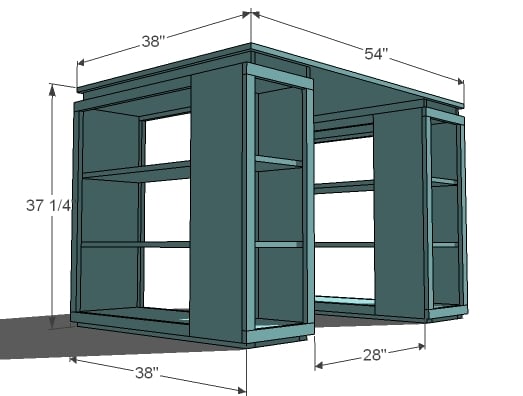 Overall Dimensions are shown above.
Preparation
Shopping List
1 – Sheet of 3/4″ Plywood or MDF (Can use 1/2 sheet, tabletop will be 6″ narrower) 3- 8′ 1×12 (Tops and Small Shelves/Two Large Shelves and One Bottom) 1 – 12′ 1×12 (Ends, Dividers) 1 – 12′ 1×10 (Small Bookshelf Sides) 7 – 8′ 1×2 2 – 8′ 2×2 2″ Finish Nails 2″ Screws or 1 1/4″ Pocket Hole Screws Wood Glue Finishing Supplies
Cut List
Cut List for Project Table (Two Bookshelf Bases and One Top) 2 – 1×12 @ 37 1/4″ (Bookshelf Tops) 2 – 1×12 @ 33 1/2″ (Bookshelf Ends) 2 – 1×12 @ 32″ (Bookshelf Divider) 2 – 1×12 @ 36 1/2″ (Bookshelf Bottom) 4 – 1×12 @ 27″ (Large Shelves) 4 – 1×10 @ 34 1/4″ (Small Bookshelf Sides) 4 – 1×12 @ 8 3/4″ (Small Shelves) 8 – 1×2 @ 27 3/4″ (Large Shelf Side Trim) 8 – 1×2 @ 31 1/4″ (End Trim) 4 – 1×2 @ 13″ (Small Shelf Top and Bottom Trim) 4 – 2×2 @ 36 1/2″ (Floating Base Sides) 4 – 2×2 @ 8 1/2″ (Floating Base Ends) 1 – 3/4″ Plywood or MDF @ 38″ x 54″ (Top) (For 1/2 sheet of plywood, top is 38″ x 48″) 4 – 2×2 @ 10″ (Floating Base Ends) 4 – 1×2 @ 36 1/2″ (Floating Base Sides)

Instructions