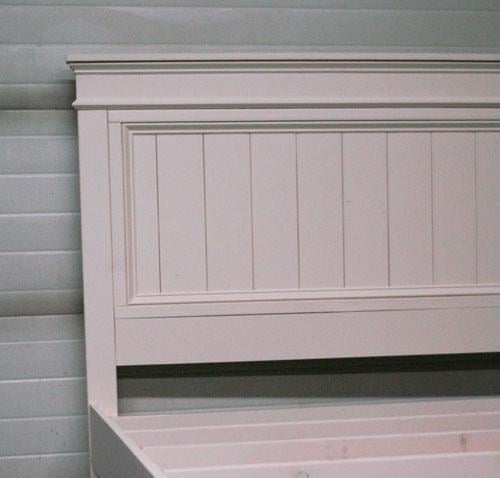 A fancier touch to the Farmhouse Bed. Features decorative moulding and no footboard. Very sturdy freestanding bed.
My mother has been asking for a bed for at least five years now.  She's even offered to pay me to make her a bed.
And every year, I have intentions of making my mother a bed for her Birthday.
And every year, I don't get around to it in time.
But not this year.
Today is my Mom's Birthday, and here is the bed that we made for her.
If the bed looks familiar, it's because my mom once commented that she liked Pottery Barn's Somerset Bed, but in White.  Really pretty in a stain, eh? (for those of you who checked out the link)
Painting this bed was quite easy in this nifty paint booth made of 2x2s and tarps (the Ram's invention) but making the decision to go through with painting it . . . not easy.
This is what the headboard looked like before any wood filler or sanding.  And yes, those are stud grade 2x4s and 2x6s.  Amazing how beautiful lumber can be.
And here is two coats of Antique White by Valspar, Flat Enamel, over primer.  I'm still playing with the idea of distressing the edges ever so slightly to bring out the moulding in this bed.  What would you do?  We of course will need to add a final top coat.
The bed stands alone well with the frame secured to the headboard.  We choose a 2x4 joist system which will get topped with plywood because we live in a very dry climate, and do not have to worry about mildew buildup in this particular application.  Slats are recommended (or a box spring) for those of you who live in a humid climate, but nothing beats the sturdiness and quick setup of plywood.
If you are thinking this might be a cute Valentine's Day project, go for it.  The Ram and I worked together on this bed, and we finished the headboard in about two hours.  The most time consuming part was the moulding.  Believe it or not, because we are nailgun-less the moulding is simply glued and clamped on - and it's not going anywhere.  Unless the bed goes too, of course.
Dimensions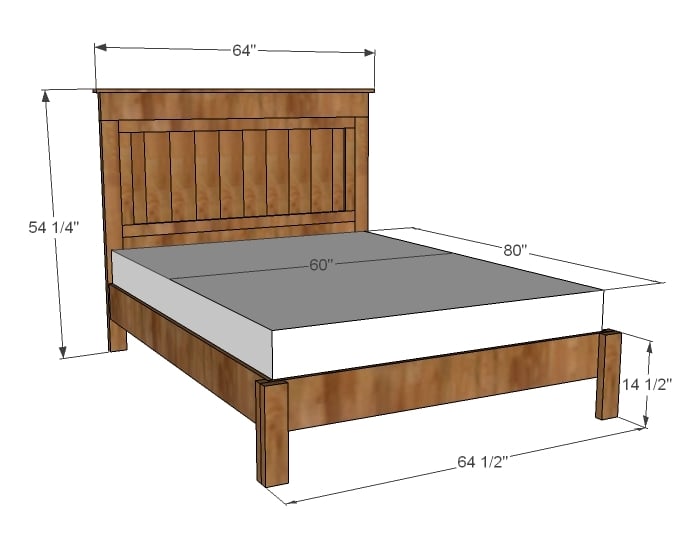 of course.
Preparation
Shopping List
3 – 1×6 @ 8 feet long
2 – 1×2 @ 8 feet long
2 – 2×6 @ stud or 8 foot length
8 – 2×4 @ stud or 8 foot length
1- 1×3 @ 8 foot length
1 – 1×8 @ 12 feet long
1 – 1×8 @ 8 feet long
1 – 2×2 @ 30″ long
2 1/2″ wood screws
3″ wood screws
1 1/4″ finish nails or wood screws
wood glue, wood filler, sandpaper (medium grit) and other finishing supplies
Cut List
10 – 1×6 @ 24″ (Panel Boards – cut panel boards at 23 7/8″ to account for saw blade if you need to conserve boards)
2 – 1×2 @ 24″ (Side Trim for Panel – cut at 20 7/8″ if you cut your panel boards at 23 7/8″)
2 – 1×2 @ 55″ (Top/Bottom Panel Trim)
1 – 2×6 @ 55″ (Base of Panel)
2 – 2×4 @ 48″ (Legs)
1 – 1×3 @ 64″ (Top of Headboard)
5 – 2×4 @ 57″ (Joists)
2 – 2×4 @ 80″ (Sides of Bed Frame)
2 – 1×8 @ 80″ (Siderails)
1 – 1×8 @ 61 1/2″ (Footrail)
2 – 2×2 @ 14 1/2″ (Legs)
2 – 2×4 @ 14 1/2″ (Legs)
Moulding
1 – 8′ Stick of Chair Rail like this one from Lowes (use this stick on the bottom tier of the headboard)
3 – 8′ Sticks of Base Cap like this from Lowes (use this type of moulding to trim panel and for the top tier on the headboard)

Instructions
Step 1
Step 2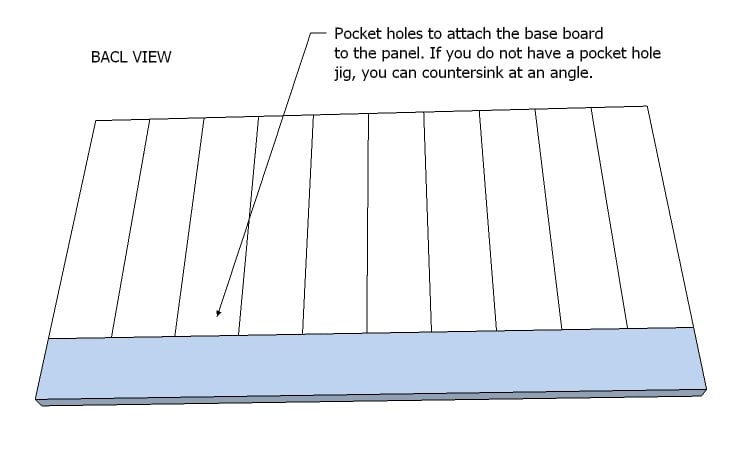 Headboard Base
Now attach the base to the panel. You won't need a ton of screws, so if you only have a countersink bit, you can carefully predrill holes at an angle. Use 2 1/2″ screws and wood glue. I thought about recommending brackets, but for the cost of the brackets, you could purchase a Kreg Jig™, so I scrapped that idea.
Step 3
Step 4
Step 6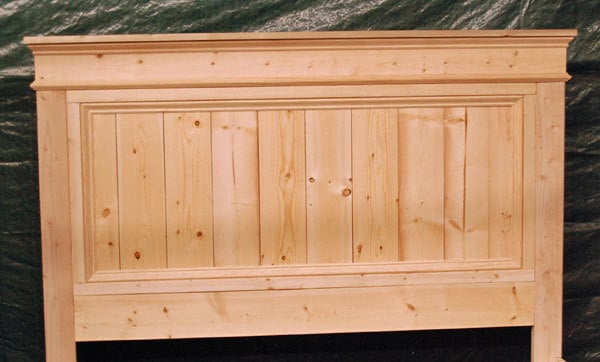 Moulding
This is the trickiest part, so definitely do some testing before you make your final cuts. All corners are at 45 degree angles. Use a miter box or a miter saw to carefully make your cuts. I did not give measurements here because you should fit your moulding perfectly to your bed rather than my measurements. If you have a finish nailer and 1″ finish nails, glue and nail in place. Otherwise, glue and clamp in place. Avoid letting glue dry on bare wood, as those areas will not accept stain.
Step 7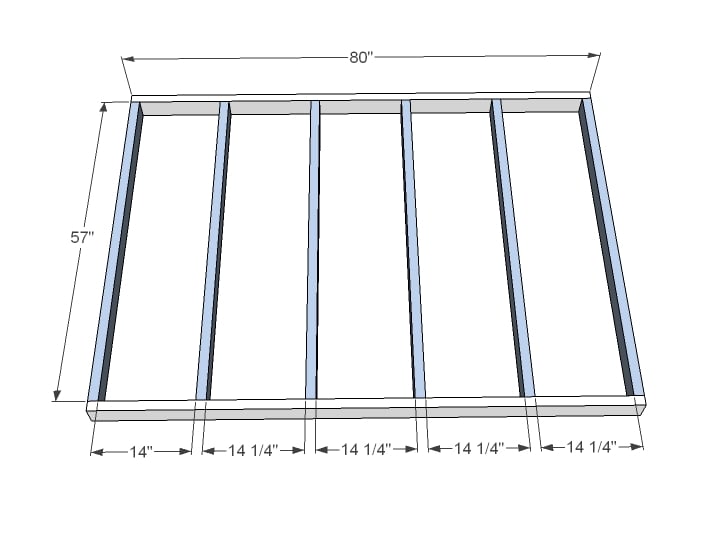 Bed Frame
There are many many ways to build a bed frame, but this is probably my favorite. We do live in a dry climate, so a plywood frame may make more sense for us than you. Make sure you check out our other bed frames if a plywood platform does not work for you. We simply screwed 2x4s together, just like you would to build a wall. Adjust for square. Use glue and 3″ screws countersunk.
Step 8
Step 9
Step 10
Finishing
Fill any exposed holes or imperfections with wood filler and let dry. Apply a second coat if necessary. Sand with medium grit sandpaper in the direction of the wood. Vacuum and wipe clean. Prime and paint or stain as desired. For use without a box spring, you will need to add plywood on top of the bed frame or wood slats.