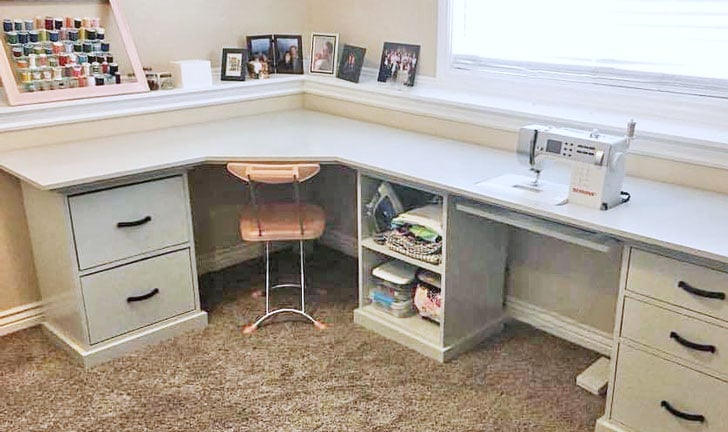 Corners in offices can be great ways to expand your space - whether you use the corner for a computer or a workspace.
With this easy plan, you can build your own corner desktop.  Build bases to suit your storage needs to create the perfect corner desk system!
Shown with open shelf base and open bases with drawers. See all plans in the Modular Office Collection to customize your corner desk top with the perfect bases.
Dimensions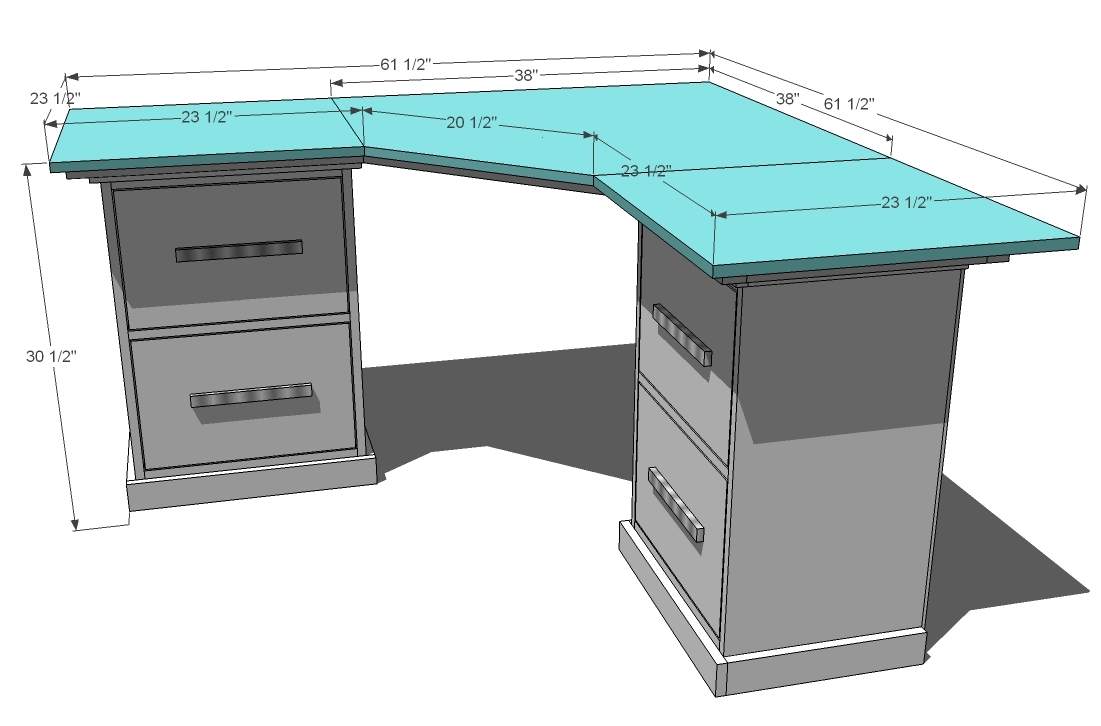 corner desk top dimensions
Preparation
Shopping List
1 – Sheet of 3/4″ MDF or hardwood plywood
Edge Banding if you are using hardwood plywood
4 – 1×2 Boards
1 – 1×3 Board
3″ screws for attaching the back leg OR corner brackets and screws to attach the back leg with hardware
Common Materials
1 1/4 inch screws
120 grit sandpaper
primer
wood conditioner
paint
paint brush
Cut List
Cut List for Tabletop Pieces
1 – 3/4″ MDF or Hardwood Plywood cut in a 38″ x 38″ square (you will cut off one corner in step 1)
2 – 1×24 boards @ 24 1/4″ (you can cut the pieces out of your scraps from the corner, dimensions 23 1/2″ x 24 1/4″)
Cut List for Trim Under Tabletop
1 – 1×2 @ 58 1/4″ (trim in red)
2 – 1×2 @ 56 3/4″ (trim in green)
4 – 1×2 @ 16 1/2″ (trim in blue)
1 – 1×2 @ 38 3/4″ (trim in yellow)
1 – 1×2 @ 22″ (trim in pink, cut to measurement, mitering ends 45 degrees)
Cut List for Leg
3 – 1×3 @ 29 3/4″ (leg pieces)
General Instructions
Work on a clean level surface and use proper safety precautions and equipment. Review the plans before beginning, having a clear understanding of how the plan will be put together. Predrill and countersink your screws, using glue. Check for square after each board is fastened.
Instructions
Preparation Instructions
If you want to finish the plywood edges of the desktop, use edge banding ironed on. Sand the edges smooth.