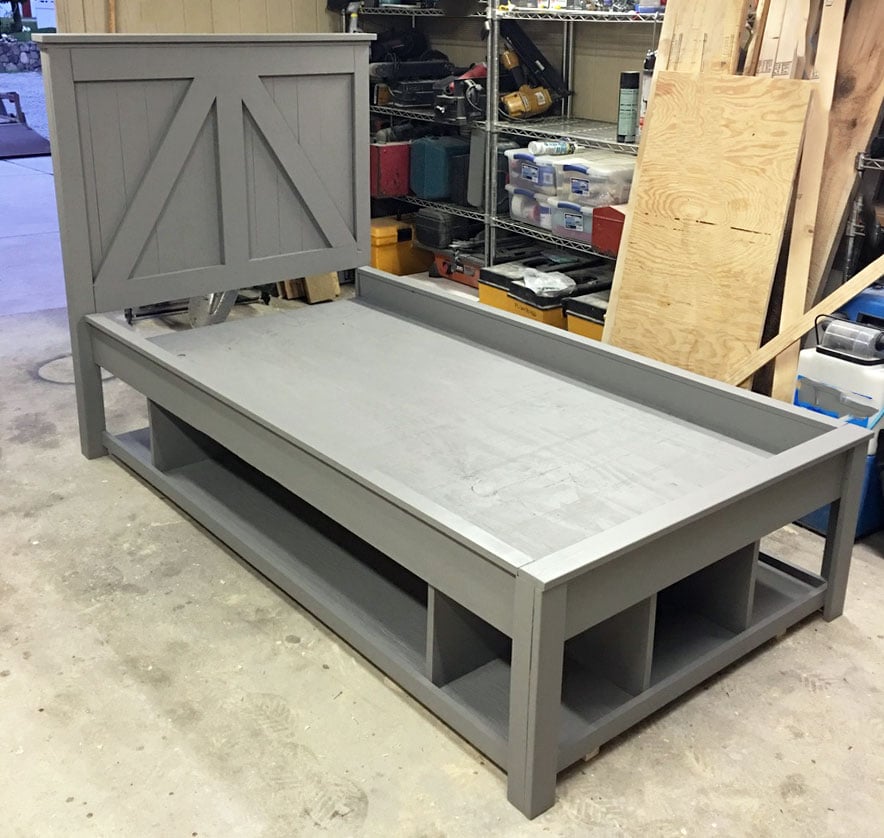 Build your own storage bed frame. This unique design maximizes storage - so you can store all the things! 
Use any headboard, or build your own as shown with our free rustic farmhouse headboard plans.
image by Ana White
One of the challenges with designing storage bed is obviously adequately supporting your mattress and creating the storage zones as actual structures that support the bed. 
We love this plan because there is SOOOO much storage!  You can throw suitcases in there!  
I was on the fence about slats vs plywood for the bed top - plywood isn't entirely necessary, especially if you have a box spring, but I ultimately choose 3/4" plywood you could use inexpensive builder grade plywood (it's all hidden for the top) and it would be easier to build this way.  BUT slats would be preferred for moisture issues.
image by Ana White
Dimensions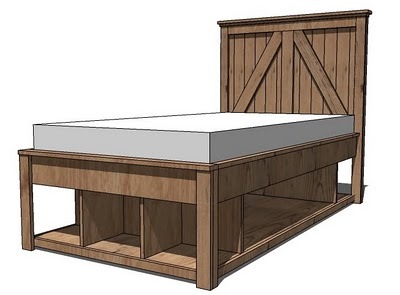 Fits a standard twin mattress
Preparation
Shopping List
2 - sheets 3/4" Plywood (AC is fine)
2 - 2x2 @ 8 Feet Long
1 - 1x12 @ 10 Feet Long
1 - 1x6 @ 16 Feet Long
1 - 1x3 @ 8 Feet Long
5 - 1x2 @ 8 Feet Long
Common Materials
2 inch screws
1 1/4 inch finish nails
2 inch finish nails
120 grit sandpaper
primer
wood conditioner
paint
paint brush
Cut List
| | | | | |
| --- | --- | --- | --- | --- |
|   | Quantity | Board | Length | Description |
| A | 2 | 2x2 | 70" | Under Bed Supports |
| B | 2 | ¾" Plywood | 75 3/4 " x 39 | Side Legs |
| C | 2 | 1x12 | 39" | Dividers |
| D | 2 | 1x12 | 11 1/4" | Small Dividers |
| E | 2 | 1x6 | 75 3/4" | Side Rail Trim |
| F | 1 | 1x6 | 40 1/2" | Foot Rail Trim |
| G | 2 | 1x2 | 75 3/4" | Bottom Shelf Side Trim |
| H | 1 | 1x2 | 40 1/2" | Bottom Shelf Foot Trim |
| I | 2 | 1x2 | 18 1/4" | Legs |
| J | 2 | 1x3 | 18 ¼" | Legs |
| K | 1 | 1x3 | 42" | Footer Trim |
| L | 2 | 1x2 | 75" | Side Top Trim |
Instructions