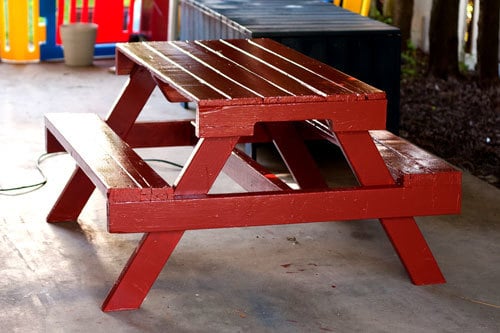 How to make a kid's picnic table from a pallet. Recycle what would have been trash into a very useable and cute table.
Have you ever been at the point in your life when there is no extra money?  When you need something positive, some growth in your life, but you are saving (or just barely breaking even)?  Don't let that get in the way of your ability to be creative.  When Janae first shared this pallet picnic table on our Facebook Fan Page, I was equally impressed with how cute the table was AND her ability to be creative without spending much money.

Here is from Janae:

I thought about taking pictures as I was going, but I was trying to work with my son's nap schedule and didn't have extra time. Okay, who else can understand where Janae is coming from?  Not just a tight budget, but no time?

I found a few pallets for free on craigslist. I really recommend using ones that haven't been rebuilt several time. The more it's rebuilt and repaired the harder it is to take it apart. Luckily I had one beautiful pallet that came apart with ease. The only problem was by the time I decided to make a picnic table out of it I had already made a pallet shelf.



image from Janae
You can see how to build your own pallet shelves for pretty much free
here
.
image from Janae

So anyway, I made this picnic table out of 2/3rds of a pallet, some scrap 2x4s I found, and one or two new 2x4s stud length. (At $2 a stick, that's $4 out of pocket)





The table top is 40" long x 21.25" wide. I'm sure it will vary by pallet, but I made sure the pallet notch was centered (this is where I came up with 21.25"). I left the center pallet 2x4. I didn't want to bother removing it, and I felt like it gave the 1x4s more support.
image by Janae

I just cut it at a 30 degree angle to keep it from digging into the kids lap. I think after I cut the 2x4s there were still 3 1x4s still attached, and I just filled the gaps with 3 more (pallet boards)





For the seats, a pallet frame would work, but I had two scrap pieces of 2x4s. I got tired of tearing apart the bad pallets with tons of nails. The 2x4s are 45.5" long. The seats are about 7" wide. For each seat I used a 2x4 and two 1x4s double up. The 1x4s were from pallets. The 2x4 was new, but I could've used 1x4s if I wanted to tear apart the pallet more.










I used the same measurements as the big kid's picnic table for the legs. Bigger Kids Picnic Table Plans are here.


\

I would have just sealed it, but that would have cost money. I used left over primer and house paint. It was the perfect color. Anyone could make this with one pallet and a couple extra 2x4s.

And if you would like to see a video one of our Facebook Fans L Scott shared on constructing a pallet picnic table, you can go here.
And some more pallet inspiration from other Knock-Off Wood readers for you

With a little sweat and a lot of determination, there are no limits to your creativity.  Money need not be a deal breaker in your design dreams.  Hope Janae has inspired you as much as she has inspired me!