We love this raised toy box!  There's room underneath for stools, storage or bigger toys!
Free step by step plans from Ana-White.com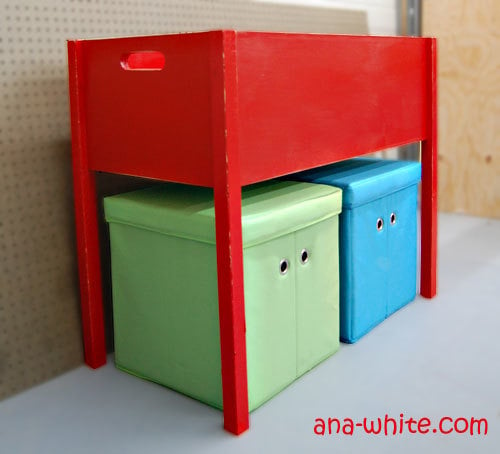 Dimensions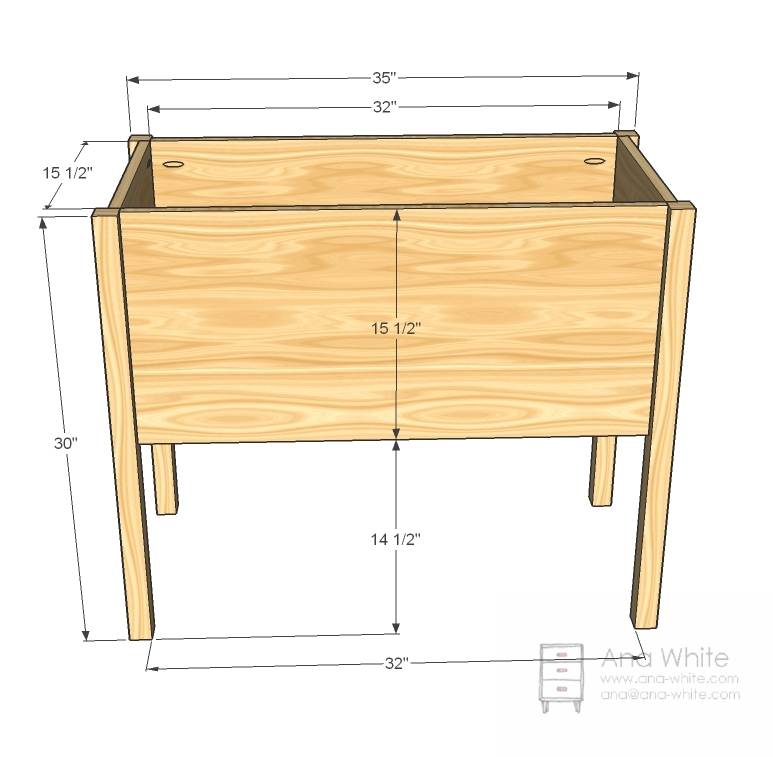 Also note, I did use 1x12s to build mine because I had those cute storage ottomans that I wanted to gift with the toy box. But this plan is for a slightly deeper toybox – a little more storage, and a little less clearance underneath.
Preparation
Shopping List
1/2 sheet of 3/4″ Plywood or MDF (I used MDF) cut into 15 1/2″ wide strips, 4 feet long (referred to as 1x16s) see diagram.
2 – 2x2s, 8 feet long
30 – 1 1/4″ pocket hole screws ) OR 2-1/2″ self tapping wood screws
wood glue
Cut List
3 – 3/4" plywood @ 15-1/2" x 32″ (Sides and Bottom)  - cut first from the 15-1/2" wide plywood strips
2 – 1×16 @ 15 1/2″ x 15-1/2" (Sides) - cut from leftovers
4 – 2×2 @ 32″ (Legs)
Cutting Instructions
Ask the home improvement store to cut your plywood into strips with their track saw, feeding the plywood through horizontally without readjusting the blade for a more accurate cut.
Instructions
Step 1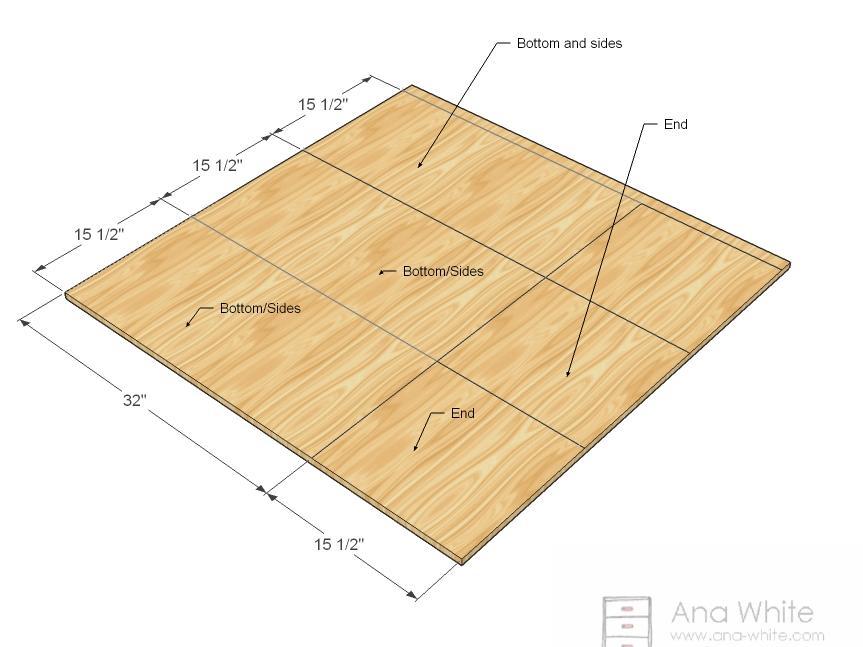 Cutting
If you plan carefully, as shown above, it will all fit on one sheet of plywood. Remember, you cannot mark all the cuts then cut as the saw blade takes up space too. Mark, cut, mark and so on. I highly recommend having your home improvement store at least ripping the plywood into easy to manage (and haul in your car) 15 1/2″ wide strips, 4 feet long. Then when you get home, all you have to do is make a few easy straight cuts.
Step 2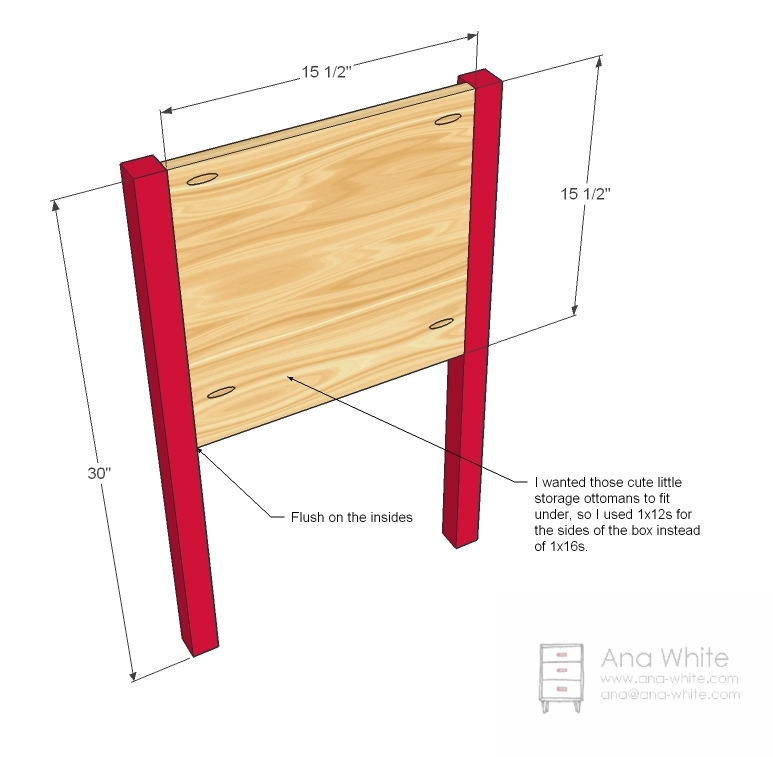 Ends
Drill all pocket hole sin all of the boards, as pictured in all of the diagrams. Then attach the legs to the ends as shown above. Use glue. You can alternately use 2″ wood screws and glue, just make sure you predrill all holes first with a countersink bit.
Step 3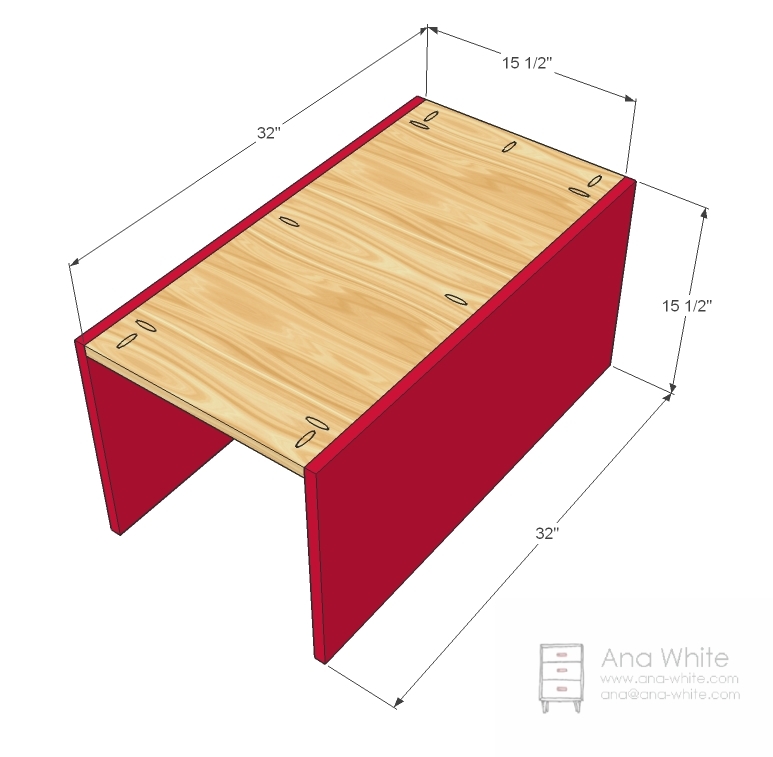 Box
Now attach the sides to the bottom as shown above. Use glue. Again, you can use 2″ screws and glue to joint the sides to the bottom, just make sure you also use a countersink bit. Also, if you are working with MDF and are screwing into the edges, make sure you predrill the entire distance of the screw shaft and use DRYWALL screws, as regular wood screws have a tapered shaft and in my experience, cause the MDF to basically blow apart. Drywall screws have a straight shaft.
Step 4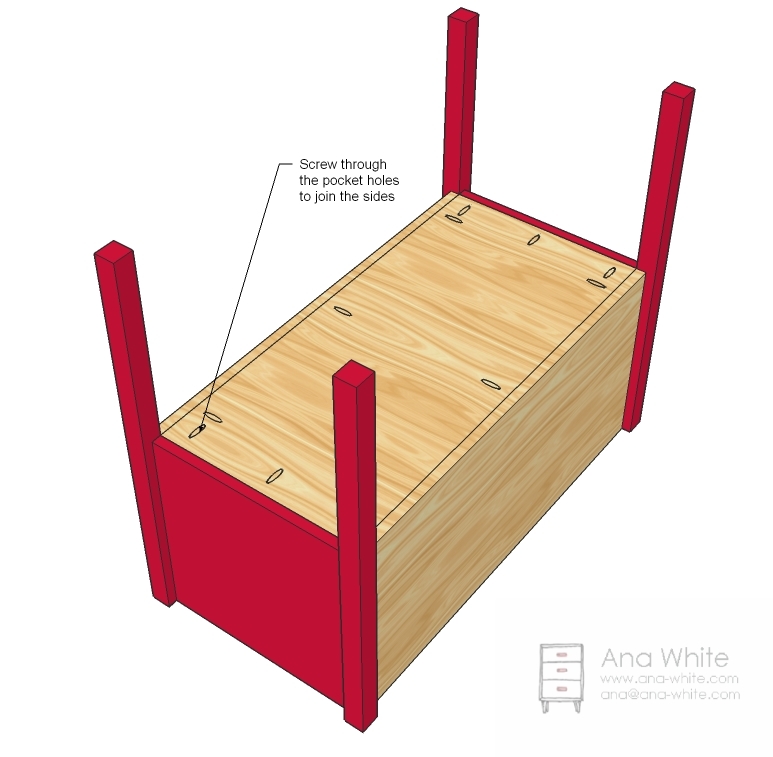 Ends
Now attach the box to the ends as shown above through the pocket holes in the bottom. Use glue. You can also attach with 2″ screws and glue, remember about the drywall screws and countersinking.
Step 5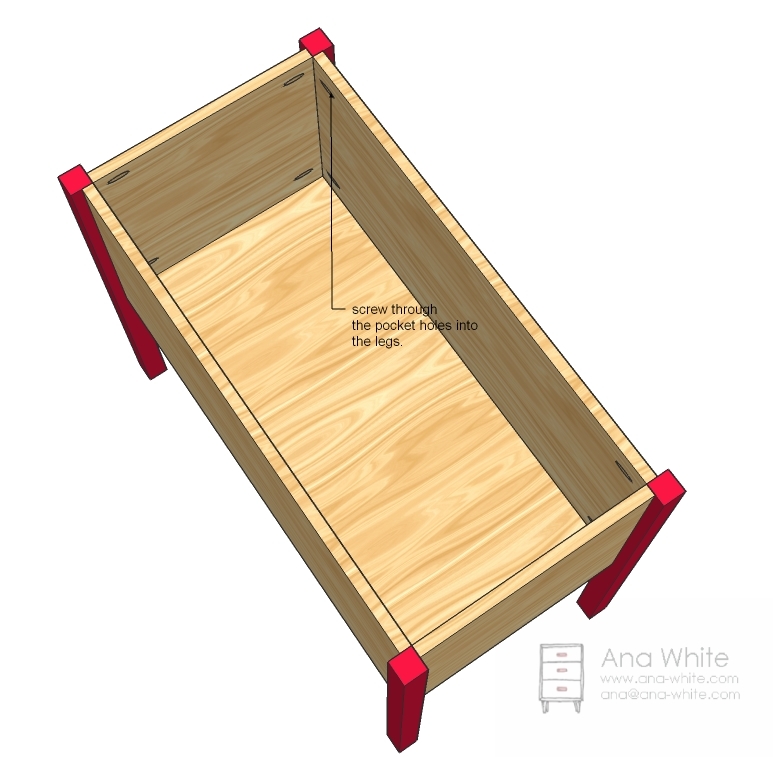 Step 6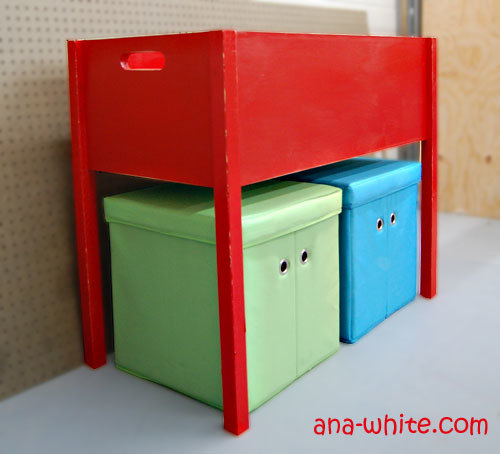 Handles
Our vintage crate carts were handy, so we just traced the holes in the ends, drilled holes and cut out the handles with a jig saw. You can see exactly how that is done in this post.
Preparation Instructions
I used 2×2 pine furring strips for the legs and MDF for the box and bottom. I used all pocket hole screws. To finish, I filled all holes with wood filler, let dry, filled again. I let the wood filler dry overnight. Then I sanded with 120 grit sandpaper, sanding the top edges of the MDF smooth as well. I removed all sanding residue with a vacuum and then wiped the toybox down with a damp cloth. I also vacuumed my work surface and laid a paint drop cloth down. Primer then two coats of High Gloss Red by Valspar (available off the shelf premixed). I let the paint dry completely, then lightly sanded the edges for a distressed look. The storage ottomans were also found at Lowes, on clearance for $4 each. Check in the closet section.
We apologize if there was an error in this plan. Please help us out and report any errors here.