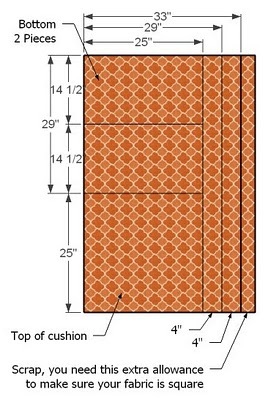 Pattern to make a cushion for the Simple Modern Outdoor Collection Sectional.
By no means to I claim to excel at sewing, and am first and foremost a fan of a nailer, kreg jig and a miter saw.  But sometimes a girls just gotta sit down and sew something . . . because she loves a certain fabric or she wants to save a little money on cushions for her huge outdoor sectional she just built.
Now let me establish some ground rules for sewing:
I only cut straight lines

I only sew straight lines

I only cut with a quilter's cutting wheel and cutting board

I pin before I sew

I keep the seam ripper handy

I do not hand sew

And I only use fabric I love

Oh, and I don't sew stripes for anything but curtains

Here's how I would sew one box cushion, the foam measuring 24" x 24", designed for the Simple Outdoor Collection Sectional.
For One Cushion, you will need:
1 Yard of 54" Wide Decorator Weight Fabric (you can spray the fabric to make it waterproof and mildew resistant later if it's not outdoor fabric) Fabric shown is Waverly Sun and Shade Lennox

3 Yards Piping

Thread

24" x 24" x 3" thick foam piece

Zipper Foot

Begin by squaring your edge of fabric (because the yardage you bought is probably not 100% square.  You just need to do this on one cut edge).  Then cut your fabric as shown above.

Take the two pieces that are 14 1/2" x 25" and hem one edge as shown above.  Press.

Sew the two back pieces together, as shown above, so that the total back piece is 25" x 25".  Your seam allowance is 1/2".  I recommend either sewing some buttons to keep the back closed or pressing some iron on Velcro in place.  The opening is so that you can take your cover off the cushion (and also because I don't hand sew or blind stitch my pillows closed).

With your zipper foot on, sew your piping to the tops and bottoms of the cushion covers.  Remember that the maximum seam allowance is 1/2".  I love piping, especially when contrasted sharply like in these pillows, but it's mostly decorative (and makes your cushion look more like a cushion and less like a pillow).

This is probably not the right word, but I don't claim to be a seamstress, and it's what I would call it if it was wood.  So take your 4" wide strips and sew the ends together to get 1 4" wide strip about 108" long.  Then sew your banding to the tops and then the bottoms just like you did the piping.  Finally, sew the two ends of banding together, and trim the ends.

I strongly suggest you review a few of these sites before sewing this cushion.  There are much brighter people out there than me.

Sew 4 Home Box Cushion (You must check out the entire site, it's amazing)
Threads Magazine Sew the New Box Pillow
A Throw Pillow with Zipper from Design Sponge (with the ladies running around, I dare not try to take the time to put zippers on anything)
Sewing.org's Teen Cushion Couch (makes me want to hack you know what couch)
Alternative Windows Box Cushion
Mildly Crafty's Pillows

And also, if you sew and you are smarter than me, feel free to ad advice in comments.  You're wisdom is much appreciated!
_________________________________________________________________
This post was brought to you by
Thanks Tracy!
_________________________________________________________________