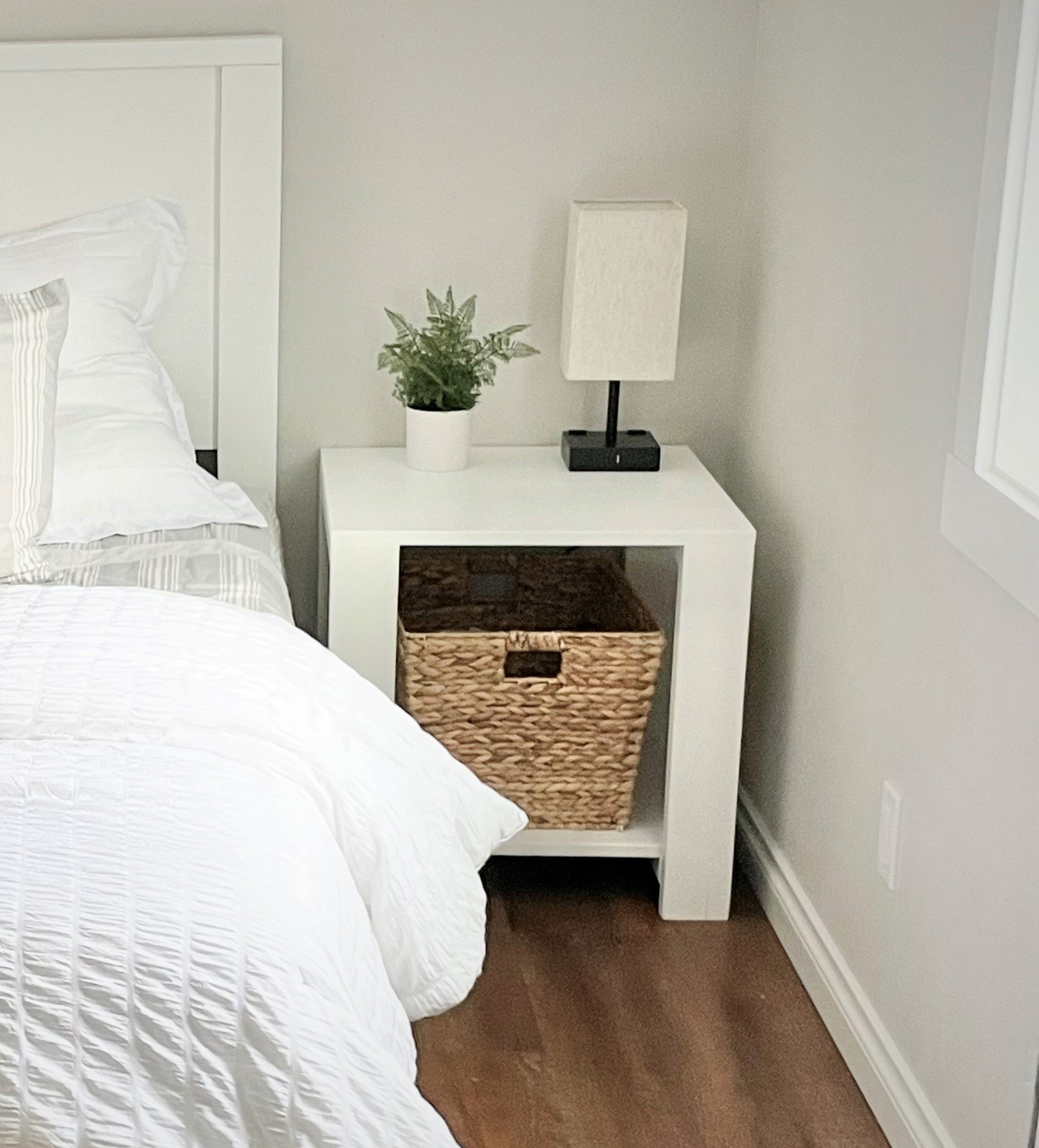 If you need an inexpensive and easy to make nightstand or side table, try this super simple end table or nightstand.  Generously sized and sturdy, with a low bottom shelf for easy access, the clean lines blend with almost any style or decor.  Solid wood construction, paint or stain any color. 
This is our easiest to build end table, side table, bedside table or nightstand plan. Free step by step plans with diagrams, shopping and cut list from Ana-White.com
Related: Compact Modern Farmhouse Bed Plans
Pin For Later!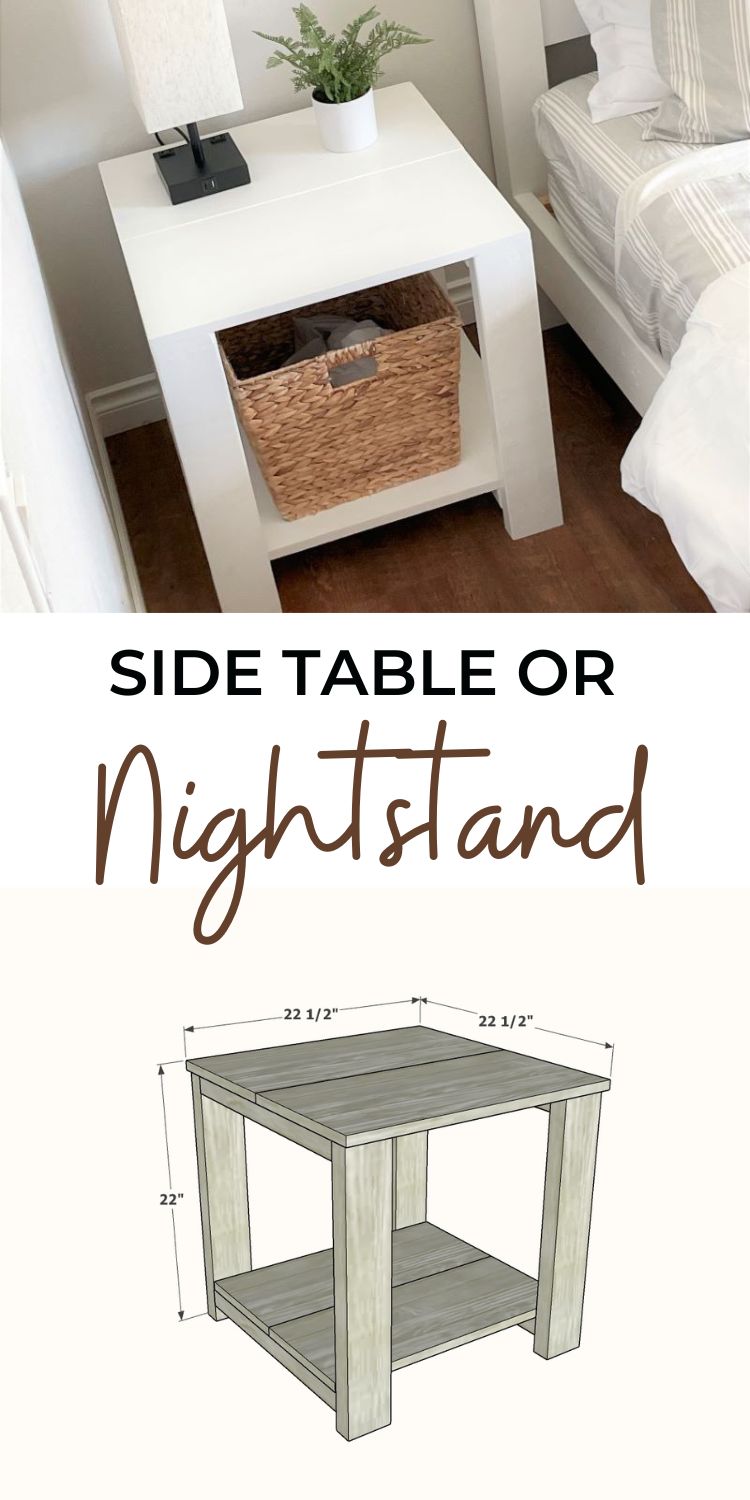 Dimensions
Generously sized, 22" tall x 22-1/2" x 22-1/2" top. Bottom shelf is about 19" x 19" x about 17" tall
Preparation
Shopping List
2 - 2x4 @ 8 feet long or stud length
1 - 1x10 @ 4 feet long
1 - 1x12 @ 4 feet long
16 - 2-1/2" long self tapping screws, star bit like SPAX or GRK brands
32 - 1-1/2" to 2" long self tapping screws, star bit like SPAX or GRK brands, OR use 1-1/4" brad nails and wood glue
Cut List
4 - 2x4 @ 21-1/4" - legs
4 - 2x4 @ 19" - side supports
2 - 1x10 @ 22"  - bottom shelf
2 - 1x12 @ 22-1/2" - top shelf
Cutting Instructions
For professional looking furniture, good, straight cuts are very important.  Use a miter saw or chop saw, or a circular saw with guide to make cuts first.
Measure and cut each piece.

General Instructions
Use a flat, level surface to construct the project.
Instructions
Step 2
Attach the bottom shelf 1x10 boards inside the leg sets, so the edges are flush on the outsides.
Use either glue and 1-1/4" brad nails to attach, or shorter star bit screws.
For paint grade, star bit screws are easy to fill with wood filler and hide and will be a stronger joint.
For a stain finish, nails are easiest to hide.  Just use a good amount of glue.
Be careful to make sure the legs are square to each other, you will know if the edges of the 1x10s aren't lining up right.
Step 3
Repeat for the top 1x12s.
NO Top Overhang Option - I cut the 1x12 top pieces at 22" long.  Since this was a bedside table (where the back is against a wall), I started at the front 1x12, flush on the front and sides.  Then I added the back 1x12 and let it overhang about 1/2" on the back.  For a floating side table or end table where the back is visible, you can trim the back edge with a circular saw.
Preparation Instructions
Fill any fastener holes with wood filler, overfilling as the wood filler will shrink as it dries.

When dry, sand entire project with 120 grit sandpaper. Remove all sanding residue with a vacuum with soft bristled brush. Also wipe clean with a damp cloth.

A good sanding will make a huge difference in the overall success of the project.
Finish Used
I painted this nightstand with a semi gloss white paint. I used two coats. I did a very light sanding with 220 grit sandpaper between coats.