With just a few boards and a few minutes, you can build yourself a rustic modern console. Inspired by a photo from Better Homes and Gardens, this console can be modified for a drawer.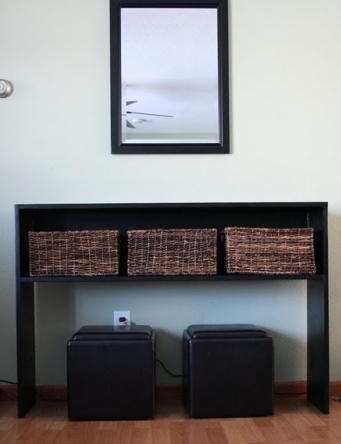 Dimensions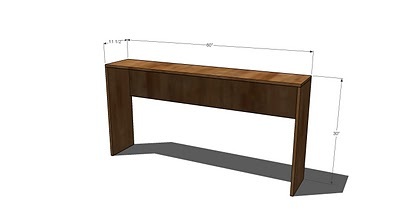 60" x 11 1/2" x 30"
Preparation
Common Materials
1 1/2 inch screws
2 inch finish nails
1-1/4" Pocket Hole Screws
120 grit sandpaper
primer
wood conditioner
paint
paint brush
Cut List
2 – 1×12 @ 29 1/4″ (sides)
1 – 1×12 @ 58 1/2″ (back)
1 – 1×12 @ 60″ (top)
Instructions
Step 1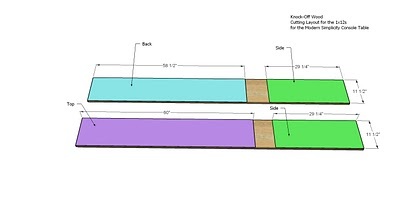 Mark boards out like shown in diagram.
Step 2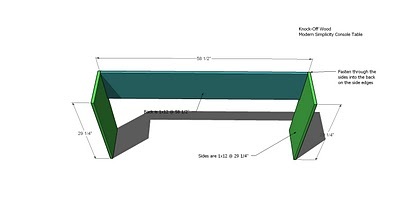 Using either screws or nails, 2″ length, fasten the sides to the back. You will need to predrill and countersink you screws. Use glue. Keep the top and back edges flush.
Step 3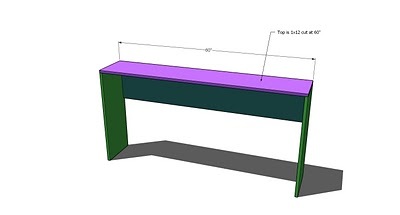 Fasten the top in place, keeping all outside edges flush, using glue and 2″ fasteners.
We apologize if there was an error in this plan. Please help us out and report any errors here.