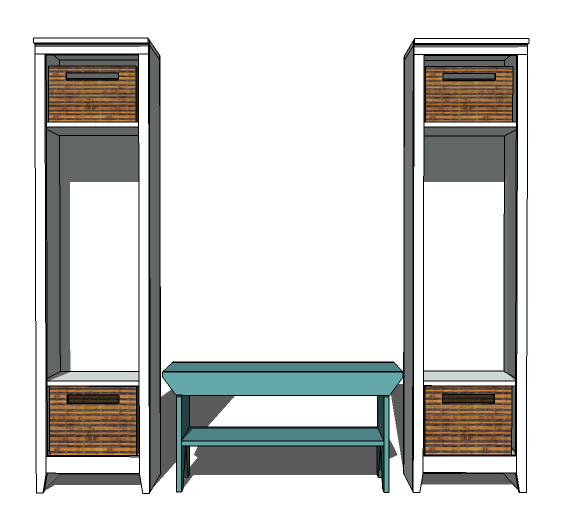 A single locker can be used alone or grouped with several other lockers to create a whole locker system! Features two large cubbies and a large locker area. Suitable for two hooks, on either side of the locker interior.
Well, I did promise you all a locker cabinet when you voted this weekend on our Facebook Fan Page.

And it was pretty close, Lockers vs Cubbies.  I loved so so many of your creative ideas, from using the cubbies style as a media center to creating a lift top bench to combining both . . . wow, we have some smart people in this world!  We all share one thing in common - the desire to have somewhere compact and well organized to throw (yes, throw) our stuff.  And as back to school approaches, the thought of backpacks, books, coats, homework and sports gear gives me clutterphobe nightmares.  I wake up in a cold sweat, drowing in down jackets, lunch pails, mittens, and Uggs and Grace's favorite hat that we can never find.

So I woke up on Saturday morning, drove to our local lumber yard, drilled quite a few pocket holes, and had a locker cabinet sitting in my entryway, with still a few hours left to pick blueberries.

No, I'm not superwoman.  I had help.  Here's Grace, waiting with her blueberry picking bucket, blue pants (because she is going to invariably sit on blueberries) and impaitent face.  And that's my sister Phebe and Grace's Grandma Pat.  They painted 5, yes 5, pieces of furniture for me!  They know how much I love picking berries, and I'm so thankful they helped out and I was able to finish all my projects and pick gallons and gallons of wild Alaska blueberries this weekend.

BUT I didn't get the beauty shots that I so desperately wanted.  So I thought I would publish a variation of the locker cabinet.  Something that combined a few of your ideas, and could work for anyone, no matter how many kids they have.  Or how small their space is.
Nope, it is not the locker cabinet.  Or the cubby cabinet.
It's just a lone locker.
Would definitely benefit from some company.  Of course hooks would be the perfect start, but some baskets and maybe a bench would be amazing.
I love color, but there is nothing wrong with white.
Dimensions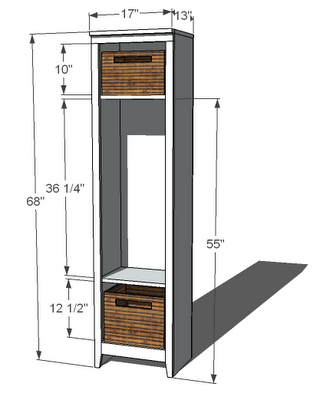 Dimensions are shown above.
Preparation
Shopping List
2 - 1x12 @ 10 feet long
2 - 1x2 @ 8 feet long
1 - 1x3 @ 14 feet long
1 - 1/4" Plywood or Beadboard (for the Back)
Common Materials
2 inch screws
1 1/4 inch finish nails
2 inch finish nails
120 grit sandpaper
primer
wood conditioner
paint
paint brush
Cut List
2 - 1x12 @ 67 1/4" (Box Sides)
3 - 1x12 @ 15 1/2" (Shelves)
1 - 1x12 @ 17" (Top)
1 - 1/4" Plywood @ 17" x 68" (Back)
2 - 1x2 @ 65 3/4" (Legs)
2 - 1x2 @ 17" (Crown/Header)
1 - 1x3 @ 14" (Footer)
Cutting Instructions
Please review the PDF for more information.

General Instructions
Please review PDF for more information.
Instructions