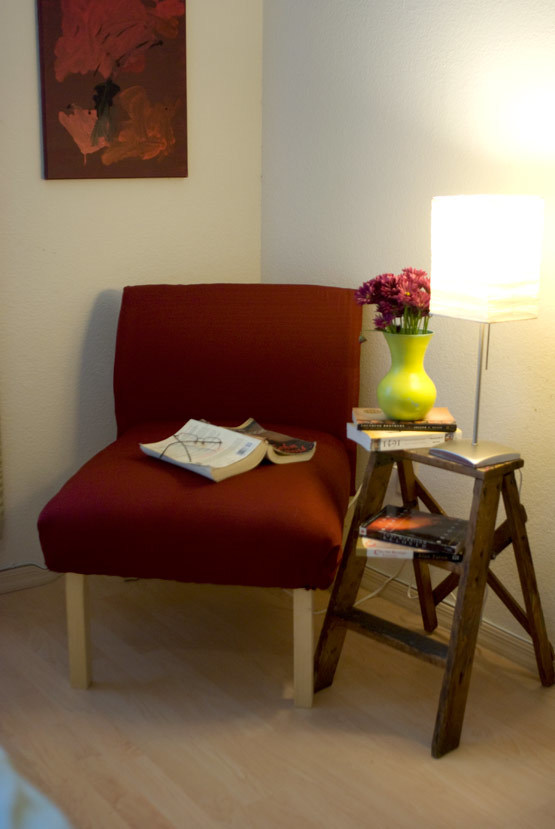 Slipper chairs have been eluding us DIYers for some time, but I sat down and analyzed a set of chairs I bought from Target, and I think I've figured it out! This plan is for BUILDING the slipper chair. I will share how *I* upholstered mine on my blog (will link here when tutorial is complete), but I'm sure you amazing people will know better ways of doing it.
I'm having issues listing one of my plans as "intermediate" - because I don't think that I'm an intermediate builder yet - but the front legs on this gave me some issues. You absolutely have the option of screwing the legs in either to the frame using pocket hole joinery, or attaching without the support I'll show in steps 6 & 7, but I NEED all the support I can get with climbing kids (and, I hate to mention this, but very overweight family).
*I altered the dimensions of the plan to make cushion-buying easier. There are CHEAP 22" foam cushions at Hobby Lobby (especially if you use the 40% off coupon). So I am giving you a 22" chair instead of a 24" chair (I cannot remove the photo in the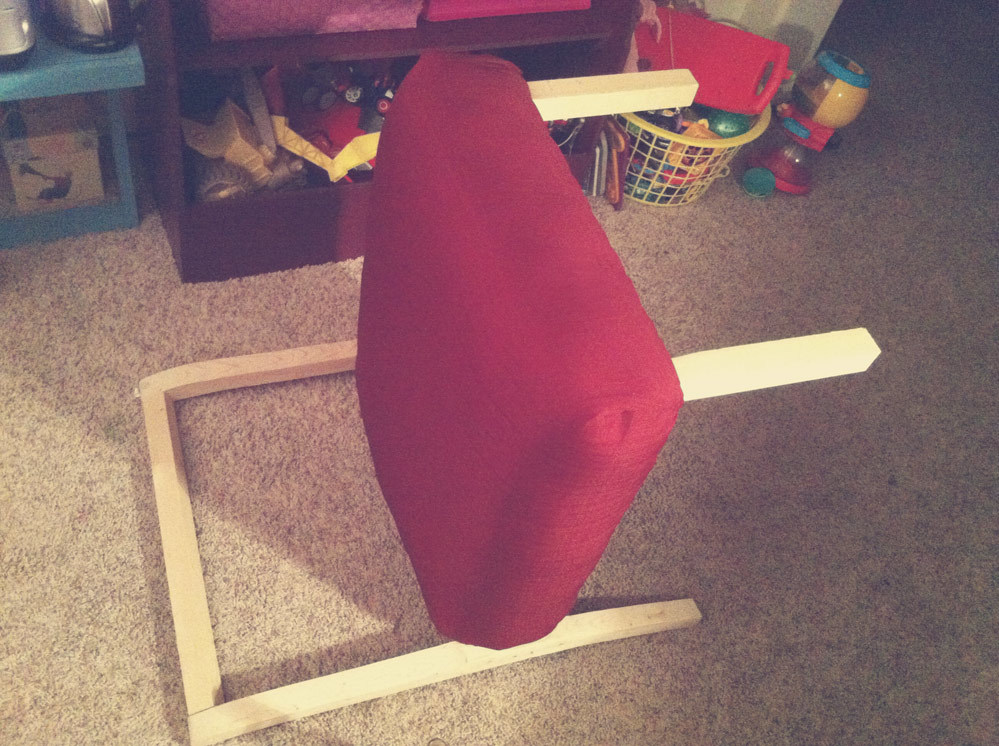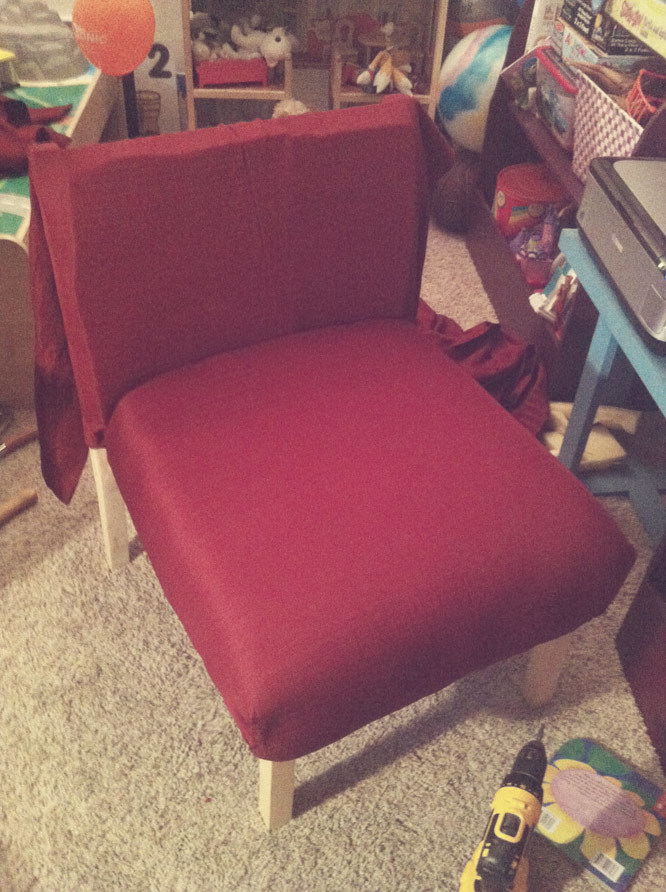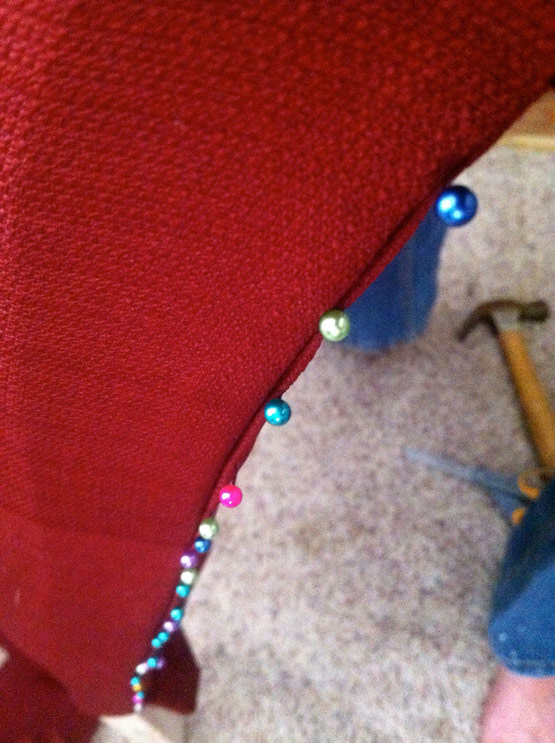 I am in the process of building my 18 month old a slipper chair (meaning that I'm gathering scraps, but haven't done anything else :-p), and will document how I upholster it as I do so. I REALLY winged it with the full-sized chair, and didn't stop to take photos of the process. If any of you amazing builders think you've "got this," please document it for us, in the meantime!
Dimensions
22" W x 23 1/2" D x 31" H (for some reason I cannot remove this photo to replace with one that lists the correct dimensions, so note THESE, not the photo!)
Preparation
Shopping List
1 - 2 x 4 x 8
1 - 1 x 4 x 8
1 - 2 x 2 x 8
1 - 1 x 2 x 8 (or at least a 40" scrap)
1 - 3/4" MDF or Ply wood @ 24" x 24"
Common Materials
3/4 inch screws
1 inch screws
2 inch screws
Cut List
(A) 2 - 2 x 4 @ 31" (back legs)
(B) 1 - 2 x 4 @ 19" (back apron)
(C) 1 - 2 x 2 @ 19" (top of back)
(D) 2 - 1 x 2 @ 19 (back supports)
(E) 2 - 1 x 4 @ 20 1/2" (front & back of seat)
(F) 2 - 1 x 4 @ 22" (sides of seat)
(G) 4 - 2 x 2 @ 6" - ends cut 40 degrees NOT parallel (seat supports)
(H) 2 - 2 x 2 @ 13 1/2 (Front legs)
(I) 1 - 3/4" MDF or ply wood @ 20 1/2" x 20 1/2"
General Instructions
Please read through the entire plan and all comments before beginning this project. It is also advisable to review the Getting Started Section. Take all necessary precautions to build safely and smartly. Work on a clean level surface, free of imperfections or debris. Always use straight boards. Check for square after each step. Always predrill holes before attaching with screws. Use glue with finish nails for a stronger hold. Wipe excess glue off bare wood for stained projects, as dried glue will not take stain. Be safe, have fun, and ask for help if you need it. Good luck!
Instructions
Step 1
Step 2
Step 3
Step 4
Step 6
Mark your front legs 1 1/2" down from the top. Now place in the corner of the chair and trace the opening created by the seat supports. You'll cut out the area that is NOT in the opening. What you're doing is creating a notch in the front leg that will fit in the triangle opening between the seat supports and the seat.
(This part gave me some grief. Let me tell you, if you have a circular saw or a table saw, USE IT! I was able to do this part with a jig saw, but I would not recommend it!)
Step 7
Step 8
Step 9
Step 10
Step 11
Disassemble your chair, and cut your foam to fit. You will be upholstering the pieces separately. I was able to upholster the entire chair using a single 84" long curtain panel.
Some things to note:
- Upholster the seat first, use that as a reference for where to cut the foam on the back (since the seat will take up a couple more inches, you can't use foam down the entire back)
- bring the fabric on the back all the way down to 11" from the bottom of the leg. That's where the seat is going to start, and you want it to start uniformly.
- there should be no fabric where the seat will be screwed together. Upholster the seat and back completely, then cut the fabric from the area you will be screwing through.
Preparation Instructions
Fill all holes with wood filler and let dry. Apply additional coats of wood filler as needed. When wood filler is completely dry, sand the project in the direction of the wood grain with 120 grit sandpaper. Vacuum sanded project to remove sanding residue. Remove all sanding residue on work surfaces as well. Wipe project clean with damp cloth.

It is always recommended to apply a test coat on a hidden area or scrap piece to ensure color evenness and adhesion. Use primer or wood conditioner as needed.