About Project
Toy boxes that stack and store, and can be turned over to be used as a play table.
So often when we think of a handmade gift, we consider the added meaning that our loved ones will get from our gift. And that is definitely true.
But something odd happened to me today in the garage, while I was painting these stacking toyboxes for two of the sweetest little girls I know. In the quietness of the garage, I started thinking about their mother, my friend Jen. I thought of how when Grace was a high maintenance baby, Jen would come over with her daughter, and say, "don't worry about me, I'll entertain myself . . . go build. GO!" And she would tow the girls around on sleds in the yard, and keep them happy, color with them, whatever it took to give me a few free minutes. I needed those few free minutes desperately, and my friend recognized that - even though she herself needed a break just as bad, maybe even more.
As I got busier and busier with the blog, Jen still called, asking if she could help, if she could take Grace to playdate in my absence. As I painted those toyboxes, I began to feel sad, because as the last year progressed, I just have not made time for my friends. But my friends have still made time for me. I tried to think of the last time I called Jen, and I couldn't. She always calls me first.
Jen is one of those people that never forgets to ask you how you are doing, that actually truly listens when you talk, and always puts herself and what's she's going through last. It's TOUGH to get her to complain. Over the years, she's made me a better person.
As I painted those toyboxes, it occurred to me in a selfish way, I was getting something perhaps even greater out of this gift by giving it. I had an opportunity to think about my friendship, and to appreciate my friend.
As we approach this gift giving season, I hope you find an opportunity to handmake a gift for a friend or loved one. And as you make it, I hope you take a second to think about how that person has made your life better. It's the silver lining.
The intent was to do a rustic look with distressed stenciled numbers, but in the end, couldn't come up with 8" stencils and with a lack of time, went for my trusty can of Valspar High Gloss Red (premixed) and Valspar OOOOOPS Blue handmixed.  But I hope that someone else takes the idea and goes with it, would be cute!  These toyboxes I would say are medium sized, but very sturdy and easy to carry around.  I could definitely see one for blocks, one for arts and crafts, and one for dolls or so on - and definitely one for books.  Another idea, how about dividing your child's Christmas presents up into toyboxes, and only letting them play with one box a week?  That way the toys will not loose their appeal and finding Strawberry Shortcake's strawberry shortcakes won't be such a chore.
Dimensions
Base is 17 1/2" x 26" approximate, Height is 14"
Preparation
Shopping List
1 1×12, 8 feet long
1 – 1×3, 8 feet long
1 – 1×2, 8 feet long or scraps 16″ long
1 – 1/4″ plywood 16″ x 24″
2″ screws
1 1 /4″ screws
wood glue, filler, and finishing supplies
Common Materials
120 grit sandpaper
primer
wood conditioner
paint
paint brush
Cut List
2 – 1×12 @ 16″
2 – 1×12 @ 24″
2 – 1×3 @ 17 1/2″
2 – 1×3 @ 25 1/2″
2 – 1×2 @ 16″
1 – 1/4″ plywood @ 24″ x 17 1/2″
Instructions
Step 1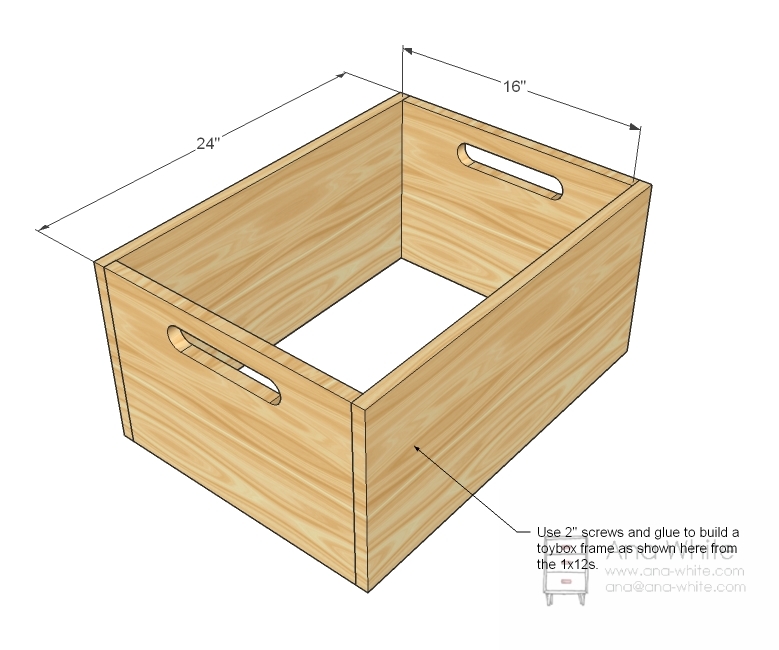 Build the Box
As with most storage that we do, start by build a simple box out of 1x12s. Predrill your holes and use glue. Adjust for square – especially if you are stacking. Off square boxes won't stack right.
Step 2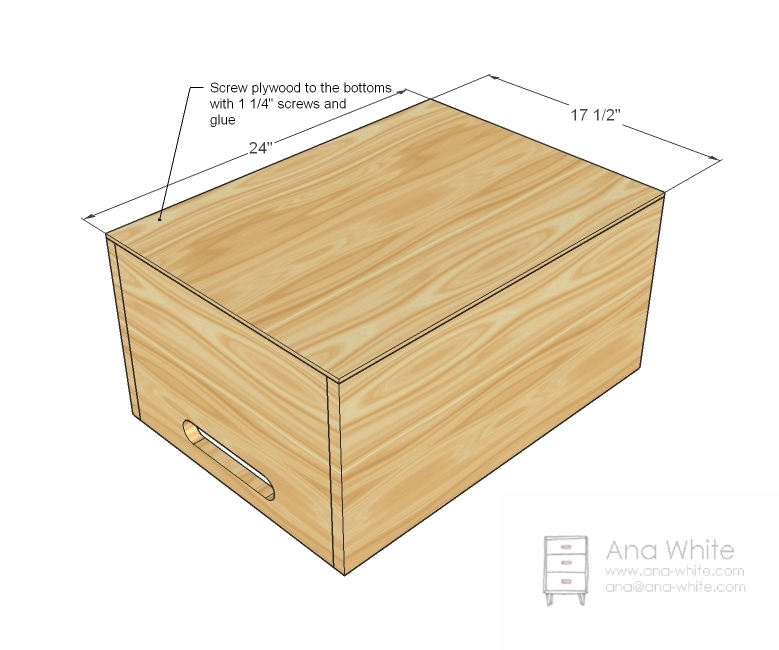 Bottom
Use 1/4″ plywood screwed and glued to the bottom as shown above.
Step 3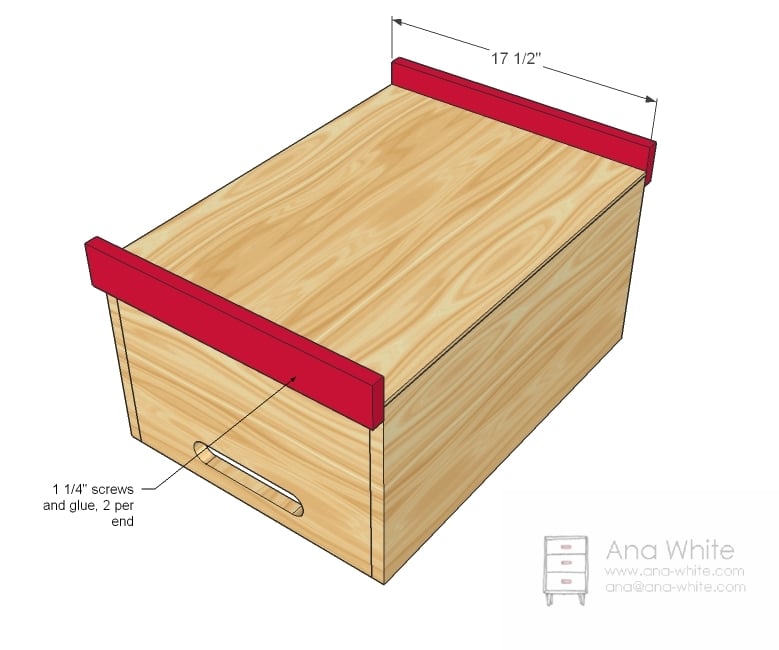 Footer Ends
Now screw the 1×3 end footers on. I overlapped the footer and the box by 1″.
Step 4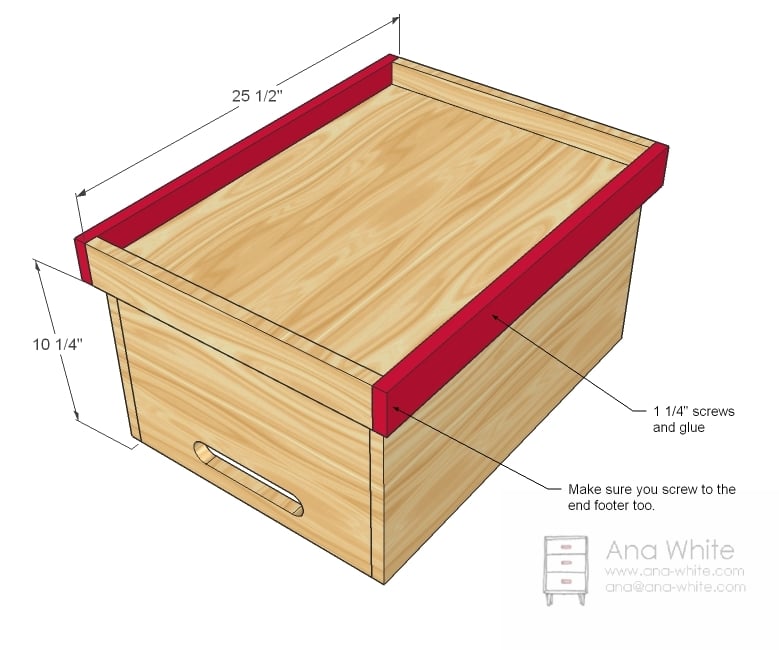 Side Footer
Glue and screw and the footer is done
Step 5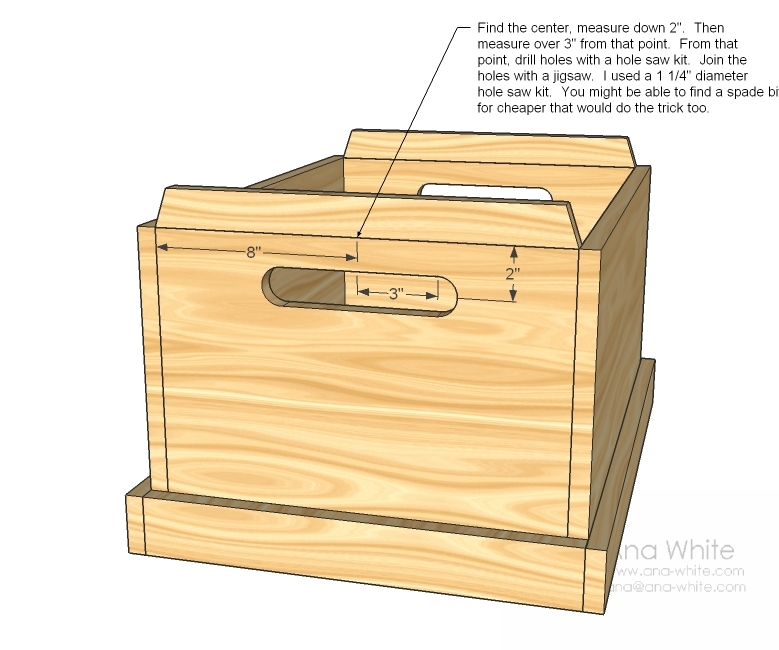 Step 6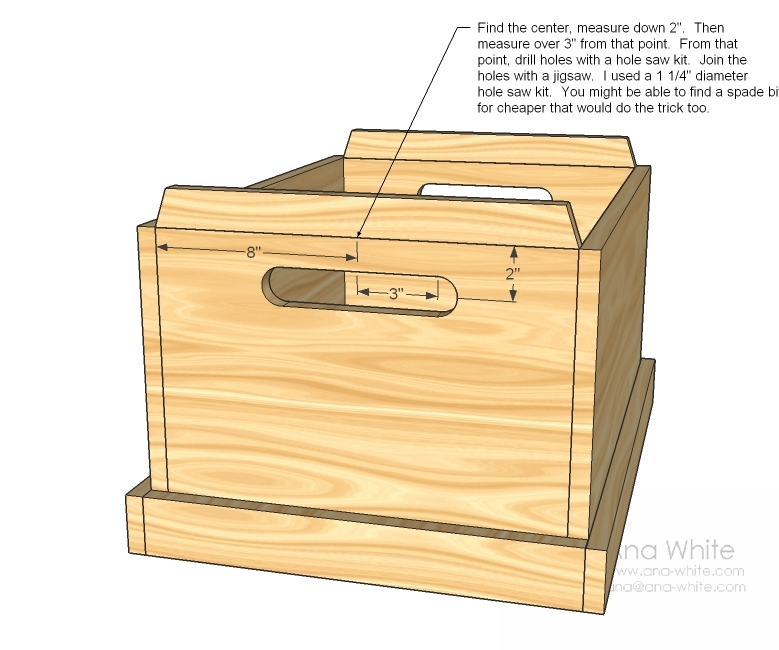 Handles
Handles are real simple, just find the centers of your holes, drill holes, and connect the dots – literally
Finish Used
I used wood filler to fill any exposed holes. Sanded with 120 grit sandpaper. Then primed and painted everything. And it's not quite dry yet. You could easily add 1 1/2″ diamter caster wheels under there too, and no one (besides your kids and your walls and doorways) would ever know they roll.