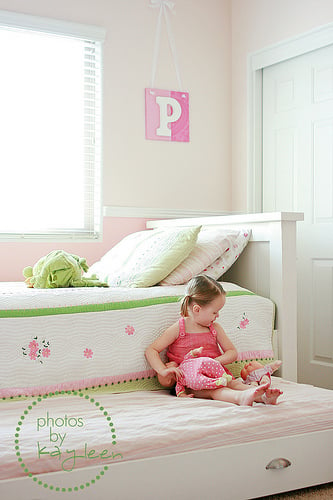 A trundle can add so much extra storage or even an additional sleeping space to a room. This trundle features a clever design that creates a solid bottom on the trundle.
Special thanks to Kayleen for her amazing photos.
Dimensions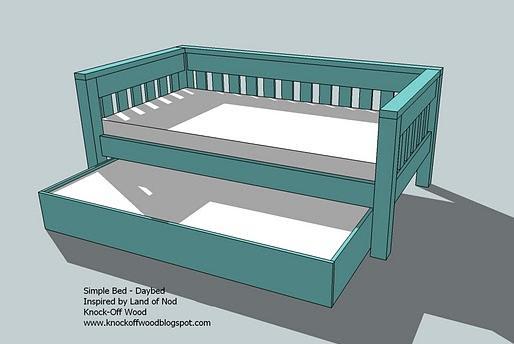 Fits Standard Twin Mattress - Adjustable Sizes
Preparation
Shopping List
1 sheet of 3/4″ Plywood or MDF
3 – 1x8s or 1x10s (depending on the height of your trundle)
2″ screws
wood glue
wood putty
sand paper
finishing supplies
6 Caster wheels, overall height at least 2 1/2″
Screws to attach caster wheels
Common Materials
2 inch screws
1-1/4" Pocket Hole Screws
120 grit sandpaper
primer
wood conditioner
paint
paint brush
Cut List
Please reference the instructional steps for cut list as this trundle is designed to custom fit to your bed.
General Instructions
The most important factor in building a trundle is ensuring it will fit under the bed. With this in mind, I am going to encourage you to build your trundle to the specifications of your bed. If you would like to use the trundle with a standard twin mattress, the overall clearnance length of your bed (the length between the legs on the sides) must be at least 77″. If you are building a bed, make note of this and build your bed so the side rails are 77″ long.
Instructions